(RFE/RL) -- Iran and Kazakhstan both possess huge oil reserves, so it was expected that Iranian President Mahmud Ahmadinejad's visit would focus on exports of Kazakh oil through Iran.
But the most sensational energy news to emerge from the Iranian leader's visit concerned not oil, but nuclear power.
At an April 6 press conference in Astana, Kazakh President Nursultan Nazarbaev restated his government's position that Iran, "like any other nation in the world, has the right to peaceful nuclear energy."
But Nazarbaev added that Iran's nuclear program must be transparent, in order to eliminate the fears held by many countries that Tehran is seeking to develop nuclear weapons.
As one step toward alleviating such worries, Nazarbaev proposed a nuclear fuel bank be created -- and suggested his country could host the facility, "as a signatory of the Nuclear Nonproliferation Treaty, and as a country that has voluntarily renounced nuclear weapons."
Such a facility, which would be funded and supervised by the UN's International Atomic Energy Agency, has been offered as a potential step toward stopping the spread of nuclear weapons.
A fuel bank would be used to supply countries with enriched uranium for their civilian nuclear power facilities, and thereby eliminate the need for individual countries -- like Iran -- to enrich their own uranium.
Iran's nuclear program, which it insists is for peaceful purposes, has raised suspicions in the international community that Tehran is looked to develop a nuclear weapons arsenal.
Ahmadinejad has staunchly defended his country's right to enrich uranium for its nuclear program, but welcomed the Kazakh president's proposal, "especially considering Kazakhstan's past."
Immediately after the fall of the Soviet Union, Kazakhstan inherited what was the fourth-largest nuclear weapons arsenal in the world -- a fact that was seized upon by the leadership in Tehran, who at the time sent Kazakhstan a note congratulating them on becoming the world's first Islamic nuclear power.
Kazakhstan voluntarily surrendered its nuclear weapons shortly after that, with help from Russia and the United States.
Iran's participation in the proposed nuclear fuel bank could help reduce concerns about that country's nuclear program. The discussion came one day after U.S. President Barack Obama announced an ambitious plan to stem nuclear proliferation worldwide.
Ahmadinejad also gave his support to Nazarbaev's proposal to create a new global financial system and a single world currency. The Iranian leader said a good first step would be to establish a regional currency, blaming unspecified "capitalists" for looking to lay their problems on other countries.
Caspian Ties
The two presidents also talked about the legal status of the Caspian Sea. An agreement on sharing access to Caspian resources has eluded the five littoral states for nearly two decades, with most favoring a division of the Caspian into national sectors extending from an individual country's coastline to a determined midway point.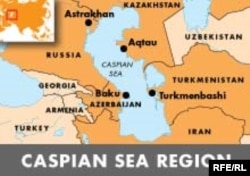 Iran has lobbied for designating the Caspian as a lake, in which case the resources of the oil- and natural-gas-rich Caspian would be split equally among the five littoral states.
This is not surprising, given that surveys indicate Iran's natural sector of the Caspian offers the least oil and gas deposits.
Nazarbaev offered a third, new proposal: "We think it would be more logical to establish sovereign zones, extending 22 to 25 miles from the shore, which would be considered state territory. I think this would be a good compromise."
The two presidents also said they would support a 10-year moratorium on sturgeon fishing in the Caspian to protect the rapidly dwindling population of the fish, prized for its caviar.
Nazarbaev described ties between Kazakhstan and Iran as "growing day by day." Despite mentioning cooperation in the energy sphere, however, the Kazakh president did not refer to any specific project.
Kazakhstan already exports some oil through Iran under an agreement whereby oil is shipped by tanker to northern Iranian ports on the Caspian and Iran makes a like amount of its own oil available for export at its southern ports.
Last year, the two countries expanded their cooperation in oil exports, with talks on Kazakh investment in building new refineries in northern Iran to handle Kazakh oil. Kazakh officials also hosted a first-ever conference on Iranian business and investment in Kazakhstan last autumn.
Always careful to balance his country's foreign ties, President Nazarbaev, while standing beside President Ahmadinejad at the press conference, praised U.S. President Barack Obama for his proposal on nuclear-weapons reduction.
On April 7, the Kazakh parliament's press service announced Nazarbaev had extended an invitation to Obama to visit Kazakhstan "at his earliest convenience."
The chairman of Kazakhstan's parliament, Qasymzhomart Toqaev, delivered the invitation to Obama on the sidelines of an international conference in Turkey promoting East-West dialogue.
RFE/RL's Kazakh Service director Edige Magauin contributed to this report