TEHRAN (Reuters) -- Iranian police used tear gas and fired into the air to disperse about 250 pro-reform protesters gathered near Tehran University in defiance of a ban on gatherings for the anniversary of violent 1999 student unrest, a witness has said.
"Police used tear gas twice to disperse the crowd. There was also many Basij militia on motorbikes patrolling the area," said the witness, who asked not to be named.
Another witness said police urged passersby through loudspeakers to leave the area.
"They were about 250 people who shouted in favor of [opposition presidential candidate Mir Hossein] Musavi and made the victory sign. Police dispersed them," said the witness, who also asked not to be named.
There was none of the chanting of slogans against the clerical elite that could be heard during protests in Tehran and other cities after the June 12 presidential election, which hard-line incumbent Mahmud Ahmadinejad won by a landslide.
The election triggered days of mass street protests by supporters of Musavi, a moderate who says the vote was rigged.
The witness said police, riot police and Islamic militia fiercely loyal to Iran's most powerful figure, Supreme Leader Ayatollah Ali Khamenei, were out in force.
"The area is closed to traffic and a lot of Basij forces on motorbikes are driving through the square," the witness said.
In 1999, student unrest was sparked by the Tehran University dormitory attack, during which one student was killed.
Iran police chief Esmail Ahmadi-Moghaddam said on July 8 the force had received no requests for any gatherings on July 9. He said any gathering would be strongly confronted by police.
Other witnesses said police had a heavy presence in some other squares.
"Police do not even allow formation of small groups," said the witness.
Rights activists have said some 2,000 people detained after the presidential election may still be held across Iran, including leading reformers, academics, journalists, and students.
Iranian authorities say at least 20 people were killed as protesters clashed with riot police and members of the Basij militia. The clerical establishment and Musavi blame each other for the bloodshed.
The government accuses the West, particularly the United States and Britain, of inciting unrest after the election, which led to the most widespread street protests in Iran since the 1979 Islamic Revolution.
The Battle For Iran's Future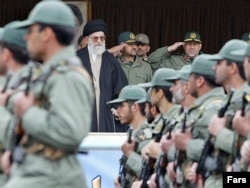 The Battle For Iran's Future
With much more than a disputed presidency at stake for Iranians, RFE/RL's Charles Recknagel and Mazyar Mokfi explore the power plays that could reshape Iran's political establishment.
Click here
for news, blogs, and analysis of the presidential election and aftermath.