(RFE/RL) -- Iran's President Mahmud Ahmadinejad began a tour of South America in Brazil today.
He arrived assured of a friendly reception from President Luis Inacio Lula da Silva. Da Silva has refrained from criticizing Iran's controversial nuclear program, and has noted that both Brazil and Iran are developing countries with the right to have nuclear power for peaceful purposes.
He also opposes increasing sanctions on Tehran over its refusal to halt uranium enrichment, saying it is more important to talk than to force Iran into a corner.
But not all Brazilians see eye-to-eye with their president on Iran and, in particular, on Ahmadinejad.
RFE/RL's Radio Farda asked Brazilian journalist Samy Adghirni of Fohla de Sao Paulo TV what the broader opinion is.
"Most newspapers and TV networks have portrayed this visit as a potential mistake for Brazilian foreign policy," Adghirni says. "What people are saying is that it might be a dangerous thing for Brazilian objectives and foreign policy goals to welcome such a controversial leader."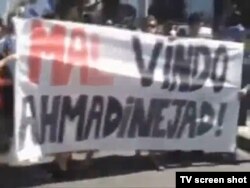 Hundreds of Brazilians protested against Ahmadinejad's visit on November 22.
Ahmadinejad's personal presence has also led to dismay. At least 500 people gathered on Rio de Janeiro's famed Ipanema beach on November 22 to protest the Iranian president's visit.
Among them were human rights activists, Christians, and Jews. The country's Jewish community is particularly upset because of Ahmadinejad's repeated denial of the Holocaust.
"Everything that Brazil represents -- such as democracy, diversity, [social] inclusion, the battle against racism -- is what Ahmadinejad denies," Michel Hellil, head of Rio de Janeiro's Jewish community, told Reuters. "When Ahmadinejad arrives in Brazil, we have to show President Lula what that means to us. To deny the Holocaust, to deny the suffering of millions of people in Iran, is to deny Brazil."
Reports from Brasilia say Lula is looking to take a mediation role between Iran and the United States in the nuclear dispute, and is also eager to try his hand at Middle East diplomacy.
Last week, Israeli President Shimon Peres was Lula's guest, and Palestinian President Mahmud Abbas is due later this week.
Brazil takes over one of the rotating seats on the UN Security Council next year, and Ahmadinejad may well feel it is worthwhile to court Brazil, in view of the increasing U.S .-led pressure for the Security Council to impose new, harsher sanctions on Iran in the nuclear dispute.
After a hectic day in Brazil, Ahmadinejad continues to Venezuela, where he will meet his friend and ally, President Hugo Chavez.
In a speech on November 20, the populist Chavez escalated his anti-Westernism to new heights, inadvertently linking Ahmadinejad to political company the Iranian leader might not care to keep.
He called Zimbabwe's disgraced President Robert Mugabe and Ahmadinejad his brothers and said he now wonders whether Ugandan dictator Idi Amin was truly as brutal as he was reputed to be.
He referred to Amin's alleged cannibalism and said the notorious 1970s African leader may in fact have been "a patriot."
After Caracas, Ahmadinejad goes on to La Paz, where he meets another anti-American leader, Bolivia's President Evo Morales.
It seems clear that with this South American tour, the Iranian leader is trying to garner allies as the international row over Tehran's nuclear program heats up and threatens to reach a decisive point.
He is also trying to discomfort the United States by visiting countries -- namely Bolivia and Venezuela -- which have in recent years developed their relations with Russia to an unprecedented level. The Russians, like Iran, see strategic value in having increased influence with countries which are in Washington's "backyard," as it were, and which have traditionally been in the U.S. sphere of influence.
With agency reports