He has built his political career and populist appeal on twin pillars of pious religious faith and messianic fervor.
But now Iran's president, Mahmud Ahmadinejad, is risking a breach with his fundamentalist allies by toning down his Islamist tub-thumping rhetoric in favor of a new oratorical weapon: nationalism.
Amid a deepening split within the Islamic system's "principlist" conservative faction, the combative president has begun stressing nationalistic Iranian themes in what some observers characterize as an attempt to carve out a new political constituency amongst nonpolitical types who neither identify with religion nor the pro-reform Green Movement.
The new emphasis is highly controversial because of the focus of many nationalists on Iran's pre-Islamic past and the tendency of some to characterize Islam as a foreign religion imposed on the country by Arabs.
It has coincided with attempts by the president to distance his government from renewed attempts to enforce Islamic dress codes, an issue that has already brought him into conflict with conservative clergy.
'Iranian Islam'
The approach has been spearheaded by Ahmadinejad's controversial chief of staff, Esfandiar Rahim-Mashaei, who has previously angered hard-liners with conciliatory statements about Israel and other actions deemed to be out of step with Iran's Islamic ideology.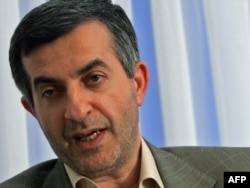 Esfandiar Rahim-Mashaei, Ahmadinejad's new guiding light?
Earlier this month, Rahim-Mashaei -- who was forced to resign as Ahmadinejad's vice president in 2009 after his appointment provoked an uproar among clerics -- caused fresh outrage by telling Iranian expatriates that true Islam was embodied only in the Shi'ite faith embraced by Iran.
"There are different interpretations of Islam but our understanding of the real nature of Iran and of Islam is the Iranian school," Rahim-Mashaei said. "From now on, we must present to the world the school of Iran."
He went on to say that "without Iran, Islam would be lost" and added, "If we want to present the truth of Islam to the world, we should raise the Iranian flag."
His remarks prompted an ominous warning from Ayatollah Mohammad Taghi Mesbah-Yazdi, a cleric widely considered to be Ahmadinejad's spiritual mentor. "Certain people who are shamelessly promoting the Iranian school in the place of the Islamic school are outsiders, not insiders," he said in a speech to military commanders. "We did not sign a brotherhood pact with just anyone. If somebody deviates from the right path, first we advise him and then we beat him with a stick."
Ahmadinejad Under Attack
Mesbah-Yazdi's warning -- shocking in its tone from such a staunch ally -- was the latest in a series of developments that appeared to show Ahmadinejad becoming isolated from his erstwhile religious base.
On July 22, Mehdi Mohammadi, political editor of the ultraconservative "Kayhan" newspaper, described the movement behind the president as "the third pillar of sedition," a term previously applied to the defeated reformist candidates in the disputed 2009 presidential election, Mir Hossein Musavi and Mehdi Karrubi.
"In Iran, a new movement is appearing that wants to say that it's more revolutionary than the supreme leader," Mohammadi told a meeting of fundamentalist Ansar-e Hizbullah supporters, who previously supported Ahmadinejad unstintingly.
"This new movement doesn't want to see the country in peace and tranquility. It even wants to vacate the surroundings of the supreme leader from others and only keep itself in his proximity. And when this happens, it will want to say that 'We are the only ones who stayed, therefore all authorities should be surrendered to me because I won 25 million votes.'" Ahmadinejad claimed to have received 25 million votes in last year's presidential election.
Further discord was displayed with the resignation of Ahmadinejad's religious-affairs adviser, Mohammad Nasser Saghaei-Biriya, a close associate of Mesbah-Yazdi. Saghaei-Biriya is said to have been prompted to quit -- reportedly after a meeting with Mesbah-Yazdi -- because of the president's public criticism of police crackdowns on "un-Islamic" clothing and hairstyles.
Less Islamic Society
Hushang Amirahmadi, a professor at Rutgers University in New Jersey and president of the American-Iranian Council, says the tensions reflect a profound social shift that is seeing the country enter a fourth phase of its development since the 1979 Islamic Revolution in which national interests trump Islamist ideology.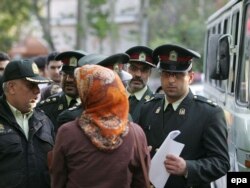 Many young Iranians reject police enforcement of Islamic dress.
"I believe we are entering into a new stage in the life cycle of the Islamic republic, which I call the Iran-Iran stage, where Iranian nationalism certainly dominates the Islamic interests and pan-Islamism," says Amirahmadi, who argues that the country has come a complete circle from the revolution's early years, when it began with a stage he calls "Islam-Islam" before progressing successively to "Islam-Iran" and "Iran-Islam" phases.
"I am not saying that this new stage means no Islam," Amirahmadi adds. "It simply means that Iran and Iranian nationalism has become a dominant factor in decisions that the Islamic republic makes."
However in Iran itself, public recognition of the forces behind such a transformation is overwhelmed by resentment over the influence of Rahim-Mashaei, whose daughter is married to Ahmadinejad's son, Mehdi, and who is increasingly seen as something of an intellectual mentor to the president.
Amirahmadi -- who has promoted the idea of rapprochement between Ahmadinejad's government and the United States -- describes Rahim-Mashaei as a "religious-nationalist" whose commitment to Islam is being subsumed by his pro-Iranian sentiments. But that is merely a response to the social reality of a mainly young population eager to engage with the rest of the world. Meanwhile, there is little chance of Ahmadinejad bowing to pressures from hard-liners like Mesbah-Yazdi to rein in his chief of staff.
"Ahmadinejad has a particular relationship with Mashaei," Amirahmadi says. "For him Mashaei is more important than Mesbah-Yazdi and he has made it known to every religious leader that he is not going to easily give up on Mashaei, of whom he is a follower."
While Amirahmadi believes that Ahmadinejad will "have a tough time with fundamentalist religious leaders like Mesbah-Yazdi," he believes that hard-liners like him "really have little option because the problem is not just Mashaei or Ahmadinejad. It is the whole country, a population that has increasingly grown hostile to fundamentalist ideas. They obviously want a freer society, they want a more open place. They are Muslim but they don't want to associate with an Islam that is terrorist, fundamentalist, anti-West and anti-American."
Striding The Religious Divide
On the other hand, Mehdi Khalaji, a senior fellow at the Washington Institute for Near East Policy, describes Ahmadinejad's new nationalism as a cynical political ploy. He says the president's previous apocalyptic rhetoric, stressing his belief in the return of the hidden or 12th imam, the Mahdi, has been de-emphasized because of the need to cultivate a new support base in time for parliamentary elections in 2012.
"Apocalyptic-ism would not work any more for Ahmadinejad. He needs a secular discourse," Khalaji argues. "A secular discourse would be nationalism. Nationalism in Ahmadinejad's version is a very shadowy concept. It has everything and it doesn't have anything. He uses this ambiguity to attract anyone who doesn't feel associated with either the reform movement or the Islamic republic."
At the same time, Khalaji says, Ahmadinejad has begun to despair of keeping the support of Iran's religious classes in the face of fierce opposition from clerics and pragmatic conservatives like Ali Larijani, the parliament speaker. As an alternative, he has turned his attention to the non-politicized youth.
"He is not hopeful about religious people. He needs to attract young people, especially great numbers of Iranian young people," Khalaji says. "They are not political. What they want is their private freedoms. These are more important for them than political ideals like democracy and justice and so on.
According to Khalaji, this explains Ahmadinejad's attempts to distance his government from police plans to crack down on Islamic dress. "He tries to disassociate himself from those actions that make apolitical people angry," he says.
According to Meir Javedanfar, an Iranian-born commentator with the Israel-based Middle East Economic and Political Analysis Company, Ahmadinejad and Rahim-Mashaei genuinely believe they are in tune with Iran's young people. But the desire to satisfy their demands may ultimately be doomed because of Ahmadinejad's political dependence on the supreme leader, Ayatollah Ali Khamenei, who has the final say on all state matters.
Javedanfar says that their beliefs regarding the 12th imam and Iran's system of clerical rule "is in conflict with their other ideologies and beliefs, such as a more nationalist lexicon and moderate approach to issues such as women."
He says that despite this "clash in their policies," "they see themselves as a force, as a duo which will ultimately have the biggest following within the conservative movement in Iran. Whether that's actually true, I think in time we will find that Ahmadinejad doesn't have what it takes because he's only there because of Ayatollah Khamenei's support and nothing more."