TEHRAN (Reuters) -- Iran's influential speaker of parliament has condemned an attack on university students that they say was carried out by Islamic militia and police.
One student activist who declined to be named told Reuters four students -- three men and one woman -- were killed during the assault late on June 14 on the dormitory of Tehran University.
Tehran University Chancellor Farhad Rahbar denied anyone had been killed, the students news agency ISNA reported.
"What does it mean that in the middle of the night students are attacked in their dormitory?" speaker Ali Larijani was quoted as saying by the same news agency.
Iran's most prominent university has traditionally been a hotbed of dissent, before and after the 1979 Islamic Revolution.
The incident took place during widespread street unrest sparked by official results showing hard-line President Mahmud Ahmadinejad won a landslide against moderate Mir Hossein Musavi in last week's election.
Thousands of students have joined protests against what they say was a rigged vote, a charge dismissed by the authorities. Anti-Ahmadinejad demonstrators and riot police have clashed in the capital Tehran and elsewhere.
About 800 students staged a sit-in protest against the dormitory attack and suspected election irregularities inside the university's gates on June 16, an activist told Reuters.
Larijani, a conservative who has been critical of Ahmadinejad in the past, said the Interior Ministry should be held accountable for the university incident, as it was in charge of security.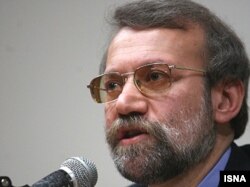 Ali Larijani criticized the Interior Ministry for not preventing the violence.
"The Interior Ministry is responsible for this and should answer for it...parliament is seriously following the issue," ISNA quoted him as saying.
He did not say who had carried out the attack, but students told Reuters members of the religious Basij militia and plainclothes policemen did it.
Basij is a volunteer paramilitary force fiercely loyal to Supreme Leader Ayatollah Ali Khamenei, who has the final say on all matters of state in Iran.
'Bandits'
State television said seven people were killed towards the end of a pro-Musavi rally in Tehran on June 15. An Iranian photographer said Basij members opened fire when people from the crowd attacked their building, killing at least one person.
Musavi, speaking at the rally before the shooting erupted, also condemned the university attack.
"They have attacked dormitories and brutally broken legs, heads, arms, and threw some of the students out of the windows and arrested a lot of people," he said, according to his website.
A statement by students issued on June 15 said that "plainclothes police attacked the dormitory and started to beat up students...riot police attacked and started to shoot at students".
When students tried to take those injured to a university hospital the doors were closed and they were denied medical help, the statement said. University officials denied on June 15 that any such attack had taken place.
"They beat our friends and at least 100 students were taken away by the attackers. We have no news about their whereabouts," said one student, who like others declined to be named.
There was no immediate comment from police on the incident.
During the past three days of violence, police have accused "bandits" of setting buses on fire, breaking windows of banks and other buildings, and damaging public property.