As hundreds of thousands of supporters of Mir Hossein Musavi assembled in Tehran's Revolution Square, Iran's supreme leader supported the reformist presidential candidate's request for the Guardians Council to review the vote-counting process.
The former prime minister, appearing in public for the first time since the controversial June 12 presidential election, reportedly told the crowd of protesters that he is ready for a new election.
"The vote of the people is more important than Musavi or any other person," he reportedly told the rally, held under the watchful eye of riot police and security forces.
(Iranian state television is reporting that shots were fired at the rally. A reporter for Iran's English-language Press TV spoke in a live call of sporadic shooting by unknown people "causing havoc." An AP photographer is quoted as saying police opened fire.)
Wearing Musavi's green campaign color, his backers showed their support by clapping their hands, chanting Musavi's name, and shouting, "Give back our votes!"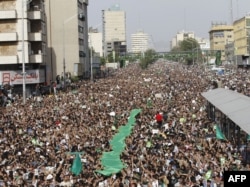 Hundreds of thousands of Musavi supporters gathered in Tehran.
Slogans were also directed against the incumbent who has claimed a landslide victory, President Mahmud Ahmadinejad, and Supreme Leader Ayatollah Ali Khamenei.
"Mahmud, We will kick you out. Mahmud commits treachery; the leader supports him," they chanted.
Khamenei Weighs In
Despite Ahmadinejad's assurances that the vote was "free and fair," Musavi's supporters believe the results were
rigged
. Musavi has described the vote as a "charade" and called for the annulment of the results.
Musavi has lodged a complaint with the Guardians Council, and the hard-line body has said that it will announce its decision in 10 days.
State news agency IRNA reported that Supreme Leader Khamenei met with Musavi on June 14, and told the presidential candidate that he had asked the Guardians Council to consider his concerns carefully. Iranian state television has reported that the supreme leader also told Musavi to pursue his complaints regarding the election by legal means.
Speaking to RFE/RL's Radio Farda, one protester at the rally expressed the anger felt by Musavi supporters.
"We want our vote to count, they have ignored our vote, Iran's leaders have to understand that we are here today so that Ahmadinejad and his band understand that they don't have [the right to do this]. People's votes should have a say in this country, and we know what we had written on the ballots."
Musavi had not made a public appearance since election night, when Ahmadinejad was declared the winner with 62 percent of the vote, enough to prevent a potential runoff vote. But he reportedly arrived by car at the rally to protest against what he has described as a "charade" and "wizardry."
Ahead of the gathering, Musavi's website reported that Mehdi Karrubi, the reformist who finished last among four candidates based on election results released by the Interior Ministry, was also to appear at the rally. Karrubi has also protested against the results and called the June 12 vote "illegitimate."
Disputed Vote
The past two days have been marked by
violent protests
in Tehran and a number of other cities over Ahmadinejad's disputed reelection.
Ahmadinejad has described the June 12 vote as the "people's election" and said it was "clean and healthy."
But Musavi has
described the vote as a "charade"
and called for the annulment of the results. Karrubi has also protested against the results and called the June 12 vote "illegitimate."
Musavi's and Karrubi's supporters believe there was massive fraud, with some describing the June 12 vote as a veritable "coup."
Radio Farda reported in the early hours of the rally that the protests were peaceful. Reuters news agency reported scuffles between groups of Musavi supporters and supporters of President Ahmadinejad.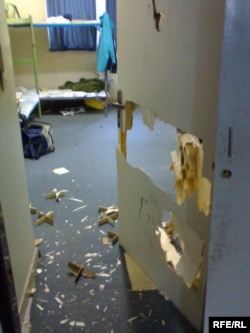 Tehran University dorm after attack by security forces
In the past two days, more than 150 reformist figures, activists, and journalists have been arrested in Tehran and other cities. Observers are warning of an increasing repressive atmosphere in the capital and elsewhere.
In the early morning of June 15, security forces reportedly attacked a Tehran University dormitory and injured a number of students. Some are said to have been detained.
A similar incident reportedly took place at a university dorm in Isfahan.
The attack on the dorm in Tehran came following a crackdown on a protest at the university on the night of June 14, during which students protested against Ahmadinejad's reelection and chanted, "Death to the dictator!"
'Terrifying' Scenes
One student who witnessed the crackdown at Tehran University described the scenes as "terrifying."
"I still can't believe what I saw. [One of Ahmadinejad's supporters] was joyfully beating a student with force," the student says. "The man I saw was laughing and telling the student he was beating, 'I wish your mother could see you when you're being beaten up like this.' "
Later, security forces and plainclothes agents attacked the dorm, breaking down doors, shattering glass, and beating students. Witnesses said sticks and heavy chains were used in the attack.
There is concern that there could be more violence as Tehran embraces for a third day of protests.
On the night of June 14, some Tehran residents expressed their anger by shouting "Death to the dictator!" and "Allah Akbar" (God is great) from city rooftops.
Such violent and vocal protests have not been seen in Iran since the 1979 Islamic Revolution.
Radio Farda broadcaster Mohammad Zarghami contributed to this report

Iran Election Special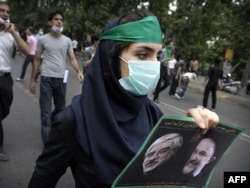 RFE/RL's Full Coverage
Following the disputed reelection of Iranian President Mahmud Ahmadinejad, supporters of Mir Hossein Musavi have taken to the streets to protest.
Click here
for news, blogs, and analysis of the presidential election and aftermath.