Precisely one month after an election that set many Iranians on a collision course with the country's unelected leaders, 19-year-old Sohrab Arabi became the latest known victim of the backlash from mass street protests that followed the disputed presidential vote.
His body was returned to his family on July 12 and, one day later, he was laid to rest at Tehran's Behesht Zahra Cemetery. The funeral was attended by friends and relatives, many of whom held red roses and chanted "God is great."
Official reports say about 20 people have been killed in the postelection unrest that has presented the Iranian political establishment with its biggest crisis in three decades.
But as many participants in the protests remain missing or are being held incommunicado, some rights activists believe the real casualty figure is higher.
Sohrab had been missing since a June 15 protest in the Iranian capital. His family had no idea what had happened to him until officials contacted them on July 11 to notify them of the teenager's death.
A relative of Sohrab's who lives in Germany told RFE/RL's Radio Farda that the family was asked to identify the body.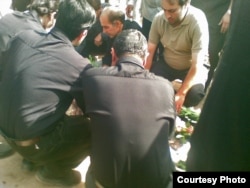 Friends and relatives of Sohrab Arabi at Behesht Zahra Cemetery on July 13
"They showed them between 50 and 60 pictures of corpses," the relative said. "There, his brother identified Sohrab's picture."
The cause of death was listed as a bullet to the heart. The coroner's office had reported the cause of death on June 19, some three weeks before the family was contacted.
Sohrab is described by people who knew him as a sensitive young man with many hopes and dreams.
One dream was to be able to study at university. In recent months, he had studied hard in order to pass the tough entrance exam.
Sohrab was also hoping for a change in his country. He voted for the first time in his life in the June 12 election and participated in the protests over the results.
On June 15, he took part alongside his mother in a demonstration in the capital, but they lost each other in the crowd. His mother came home and waited for her son, but Sohrab never came back.
Since then, his family had repeatedly contacted authorities in an effort to learn his whereabouts. His mother and other relatives went almost every day to the front of Tehran's Evin prison, where scores of people detained in the postelection crackdown are being held.
In a video posted on YouTube, Sohrab's mother is seen showing her son's picture to people leaving the prison in the hope of obtaining some information about his whereabouts. She asks the released detainees if they were harmed while in prison.
Seeking A Full Account
The authorities' delay in informing the family has heightened questions about the circumstances of Sohrab's death.
The International Campaign for Human Rights in Iran has said in a statement that it is unclear if he was first injured and taken to a hospital and died later, or if he died on the street on 15 June. The campaign has called for an independent investigation and a full account of Sohrab's death.
The case has increased concerns over the fate of the other people who are among the missing, or detainees who are being held with little or no contact with their families and no access to information and legal representation.
The Iran-based rights group Committee For Extrajudicial Arrests said on July 12 that more than 4,000 people have been detained in the postelection crackdown. Many remain in jail.
The French media group Reporters Without Borders says that 41 journalists are among the detainees.
A number of key reformist figures have been also detained, including journalist and former presidential adviser Saeed Hajjarian, who is paralyzed. His son was also detained and interrogated for several hours on July 13 before eventually being released.
Rights groups have warned that many of the detainees are under pressure to make false confessions.
According to a former political prisoner, the interrogation sessions are often accompanied by harsh beatings.
Flowers and a message left at Sohrab's funeral
The former political prisoner, who was released last week, told RFE/RL that the notorious Evin prison is overcrowded with people detained in the recent crackdown. He said health conditions are poor there and in some cases prisoners receive insufficient food.
A human rights lawyer also said that he has received reports about severe beatings and torture at Evin.
Some families of detainees have sent open letters to Iran's judiciary officials and others, expressing concern about their loved ones.
As a sign of increasing anxiety, people seeking information about their detained relatives reportedly gathered on July 13 in front of Evin prison.
One of Iran's best-known journalists, Akbar Ganji, has announced that he and several other intellectuals will launch a three-day hunger strike in front of the United Nations building in New York on July 22 to call for the release of all those who have been arrested in Iran following the postelection protests.
Iran Election Special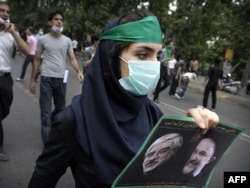 RFE/RL's Full Coverage
Following the disputed reelection of Iranian President Mahmud Ahmadinejad, supporters of Mir Hossein Musavi have taken to the streets to protest.
Click here
for news, blogs, and analysis of the presidential election and aftermath.
The Battle For Iran's Future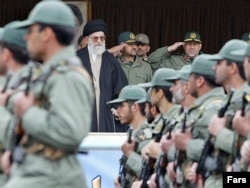 The Battle For Iran's Future
With much more than a disputed presidency at stake for Iranians, RFE/RL's Charles Recknagel and Mazyar Mokfi explore the power plays that could reshape Iran's political establishment.
Click here
for news, blogs, and analysis of the presidential election and aftermath.