TEHRAN (Reuters) -- Iran's ambassador to Baghdad said on July 9 that five Iranian officials held by U.S. forces in Iraq for more than two years had been handed over to Iraqi authorities, the semi-official Fars News Agency reported.
Ambassador Hassan Kazemi-Qomi told Fars that the five would soon be handed over to the Iranian Embassy. Fars said they were Iranian diplomats who were detained in Iraq in 2007 but it did not give further details.
Iranian Foreign Ministry spokesman Hassan Qashqavi told state television they "would be handed over to the Iranian embassy in the next hours."
U.S. and Iraqi officials in Baghdad were not immediately available for comment.
U.S. forces in 2007 seized five Iranians in the northern Iraqi town of Arbil on suspicion of arming and funding Shi'ite militias in Iraq. Two of them were freed later the same year. Iran said they were diplomats and demanded their release.
The Fars report referred to the incident in Arbil but did not mention the two Iranians who were released.
A source at the Iranian embassy in Baghdad said those originally detained had numbered seven and two were later freed.
The embassy source said the five remaining were now in Iraqi government custody and would be handed over to Iranian officials later on July 9.
"Five Iranian diplomats kidnapped by American occupying forces have been handed over to Iraq's prime minister," Iran's ambassador to Baghdad, Hassan Kazemi-Qomi, told the semi-official Fars News Agency.
"They will soon be handed over to Iran's embassy in Iraq," Kazemi-Qomi said. Other Iranian media also carried his comments.
U.S. President Barack Obama has been trying to improve relations with Iran since he took office in January, offering a new beginning in ties if Iran "unclenches its fist."
But last month's disputed presidential election in Iran has again increased tension between Iran and the West, with Iranian officials accusing the United States and Britain of interfering in its internal affairs.
The five Iranians were detained on suspicion of being members of the Iranian Revolutionary Guards' elite Qods force, which Washington says backs terrorists.
Iran rejects the charge of fomenting instability in Iraq.
Qashqavi, the Foreign Ministry spokesman, said the five were diplomats who had been held contrary to "all international conventions."
He said they had been in contact with their families and the Iranian embassy after being transferred to Iraqi custody.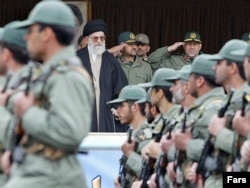 The Battle For Iran's Future
With much more than a disputed presidency at stake for Iranians, RFE/RL's Charles Recknagel and Mazyar Mokfi explore the power plays that could reshape Iran's political establishment.
Click here
for news, blogs, and analysis of the presidential election and aftermath.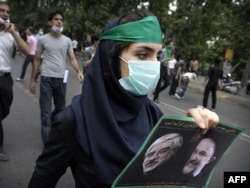 RFE/RL's Full Coverage
Following the disputed reelection of Iranian President Mahmud Ahmadinejad, supporters of Mir Hossein Musavi have taken to the streets to protest.
Click here
for news, blogs, and analysis of the presidential election and aftermath.