YEREVAN -- Dozens of Iranian citizens rallied outside the Iranian Embassy in Yerevan for a second straight day on June 16 to protest the official results of the disputed presidential election that gave the victory to incumbent President Mahmud Ahmadinejad, RFE/RL's Armenian Service reports.
The protesters, most of them university students, also condemned the deaths of seven fellow Iranian opposition supporters who were shot during a massive antigovernment demonstration in Tehran on June 15.
Organizers said the demonstration was part of worldwide street protests by Iranian expatriates supporting opposition candidate Mir Hossein Musavi.
The small crowd chanted slogans and held banners accusing the Iranian government of rigging the vote. "Between 2,000 and 2,500 of our citizens voted here and 70-80 percent of them voted for Musavi," one protester said.
Many protesters wore dark sunglasses and medical facemasks so they could not be identified.
Armenia, which maintains close political and economic ties with Iran, has recognized the vote results, with President Serzh Sarkisian sending a congratulatory message to Ahmadinejad over the weekend.
There are some 5,000 Iranian citizens in Armenia and nearly 200,000 ethnic Armenians live in Iran.
Iran Election Special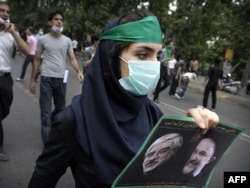 RFE/RL's Full Coverage
Following the disputed reelection of Iranian President Mahmud Ahmadinejad, supporters of Mir Hossein Musavi have taken to the streets to protest.
Click here
for news, blogs, and analysis of the presidential election and aftermath.