Iranian President Mahmud Ahmadinejad has called for opposition leaders to be punished over the unrest sparked by his disputed election victory.
Ahmadinejad called on Iran's judiciary to deal firmly with those who committed "inhuman" actions while "dressed as friends" and hurt Iran's people and the Islamic establishment.
He said that activists arrested in the postelection unrest should be dealt with using "Islamic mercy." But he added that there should be legal action against the main leaders and elements who directed the demonstrations.
The call came in a speech to a crowd of thousands before Friday Prayers in Tehran.
Ahmadinejad did not name anyone, but he said, "There should be no immunity for these leaders."
Hard-liners have in recent weeks called for the arrest of opposition leader and former Prime Minister Mir Hossein Musavi over the street protests that followed the contested June polls.
A senior commander of the powerful Revolutionary Guard, Yadollah Javani, was quoted earlier this month as saying that Musavi, former President Mohammad Khatami, and former parliament speaker Mehdi Karrubi should be put on trial for inciting unrest.
Javani accused the three of trying to engineer what he called a "velvet revolution" in Iran.
There have been similar calls by hard-line members of the parliament.

Unpredictable Consequences
Journalist Saeed Razavi Faghih, who campaigned for Karrubi, told RFE/RL's Radio Farda earlier this month that the authorities have so far refrained from any action against opposition leaders because of unpredictable consequences.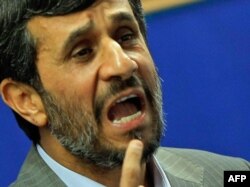 Iranian President Mahmud Ahmadinejad speaks at Friday Prayers at Tehran University on August 28.
"I believe if the main decision makers in the Islamic establishment believed that Musavi's arrest wouldn't make the situation worse than it is right now, then they wouldn't delay their decision [to arrest] Musavi," Faghih said.
"The same applies to [former President] Akbar Hashemi Rafsanjani, Khatami, or Karrubi. What has made the leaders of the Islamic republic contain themselves is their weakness against this social movement."
Iran has put more than 100 people, including a number of key reformist figures, on trial on charges related to the massive postelection protests.
The
ongoing trials
have been strongly condemned by Musavi, Karrubi, and Khatami.
Khatami said on August 26 that they would hurt the Islamic establishment.
Nobel Peace Prize-winner and prominent Iranian lawyer Shirin Ebadi, in an
interview with RFE/RL
this week, called the trials a "parody of Iranian justice" with only one aim.
"The final goal of these trials is to demonstrate that the [June 12 presidential election] was valid. The president had even more votes than former President Mohammad Khatami, who had 22 million votes. That's all. And I'm sorry that for proving such a simple issue such a show has been launched."
Today, Ahmadinejad once more described the disputed vote as "the healthiest and cleanest" election in the world and called it a turning point in the Islamic Revolution.
Ahmadinejad decried what he described as "Western plots" against Iran and accused Western countries -- namely Britain -- of having plans to topple the Islamic system.
The president said that he had a message "by a foreign minister of a friendly country" telling him about his meeting with "the foreign minister of the old colonial power [Great Britain]" who said that this time everything has been planned precisely and that the Iranian establishment would collapse.
Planned From Outside
Earlier this week, Iran's Supreme Leader Ayatollah Ali Khamenei appeared to play down hard-line accusations that the leaders of the opposition protests were working for foreign powers.
Speaking to students in Tehran on August 26, Khamenei said
he had received no proof
of those accusations.
But Khamenei repeated his view that the rioting -- which began after the announcement that Ahmadinejad had won a decisive reelection -- was planned in advance from outside, whether local opposition leaders were aware of that or not.
Interestingly, Ahmadinejad admitted for the first time today that some postelection detainees had been abused while in custody. But he denied any government involvement and said it was the work of Iran's enemies and the opposition. He did not elaborate.
Ahmadinejad also said members of the Basij militia, who have been accused of violence against peaceful protesters, were beaten up in the streets in the postelection unrest while protecting "people's rights and belongings."
Rights groups, activists, and a number of former detainees have said that many of those who were arrested in the postelection crackdown were beaten and abused.
Iranian officials have said that some 30 people died in postelection unrest. But according to the opposition, at least 69 people lost their lives, including at least two who reportedly died in prison as the result of torture.