TEHRAN (Reuters) - Iran's reelected President Mahmud Ahmadinejad has dismissed the intelligence and culture ministers, a news agency reported.
The semiofficial Mehr news agency quoted an unnamed source as saying the two ministers had a dispute with the hard-line president over the appointment of Esfandiar Rahim Mashai as first vice president for Ahmadinejad's second four-year term.
"Culture and Islamic Guidance Minister Mohammad Hossein Saffar-Harandi and Intelligence Minister Gholamhossein Mohseni- Ejei were sacked on [July 26]," the news agency said.
"Unconfirmed reports say the health and labor ministers were also sacked by the president," Mehr reported.
An official at the presidential office said he could confirm only the intelligence minister's dismissal.
Supreme Leader Ayatollah Ali Khamenei, who backs Ahmadinejad's disputed election win last month, ordered the president last week to dismiss Mashai, who has said Iran was friends with everyone, even the people of arch foe Israel.
Iran does not recognize Israel and Ahmadinejad has often predicted its imminent demise.
The president remained defiant until July 25, when he dismissed Mashai, to whom he is related by marriage. But Mashai was appointed Ahmadinejad's chief of staff. The president had said Mashai's remarks had been "misrepresented."
Mashai's appointment as the first vice president outraged hard-liners who endorsed Ahmadinejad's victory in the June 12 election, which leading moderates say was rigged in favor of the president. The vote stirred the largest display of internal unrest in Iran since the 1979 revolution.
Analysts say the decision by Ahmadinejad to appoint Mashai suggests the president has only a small entourage of people he trusts.
The Battle For Iran's Future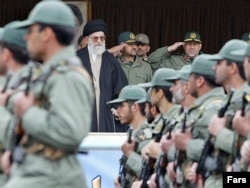 The Battle For Iran's Future
With much more than a disputed presidency at stake for Iranians, RFE/RL's Charles Recknagel and Mazyar Mokfi explore the power plays that could reshape Iran's political establishment.
Click here
for news, blogs, and analysis of the presidential election and aftermath.