Young Iranians are engaged in a kind of cyberwar against government authorities who are trying to control information about their protests over the country's disputed presidential election.
For now, the tech-savvy Iranian youth appear to be one step ahead of the government censors. Some are even striking back with their own cyber-counterattacks -- using their computers to shut down government websites and relying on social networks, such as Twitter or Facebook, to circumvent government disinformation campaigns.
Evgeny Morozov, a fellow at the Open Society Institute in New York, is researching the role of Internet technology in grassroots protests against authoritarian regimes.
Morozov describes the cyberattacks against Iranian government websites as "citizen-driven cyberwarfare."
"There is a lot of self-organized activity going on. There are groups of individuals who have set up specific websites which continue to send traffic to pro-government websites. [They are] being artificially slowed down by these bogus requests -- basically having too many people open those [websites]," Morozov says.
"We are also seeing some very shady software being distributed by various individuals, most of it via links on Twitter, which can then be installed on your computer. You just set the target, click on 'go,' and then it launches an attack -- basically sending a lot of traffic to those target websites."

DOS, Botnets, And Meatbots
Known as "denial-of-service" (DoS) attacks, such cyberattacks have successfully disrupted access to major pro-government websites -- from the semi-official Fars news agency to the official homepage of Iranian President Mahmud Ahmadinejad.
Morozov notes that this kind of "grassroots-organized cyber-campaign" has become "quite common" recently, citing the Israel-Gaza conflict, the Russia-Georgia war over South Ossetia in August 2008, and tensions between Russia and Estonia in 2007.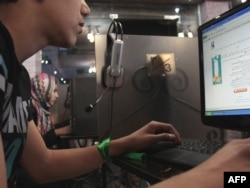 Opposition supporters have attacked official websites and networks in protest.
"By now, there is enough expertise and there are enough tools out there that anyone who feels passionate about the geopolitical issue can actually find the target and have their computer participate in such attacks," Morozov says.
The governments of both Estonia and Georgia initially accused the Kremlin of having a role in cyberattacks against their computer systems. It later emerged that the source of the attacks were so-called "botnets" -- launched by Kremlin sympathizers using computer viruses to get millions of other computers involved.
The botnet attacks on Estonia and Georgia differ from the cyberattacks now seen in Iran, which are known as "meatbots" and require each individual computer owner to participate themselves.
"A botnet is usually composed of computers whose users are not aware that their computer power [is being used] for this attack. The whole point of a botnet is to have, say, 10 million computers send their signals to the target server all at once," Morozov says.
"A meatbot is actually people volunteering their computer power and spreading this knowledge on the networks like Twitter and Facebook. The effectiveness of an average meatbot is less than that of a traditional botnet because when you start involving people in this, there are all sorts of time differences, and you lose the scale [of a synchronized attack], which is crucial if you really want to take down a website."
Fighting To Communicate
Cyberattacks are only one weapon seen in Iran's citizen-driven battle against information control. Another part of that battle is for protesters to keep communications open at a time when the Iranian government has blocked local mobile-telephone networks and SMS text-messaging services.
Indeed, the government also is blocking radio and television broadcasts from outside the country, along with popular websites. Foreign journalists have been banned since June 16 from leaving their offices to report, film, or photograph Tehran's massive street demonstrations.
But the regime in Tehran has been unable to control the Twitter social network -- a medium that combines the Internet with satellite text messaging to keep its users in touch with each other.
Every few seconds, a short text message about the rallies in Iran appears on Twitter. Known as "tweets," the messages have helped galvanize demonstrators -- relaying international media headlines and transmitting up-to-date statements from reformist leaders who lack a forum on Iran's state-controlled media.
On June 16, Iranian demonstrators published an "Iran election cyberwar guide for beginners" on Twitter to help others participate in the protests through that network. The guide includes advice on protecting the identities of Twitter users so they are not detained by the Iranian security forces now monitoring the network. It also includes tips on how to prevent the spread of disinformation by security agents who have set up Twitter accounts and are posing as protesters.
On June 15, after a suspected government hacker broke into reformist candidate Mir Hossein Musavi's website and made it look as through Musavi had cancelled a massive street demonstration, it was users of Twitter who relayed a fresh statement from Musavi indicating that the rally would go ahead as planned. More than 1 million people reportedly attended the demonstration.
The U.S. State Department also has highlighted the importance of Twitter -- confirming that it recently asked Twitter's administrators to delay a planned system upgrade that would have cut daytime service to Iranians.
Fighting The Censors
Meanwhile, access to the Facebook social network or to the video site Youtube has been sporadic for users within Iran because of the government censors. But that hasn't kept determined cyberwarriors from accessing those pages through proxy sites -- or from distributing to the world their videos and photos of a violent government clampdown that has killed at least seven demonstrators and led to the jailing of more than 100.
Baqer Moin, the director of Jadid Media, an independent, London-based organization for content production, consultancy, and media development whose website has been blocked in Iran, says that digital media have "revolutionized" the way demonstrations have been reported, and this has played a "very, very important role" in Iran.
"I think that is why the officials of the Islamic republic have gone on reducing and limiting the role of the media -- trying to stop them filming and also filtering various sites which are very popular in Iran," Moin says. "At the moment, there are problems with telephones, with mobile phones, and with text messaging, because of their importance."
Media historians count attempts at censorship as a way to measure when the stability of a government is threatened -- the greater the threat to a regime, the greater its attempts at censorship. By that measure, the regime in Tehran is facing the biggest threat to its existence since the Islamic Revolution in 1979.
Still, Iran's cyberwarriors are showing that those with the technological know-how can stay ahead of government censors.
Iran Election Special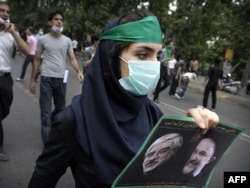 RFE/RL's Full Coverage
Following the disputed reelection of Iranian President Mahmud Ahmadinejad, supporters of Mir Hossein Musavi have taken to the streets to protest.
Click here
for news, blogs, and analysis of the presidential election and aftermath.
Iran Election Diary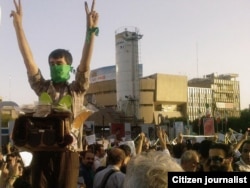 Disputed Presidential Vote
There have been protests and clashes with police on the streets of Tehran following the disputed reelection of Mahmud Ahmadinejad. RFE/RL collects videos, photos, and messages on social-networking sites coming out of Iran to attempt to get a picture of what is happening inside the country.
Click here