Thousands of supporters of defeated Iranian presidential candidate Mir Hossein Musavi gathered for a second day of mass rallies in Tehran despite a government ban and the deaths of seven protesters at the hands of a government militia.
The rally came just hours after Iranian state television broadcast live pictures of thousands of what it said were supporters of President Mahmud Ahmadinejad elsewhere in central Tehran. It also reported that the "main agents" in the earlier unrest had been arrested with explosives and guns. It gave no further details.
Ahmadinejad was declared the landslide winner in June 12 voting that opposition supporters say was tainted by widespread fraud.
Recount Announced


The country's supreme leader, Ayatollah Ali Khamenei, called on Iranians to unite behind the clerical establishment and said he believed that voters who supported different candidates "equally believe in the ruling system and support the Islamic republic."
In what appeared to be an attempt to quell rising public anger, Iran's Guardians Council has announced it would recount the votes in some of the disputed ballot boxes. Council spokesman Abbas Ali Kadkhodai was quoted by Iran's state news agency as saying that "it is possible that there may be some changes in the tally after the recount."
Niusha Boghrati of Radio Farda explains why Iran's reformist opposition, which was unable to form a mass movement after the 2005 election, has now banded together.
A correspondent for Iran's Press TV described the June 16 protest gathering as "massive." She said people were wearing green-colored headbands to show their support for Musavi and covered their mouths, evidently to protect themselves from tear gas they feared might be used against them.
In contrast to the violence on June 15, the second day of rallies was peaceful.
Independent assessments of the strength and locations of the rallies have been difficult because
the government has banned foreign journalists
in Iran from leaving their offices to report, film, or take pictures.
The international press-freedom group Reporters Without Borders said government authorities had moved into newspaper officers where they are "reading newspapers and censoring content."
The group said the front page of the newspaper "Etemad Meli" "shows a photo of Ahmadinejad at a rally with columns left blank because of editing by the censors. The newspaper "Velayat," in the province of Qazvin, has been suspended for publishing a cartoon of Ahmadinejad.
International Concern


In Washington, U.S. President Barack Obama said the protests show that Iranians have developed new expectations for how their country should be led.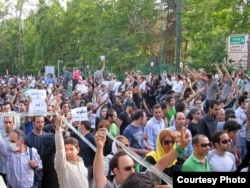 Musavi supporters march in central Tehran on June 16.
"I do believe that something has happened in Iran where there is a questioning of the kinds of antagonistic postures toward the international community that have taken place in the past and that there are people who want to see greater openness and greater debate and want to see greater democracy," Obama said.
"How that plays out over the next several days and several weeks is something, ultimately, for the Iranian people to decide."
Obama said he and other world leaders were concerned about the situation, but he stopped short of giving an opinion on how the election was conducted, saying, "It's not productive, given the history of U.S.-Iranian relations, to be seen as meddling, the U.S. president, meddling in Iranian elections."
In Berlin, German Foreign Minister Frank-Walter Steinmeier expressed his disappointment with the Iranian government's reaction to the protests and its handling so far of the vote count.
These elections are dreadful news. The Iranian people deserve something else.
.
"There must be an end to the violence by security forces against demonstrators. Security forces are responsible for the situation and that it does not escalate further," Steinmeier said. "Together with other European colleagues, I demand once more that alleged irregularities during the election are looked into immediately."
French President Nicolas Sarkozy has also questioned the legitimacy of the vote, saying the "extent of the fraud" was "proportional to the violent reaction" there.
"These elections are dreadful news," Sarkozy told reporters on June 16. "The Iranian people deserve something else."
At Iran's parliament, Majlis speaker Ali Larijani said foreign leaders should not be meddling in Iran's domestic affairs.
"In the current circumstances, some nations have hastily come to a conclusion and taken a stance on recent events and have been trying to present a different picture. Americans had better not worry about Iran and its election. Today [Americans] need to be worried about how to clear [the] political and security scandals of the past in the [Middle East] region," Lariani said.
One Million Rally


Musavi supporters are protesting against what they believe is
massive vote fraud
. One of the issues that has been raised is the speed of the vote count and also results that show Ahmadinejad beating Musavi even in the ethnic-Azeri candidate's hometown.
On June 15, Tehran was the scene of the biggest popular rally since the 1979 revolution as Musavi supporters assembled to continue their protests against the outcome of the election. According to witnesses and media reports, more than 1 million people marched to protest the official election results and to voice their support for Musavi.
Musavi made an appearance and reportedly told his supporters
he is ready for a new election.
It was near that rally that seven people were killed by members of the government's volunteer Basij militia, allegedly because the victims appeared ready to storm a Basij position.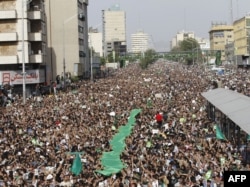 As many as 1 million supporters of Mir Hossein Musavi demonstrated June 15 in Tehran.
Protests have been also reported in other major cities, including Tabriz, Shiraz, Urumyeh, Karaj, and Ahvaz.
Witnesses have told RFE/RL that many Iranians in Tehran and other cities have been going on rooftops at night and chanting "Allah Akbar" (God is great) and slogans in support of Musavi. Last night, chants of "We don't want a midget dictator" were reported in a neighborhood in northern Tehran.
A citizen of Karaj spoke to Radio Farda as chants of "Allah Akbar" could be heard in the background. "Right now in Karaj [many] people are on their rooftops, you can hear them, they are all saying 'Allah Akbar.' This is going on every night from 10 to 10:30 p.m.."
Repressive Measures

The Iranian establishment has limited the amount of information Iranian citizens can share with each other by blocking SMS text-messaging system and several websites, including social-networking sites.
Since the election, more than 150 people have been arrested, but it is unclear whether all of them were still in jail or have released.
Former Vice President and blogger cleric Mohammad Ali Abtahi, who was actively involved in Karrubi's campaign, was reportedly arrested early on June 16.
Later in the day, according to AFP, a founding member of
Iranian Nobel Peace Prize winner Shirin Ebadi
's human rights group was arrested. Lawyer Abdolfatah Soltani was arrested in the afternoon in his office, the news agency quoted Mohammad Seifzadeh, another founder of the Human Rights Defenders Center, as saying.
Radio Farda's Mahin Gorji contributed to this report
Iran Election Special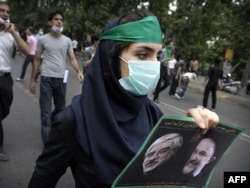 RFE/RL's Full Coverage
Following the disputed reelection of Iranian President Mahmud Ahmadinejad, supporters of Mir Hossein Musavi have taken to the streets to protest.
Click here
for news, blogs, and analysis of the presidential election and aftermath.
Iran Election Diary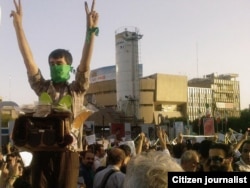 Disputed Presidential Vote
There have been protests and clashes with police on the streets of Tehran following the disputed reelection of Mahmud Ahmadinejad. RFE/RL collects videos, photos, and messages on social-networking sites coming out of Iran to attempt to get a picture of what is happening inside the country.
Click here