TEHRAN (Reuters) -- Iran's opposition leader Mir Hossein Musavi has said the pro-reform protests which erupted after the country's disputed June presidential vote will continue, according to his website.
"The pro-reform path will continue," Musavi said in a statement July 27. "The establishment should respect the constitution and let us to gather to commemorate our killed loved ones on Thursday."
Moderate defeated candidates Musavi and Mehdi Karrubi on July 26 called on the authorities to permit a gathering on July 30 at Tehran's Grand Mosala, a prayer location where tens of thousands can gather, to commemorate unrest victims.
The June 12 vote plunged the country into its biggest internal crisis since the 1979 Islamic Revolution and exposed deepening divisions in its ruling elite.
Iranian media have reported several cases of protesters' deaths following the vote, including those of Sohrab Aarabi and Mohsen Ruholamini.
Rights groups say hundreds of people, including senior pro-reform politicians, journalists, activists and lawyers, have been detained in Iran since the election, which moderates say was rigged in favor of hard-line President Mahmud Ahmadinejad.
Musavi, prime minister in the 1980s, said detentions could not halt the pro-reform movement.
"The killings and arrests are a catastrophe, people will not forgive those behind such crimes," Musavi said, adding: "I am sure the judiciary is not informed about many arrests."
"The country of 70 million cannot become a prison for all of them. The more they arrest people, the bigger this movement becomes."
Iran's top judge, Ayatollah Mahmud Hashemi-Shahrudi, ordered the judiciary on July 27 to follow the cases of detained protesters, the students news agency ISNA quoted a judiciary spokesman as saying.
Challenging the authority of Iran's most powerful figure, Supreme Leader Ayatollah Ali Khamenei, who has endorsed the reelection of the president, Musavi said the vote result would damage the clerical establishment.
"People made the [1979 Islamic] Revolution for freedom. Where is that freedom now? This situation will destroy everyone and will harm the system," Musavi said.
The Battle For Iran's Future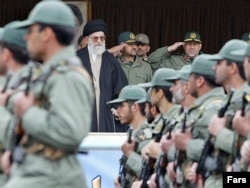 The Battle For Iran's Future
With much more than a disputed presidency at stake for Iranians, RFE/RL's Charles Recknagel and Mazyar Mokfi explore the power plays that could reshape Iran's political establishment.
Click here
for news, blogs, and analysis of the presidential election and aftermath.
Iran Election Diary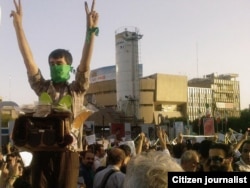 Disputed Presidential Vote
There have been protests and clashes with police on the streets of Tehran following the disputed reelection of Mahmud Ahmadinejad. RFE/RL collects videos, photos, and messages on social-networking sites coming out of Iran to attempt to get a picture of what is happening inside the country.
Click here