Iran's Rafsanjani Calls For Unity, Backs Supreme Leader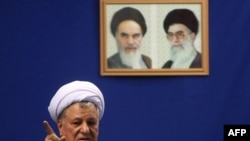 TEHRAN (Reuters) -- Influential former President Akbar Hashemi Rafsanjani has urged Iranians to follow Supreme Leader Ayatollah Ali Khamenei's guidelines, five weeks after he challenged the authority of the country's most powerful figure.

Rafsanjani, a rival of President Mahmud Ahmadinejad who last month defied a call by hard-line clerics to back the disputed result of June's election, also advocated action to foster unity, the official IRNA news agency reported.

The conciliatory statement appeared to be in contrast to a hard-hitting sermon Rafsanjani delivered in mid-July, when he declared the Islamic republic in crisis and demanded an end to arrests of moderates following the vote.

Shortly after that Friday prayer sermon, 50 members of the powerful 86-seat Assembly of Experts called on him to show more support for Khamenei, who endorsed Ahmadinejad's reelection in the presidential election, which reformers say was rigged.

The poll and its turbulent aftermath plunged Iran into its biggest internal crisis since the 1979 Islamic Revolution, exposing deepening divisions within its ruling elite and also further straining relations with the West.

Rafsanjani, a veteran of the revolution, backed moderate Mir Hossein Musavi in the vote. He heads the Assembly of Experts, a constitutional watchdog which in theory can dismiss the leader, as well as the Expediency Council arbitration body.

"The head of the state Expediency Council referred to the observance of the guidelines set by the supreme leader, and confronting lawbreakers, as a necessity under the present conditions," IRNA reported.

It quoted Rafsanjani as saying: "Those in control of podiums, influence and media should avoid stirring schisms...and take steps toward the creation of unity."

Iran arrested thousands of people in a crackdown on opposition protests that erupted after the June 12 election. Hundreds, including prominent reformists, remain in jail. Iran staged three mass trials of detainees earlier this month.

Even though the security forces largely quelled the mass demonstrations in the days after the vote, supporters of Musavi and pro-reform cleric Mehdi Karrubi have shown continued defiance by staging many smaller rallies since then.

Officials reject charges of vote fraud and say the poll was the healthiest in the Islamic state's history.

Oil Industry 'Damage'

Ahmadinejad on August 19 submitted a list of his proposed new cabinet to parliament, which must approve his nominees, but he faces a tough battle to secure the assembly's support in what is seen as a test of his hold on power.

The legislature is dominated by conservatives, but some of Ahmadinejad's backers have abandoned him since the election, even though he enjoys Khamenei's backing. Moderates see Ahmadinejad's next government as illegitimate.

Vice speaker Mohammad Reza Bahonar has already warned that up to five members of the 21-strong cabinet could be rejected.

In a surprise nomination, Ahmadinejad put forward current Commerce Minister Massoud Mirkazemi as new oil minister, a key post as Iran is the world's fifth-largest crude exporter.

With little known experience in the oil industry, he is seen as an ally of Ahmadinejad, who has praised him as a manager.

But the head of parliament's energy commission, Hamid Reza Katouzian, made clear he did not think Mirkazemi had the right background for the job and warned of "irreversible damage" to the industry, media reported.

In 2005, the president failed to get his first three choices for oil minister appointed because of parliament's opposition.

The next minister faces the challenge of boosting oil and gas output under U.S. and UN sanctions, imposed because of the dispute over Iran's nuclear program. The West suspects Iran of seeking to build nuclear weapons. Tehran denies the charge.

Ahmadinejad also nominated women as ministers for health, social welfare and education -- the first female ministers in the socially conservative Islamic state.

But lawmaker Mohammad-Taqi Rahbar said many senior clerics "have doubts about choosing female ministers and want Ahmadinejad to reconsider," English-language Press TV reported.

The president's cabinet list, submitted to parliament on August 19, has also created controversy abroad.

Argentina's Foreign Ministry condemned the nomination of Ahmad Vahidi as defense minister, saying it was "an affront to the victims" of a 1994 attack on a Jewish center in Buenos Aires in which 85 people died.

Argentina accuses Vahidi of involvement in planning the attack. Iran has repeatedly denied any link to the bombing. Vahidi is deputy defense minister in the outgoing government.