The committee that vets Iraqi officials for ties to Saddam Hussein's outlawed Ba'ath Party says it will no longer disqualify candidates in the March parliamentary elections.
But the committee is not going to reinstate nine winning Sunni candidates who were retroactively disqualified after the official results were announced.
Instead, the fate of those candidates -- and possibly the outcome of the entire election -- depends on the rulings of an appeals court in their cases.
Ali al-Lami, head of Iraq's Accountability and Justice Committee, says the committee's work will continue. But he says it will no longer involve candidates from the March 7 election.
Lami's announcement follows an agreement by politicians and officials in Baghdad to end a four-month de-Ba'athification campaign that has focused on parliamentary candidates in the closely contested vote.
Awaiting Court Decision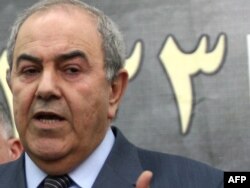 Iyad Allawi hopes to be prime minister again.
But there are many unanswered questions about the deal -- including whether nine disqualified Sunni candidates who won parliamentary seats would be reinstated. Lami said an appeals court would rule on those cases in the coming days.
Ultimately, the court's ruling could determine whether a thin margin of victory will stand for Al-Iraqiyah -- a heavily Sunni-supported coalition led by former Prime Minister Iyad Allawi.
If the disqualified Sunni candidates are reinstated, Al-Iraqiyah likely would have the constitutional right to be the first to try to form Iraq's next government.
On the other hand, if the disqualifications of the winning Sunni candidates stand -- and if a pending recount of Baghdad's 2.5 million votes favors Shi'ite candidates -- Prime Minister Nuri al-Maliki's Shi'a-dominated State of Law coalition could well be given the chance to form the next government.
Accountability and Justice Commission member Ahmad Chalabi told "The New York Times" that negotiations last week had led to the agreement to end disqualifications.
Still, Chalabi said disqualified candidates "need to figure out how to do the legal unwinding" by appealing the commission's decision in court.
Chalabi also told "The New York Times" that he had agreed not to oppose those appeals, suggesting that the appeals process would be successful.
Searching For Partners
Meanwhile, both Allawi and Maliki are continuing attempts to build coalitions amid the uncertainty about which way the appeals court will rule.
Allawi told RFE/RL's Radio Free Iraq on May 10 that he hoped his bloc would be able to form a governing coalition with Shi'ite and Kurdish politicians.
"We are open to all lists," Allawi said. "We have meetings and dialogues with our brothers in the State of Law bloc, and we hope to meet its leader, Maliki, as we met the president of the [Iraqi] National Coalition and the president of the Kurdistan Alliance and the heads of the other blocs. So we are really hoping to meet [Maliki] in the next few days."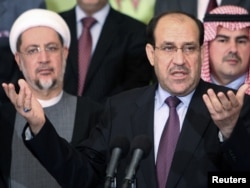 ...as does Prime Minister Nuri al-Maliki.
But other Iraqi officials, including Sunni Vice President Tariq al-Hashimi, say nobody knows how the appeals court decisions could play out. They suggest the disqualifications could stand, giving a new alliance between Maliki's State of Law and the conservative Shi'ite Iraqi National Alliance a strong chance of setting up the next government.
State of Law spokesman Hachim al-Hasani told Radio Free Iraq today that the new alliance had an "unwavering commitment to a government of national partnership as opposed to government by quotas."
Ammar Tuma of the Iraqi National Alliance told Radio Free Iraq that ethnic identities should not be a cause for concern. Rather, Tuma said, it was "programs, policies, and deeds" that count.
Return To Sectarianism?
But the stark Shi'ite identity of an alliance between the two largest Shi'ite electoral blocs has angered and worried many Sunni voters and politicians.
Analyst Khadum al-Muqdadi, himself a Shi'ite, told Radio Free Iraq today that the new Shi'ite alliance was reminiscent of the sectarian polarization seen in 2005.
"The fears are there and they are real because there is foreign interference [in Iraq from neighboring countries,]" Muqdadi said. "This was clear from the elections of 2005. If this alliance between State of Law and the Iraqi National Alliance is being influenced by Iran -- and if sectarian polarization is what Iran wants -- the Iraqis have a genuine cause for concern."
Al-Iraqiyah spokeswoman Maysun al-Damaluji told Radio Free Iraq that Allawi's bloc is "skeptical" about the Shiite alliance and its claims that it will serve the interests of all Iraqis. She said the new Shi'ite alliance "signals a return to sectarian entrenchment" in Iraq's politics.
contributors to this report include RFE/RL's Radio Free Iraq correspondent Rana Haddad in Baghdad; and correspondents Hashem Mandee and Abdelilah Nuaimi in Prague