Iraq Shi'ite Group Accused Of Intransigence In Coalition Talks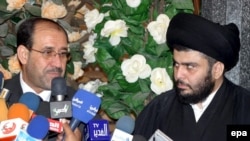 BAGHDAD -- A leading member of Iraqi Prime Minister Nuri al-Maliki's political bloc has accused the movement of radical Shi'ite cleric Muqtada al-Sadr of making "impracticable demands" in ongoing talks to form a government, RFE/RL's Radio Free Iraq reports.

The country's two largest Shi'ite blocs, Maliki's State of Law coalition and the Iraqi National Alliance, said earlier this month they were forming a coalition with the aim of forming a government.

But Sadr's movement, which makes up the strongest faction within the Iraqi National Alliance, has set conditions on the coalition.

The Sadrists are against nominating Maliki for prime minister, and they have demanded the release of some 2,000 Sadrist detainees and an end to what they call the government's continued crackdown on their supporters.

Saad Muttali, a government adviser and a leading member of the State of Law coalition, told RFE/RL that "the Sadrists' conditions and demands are impracticable."

He said that what he called the Sadrists' intransigence in the talks was driving the State of Law coalition to seek other alternatives.

Muttali said his bloc was exploring other options, including an alliance with individual factions within the Iraqi National Alliance to the exclusion of the Sadrists, as well as with the Kurdish bloc.

He said that "if this fails, the other option is an alliance between the State of Law and the Al-Iraqiyah bloc" of former Prime Minister Iyad Allawi.

Iraq's Supreme Court today ratified the results of the March elections, clearing the way for more intensive talks between the parties to form a government.

Al-Iraqiyah has the most seats in the new parliament, but under Iraq's election law, it is the largest coalition in parliament that takes the lead in proposing the new administration.

Jamal al-Battikh, a leading member of the Al-Iraqiyah bloc, told RFE/RL that now that the results have been ratified, Al-Iraqiyah will send a message to President Jalal Talabani asking him to invite it, as the bloc with the most seats, to form the new government.

Battikh argued that "this is Al-Iraqiyah's right under both the constitution and law of the land." He reiterated that his bloc was already in talks with all other factions.