(RFE/RL) -- The Academy Awards broke new ground on March 7 by giving its best director award to a woman, Kathryn Bigelow, for her film "The Hurt Locker," a story about the dangerous lives of U.S. bomb disposal experts in the Iraq conflict.
"There's no other way to describe it, it's the moment of a lifetime," Bigelow said as she accepted the award. "First of all, this is so extraordinary to be in the company of such powerful...filmmakers who have inspired me and I have admired for, some of whom, for decades."
This is the first time that a woman director has won such a distinction in the 82-year history of the Oscars, although some have been nominated in previous years.
In all, "The Hurt Locker" won six Oscars in different categories, including best film. At the awards ceremony, Bigelow dedicated it to all the American servicemen and women serving in dangerous situations.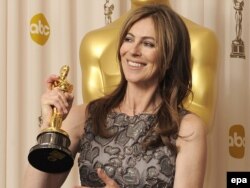 Director Kathryn Bigelow holds her award at the 82nd Annual Academy Awards.
"I'd just like to dedicate this to the women and men in the military who risk their lives on a daily basis in Iraq and Afghanistan and around the world, and may they come home safe. Thank you," Bigelow said.
The film's win is something of a sensation itself, insofar as it is a low-budget production which has not proven popular at the box office. It has taken only $20 million in ticket sales since its release, a very modest sum by Hollywood standards.
By comparison, "Avatar," a blockbuster 3-D science fiction epic, has taken $2.5 billion dollars in ticket sales -- making it the top-grossing movie of all time.
But "Avatar" had a disappointing run at the Oscars, winning only three awards, all of them in technical categories.
"Avatar" director James Cameron, nominated for the best director award, went home empty-handed. Cameron and Bigelow were formerly husband and wife, but are now divorced.
The best actor award went to veteran Jeff Bridges, for his portrayal of an ageing, burnt-out country and western singer in the film "Crazy Heart." His dramatic portrayal of the failing singer has won high praise from critics.
Bridges, who is the son of an acting family, thanked his deceased parents for putting him on the path to becoming an actor.
"Thank you Mom and Dad for turning me on to such a groovy profession," Bridges said in his acceptance speech. "Oh, my dad, my mom, they loved showbiz so much, that I remember my mom getting all of us kids to entertain at her parties, my dad sitting me on his bed and teaching me all of the basics of acting for a role in [TV adventure series] 'Sea Hunt.' They loved showbiz so much, and I feel an extension of them, this is honoring them as much as it is [honoring] me."
The best actress award went to Sandra Bullock for her role in a true story about a strong-willed woman who takes in a homeless boy and turns him into a football star in the film "The Blind Side." To win, Bullock had to beat such formidable stars as Meryl Streep, who was a nominee for her role in "Julie and Julia."
"Did I really earn this or did I just wear you all down?" Bullock joked. "I would like to thank the Academy for allowing me in the last month to have the most incredible ride with rooms full of artists that I see tonight and that I've worked with before and I hope to work with in the future, who inspire me and blaze trails for us."
The best foreign language film went to Argentina's "The Secret in their Eyes," directed by Juan Jose Campanella, which deals with the tortured life of a former prosecutor who can't forget a murder and rape case.
With agency reports.