BAGHDAD (Reuters) -- Iraq's foreign minister has said members of the security forces may have colluded in a massive truck bombing that wrecked his ministry, and called for a "serious and responsible" investigation.
Hoshyar Zebari criticized a decision by Prime Minister Nuri al-Maliki to remove most blast walls from Baghdad's streets, saying it was one cause of the August 19 bomb attacks in which nearly 100 people died.
"According to our information, there has even been collaboration between security officers and the murderers and killers," Zebari, an ethnic Kurd, said after summoning the media to the ministry where dozens were cut down by flying glass.
More than 1,000 people were wounded there and in a second explosion at the Finance Ministry.
Zebari offered no direct evidence for the accusation. He later added that the attackers must have been helped by police or soldiers to get through checkpoints, because large trucks are banned from the city center during daytime.
The attacks, carried out by suicide bombers in trucks, shattered a growing sense of stability in Iraq six weeks after U.S. troops pulled out of urban centers and handed responsibility for security to their Iraqi counterparts.
They dealt a severe blow to Maliki as he prepares to contest a national election next January by claiming credit for a sharp fall in overall violence in the past 18 months, and also to public confidence in Iraq's domestic security forces.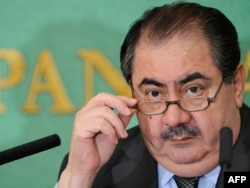 Hoshyar Zebari
The Shi'ite-led government celebrated the U.S. pullout from city centers as a victory over foreign occupation, six years after the U.S. invasion. Maliki's plan to remove most blast walls within 40 days was a display of faith in Iraqi forces that critics say has proven premature.
"The removal of blast walls and checkpoints due to a false sense of security is also a reason [for the attacks]," Zebari said, adding that calls for foreign investors to come into the country were creating the wrong impression.
"Things should be named as they are and we should stop making unnecessary optimistic statements. We should tell people the truth. There has been a deterioration in security and the coming days may be worse."
Blame Game
Many ordinary Iraqis blame intra-Shi'ite rivalry ahead of the election, or lingering disputes between majority Shi'a, once dominant Sunnis, and minority Kurds, for the bomb blasts.
Security experts cite nonchalance, disorganization, and internal rivalries among the Iraqi military, intelligence, and police forces as underlying causes for the lapses that allowed insurgents to carry out the attacks.
The government has accused Al-Qaeda and loyalists of ousted dictator Saddam Hussein's banned Ba'ath Party.
Baghdad security spokesman Qasim al-Musawi previously announced the arrest of a suspected Al-Qaeda "propaganda team" in connection with the blasts and on August 21 said some former Ba'athists had been detained on the day of the explosions.
"Iraqi forces arrested the terrorist network which carried out Wednesday's bombings. The network is linked with the Ba'ath Party and in a few hours we will show their confessions," he told Reuters on August 22, the start of the Ramadan fast.
Musawi said security forces also intercepted a truck in western Baghdad packed with up to five tons of explosives.
It was difficult to ascertain how much credence to give to the reported detention of Ba'athists. Previous claims of major arrests have not been borne out and Musawi did not explain why the news was only released after two days and following intense criticism of the security forces.
Maliki has ordered a review of security measures and parliament is expected to hold a special session next week.