A war of words continues over the conduct of Iraqi and U.S. military forces in Iraq after the
WikiLeaks website released
what it says are nearly 400,000 classified U.S. files on the Iraq war.
Iraqi officials like Interior Minister Jawad al-Bolani have been quick to state their country's determination to investigate claims in the WikiLeaks files that Iraqi police and military forces were responsible for prisoner abuse, torture, and murder between 2004 and 2009.
"Human rights violations are unacceptable and against the law, according to the nature of the new political system in the country and according to the institutions of the state," Bolani said. "The Interior Ministry is following up on the cases of violations. Investigation committees are continuously working on it, and nobody is above the law.
"Regardless of how long the investigations will take, there are courts and legal procedures that will bring to justice those who are involved in violations against any Iraqi."
15,000 Undisclosed Deaths
The WikiLeaks files have yet to be authenticated.
But Julian Assange, the founder of the whistle-blowing website, says the material documents as many as 15,000 previously undisclosed cases of civilians killed during the U.S.-led war in Iraq and the massive sectarian violence that resulted.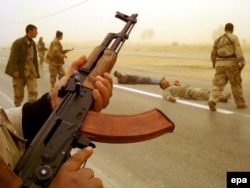 Iraqi military forces detain insurgents following clashes in Najaf in January 2007.
The U.S. military has claimed it does not keep detailed records of civilian casualties in Iraq. But the WikiLeaks files -- mainly written by low-ranking U.S. military officers in the field -- describe numerous cases of roadside bombings, rape, and execution-style killings of prisoners by Iraqi police, military, and sectarian fighters.
The office of Iraqi Prime Minister Nuri al-Maliki has responded angrily to the charges related to prisoner abuse and summary detention by Iraqi police. Speaking to RFE/RL's Radio Free Iraq in Baghdad, Maliki's adviser Ali al-Musawi defended his country's legal system and dismissed the notion that any illegal arrests had been made.
"The talk about the detention units gives the impression that the detentions are made in an illegal way. But this is wrong," Musawi said. "We defy any one of the media venues that are spreading such news to prove that even a single detention was made illegally."
Maliki's office also reportedly accused Wikileaks of trying to scuttle his bid to form a new Iraqi government.
Human Rights Watch has called on Iraq to investigate the allegations. The watchdog also urged Washington to probe whether its own forces broke international law by handing over detainees to the Iraqis despite the risk of torture.
Rough Correspondence
WikiLeaks says it can document the deaths of as many as 109,000 Iraqi civilians at the hands of both U.S.-led forces as well as Iraqi fighters, police, and troops. Iraqi Human Rights Minister Vijdan Mikhail, speaking to Radio Free Iraq, said those numbers roughly correspond to the figures gathered by her ministry and other government bodies.
"Concerning the number of deaths in Iraq, the Iraqi government has already announced its own count of the number of civilian deaths between 2003 and 2009," Mikhail said. "For us, as the Iraqi government and the Ministry of Human Rights, the number was 101,000, and it is close [to the number mentioned in the documents of WikiLeaks]."
U.S. Defense Department spokesman Geoff Morrell has sought to dismiss allegations that U.S. negligence was to blame for civilian deaths.
"With regards to civilian casualties, we did everything in our power, and continue to do everything in our power, to minimize -- if not avoid -- them altogether," Morrell said. "It runs counter to the whole philosophy of a counterinsurgency to not do that. We are trying to win the trust and the confidence of the Iraqi people, trying to prevent them from joining the Al-Qaeda and other terrorist groups in that country -- to work with us, work with the government."
U.S. defense officials have blasted the move by Assange, saying the release of the files leaves American forces and their military partners dangerously exposed. Some 50,000 U.S. troops remain in Iraq pending a full pullout at the end of next year.
The chairman of the U.S. Joint Chiefs of Staff, Admiral Mike Mullen, condemned the action by WikiLeaks, saying it was "irresponsible" and "puts lives at risk."
'It's A Violence Culture'
David Service, a private based at Camp Warrior in the northern Iraqi city of Kirkuk, has said he believed the information should have been kept confidential.
"I don't think anybody's who's managed to access classified information should share it, as far as regarding the safety of the soldiers or the people it could be affecting," Service told Reuters. "But when you get into it, the Iraqis have...you know, it's a violent culture, and we've been doing our best to help them with the problems that they're having."
The international community has already begun to react to the files' release. Speaking on October 24, British Deputy Prime Minister Nick Clegg -- who has said the British decision to join the 2003 invasion of Iraq was illegal -- said the allegations against the U.S.-led forces were "extraordinarily serious."
The WikiLeaks file could prove a massive political liability for U.S. defense officials by adding to the suspicion and resentment of American forces in Iraq. They could also fuel suspicion among some Middle East observers, like U.S.-based analyst Walid Phares, that Assange and WikiLeaks may have been given tacit approval for the files' release as a way of further destabilizing the political situation in Iraq.
"Observers in Washington understand that a helping hand was probably involved in leaking information of this scope. There was a big helping hand," Phares says. "Undoubtedly, there will be discussion of this matter, and journalists who have the right to investigate this matter will start looking for sources."
'Very Dangerous Topic'
Some of Prime Minister Maliki's supporters have called the WikiLeaks release a deliberate campaign to orchestrate Maliki's ouster by suggesting he is to blame for much of the violence. But Ahmed al-Alwani, a member of the Al-Iraqiyah bloc that frequently opposes Maliki's own coalition, told Radio Free Iraq that those responsible for the violence should pay.
"This is a very dangerous topic which has to do with people's lives. We need to face this reality," he said. "There is an International Criminal Court and it should have a role to play in all this. Anyone who is involved in crimes against humanity should be tried, whether he is an official or a simple employee."
For ordinary Iraqis, the WikiLeaks files offer few surprises.
A Baghdad resident identified as Salah told Reuters that all Iraqis have been affected by the years of violence.
"I think there is no new information here, because all Iraqis witnessed the events following the invasion and those following the war," Salah said. "Every family has a relative who was tortured in prison, either detained by Iraqi or foreign forces, or knows someone who was killed by Iraqi or foreign forces. This is something we all know about.
"We don't need documents to know this. These documents only provide official confirmation."
written by Daisy Sindelar, with agency reports