The United States has invested a lot in supporting Iraqi Prime Minister Nuri al-Maliki, and now he may face his greatest political test.
The challenge comes from his former support base, the coalition of Shi'ite religious parties that dominates parliament and awarded him the premiership in May 2006.
On August 24, the Shi'ite bloc announced it would contest the upcoming January legislative elections without Maliki as its leading candidate.
The announcement did not come entirely as a surprise -- the two sides have been in heated negotiations for weeks over whether Maliki would stay with the coalition.
But the news is still a shock for Iraq's political system because the consequences for the January 16 vote could be huge.
It sets up a showdown between the Shi'ite religious parties -- which got substantial support from Iran -- and Maliki's efforts to create a more secular-based political system, efforts that are supported by Washington.
And, it comes at a time when a spate of bombings in Baghdad and elsewhere is underlining how fragile the security situation remains. Officials want the January election to be a unifying, not divisive, experience that will help to strengthen the government and stabilize the country.
A New Power Base
A top adviser to Maliki told reporters on August 24 that the prime minister and the Shi'ite religious coalition have fallen out because they have fundamentally different visions of politics.
Hassan al-Sinaid said Maliki wants the Shi'ite alliance to open up to non-Shi'ite parties so that power won at the polls is shared broadly.
Sinaid says that the current system of "the distribution of powers based on sectarian affiliation, about the post of PM, the presidency of the alliance and the ministries, all this is far removed from reality." He says the dialogue between Maliki and alliance leaders "focused on the structure of the alliance, on the foundations and the principles of the alliance and on its nature."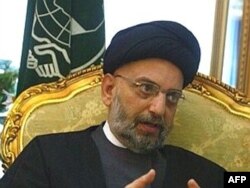 ISCI leader Abd al-Aziz al-Hakim is still in Iran.
The Shi'ite coalition's break with Maliki comes as the prime minister has made measurable success in recent months toward building what could become the largest secular grouping in Iraq since Saddam Hussein's Ba'ath Party.
The grouping, loosely known as State of Law and consisting of political leaders allied with Maliki or backing him, enjoyed a resounding victory in the country's provincial elections in January this year.
The State of Law coalition won the majority of votes in Baghdad and eight of Iraq's nine Shi'ite dominated provinces.
Shi'ite Consolidation
But that victory for the Maliki-backed coalition was stinging for the Shi'ite religious parties.
It directly rolled back the political power of the strongest of them: the Islamic Supreme Council of Iraq (ISCI). And it came less than a year after Maliki used units of the Iraqi Army to weaken another Shi'ite religious leader, Muqtada al-Sadr, by attacking his Imam Al-Mahdi Army in Basra and parts of Baghdad.
The Shi'ite religious parties, which swept Iraq's first legislative elections in 2005 as the United Iraqi Alliance, unveiled a new coalition name on August 24: the Iraqi National Alliance (INA).
The largest single party in the coalition is the ISCI. With it are Sadr's bloc, the Fadhila party, former U.S. ally Ahmad Chalabi, and a breakaway faction of Maliki's own Dawah Party loyal to former Prime Minister Ibrahim al-Jafari.
It also includes two small Sunni groups in a bid to appear less sectarian. One is group is tied to the Sunni Awakening movement in Anbar province, the other is a Turkoman party. The INA does not include any Kurdish parties.
The leaders of the INA's two biggest blocs, Abd al-Aziz al-Hakim of ISCI and Sadr, were not present for the coalition's unveiling in Bagdad because both currently reside in Iran. Hakim is undergoing medical treatment there while Sadr has been based there since Maliki, backed by U.S. forces, first began cracking down on the Mahdi Army in early 2007.
Facing Off In January
All this suggests political battle lines are being drawn for next year's legislative vote that could make it a clear-cut choice: a U.S.-backed vision of a secular Iraq with a diminished role for Iran versus an Iran-backed vision of a Shi'a-dominated Iraq with a diminished role for Washington.
But things in Iraq are rarely that straightforward. Even as the new INA coalition announced itself without Maliki in its ranks on August 24, some of its members said a door was still being held open for him.
Adil Abd al-Mahdi, the vice president of the ISCI, told RFE/RL's Radio Free Iraq on August 24 that negotiations with Maliki's team are not over.
"Their opinion was, 'Do what you have to do. We will think about [joining] later.' We did put in a lot of effort to make them come [to the INA's unveiling ceremony] today, but we haven't succeeded so far. Maybe we will succeed in the future," Mahdi said.
Given the high stakes of any direct showdown between the two sides in the January poll, a desire to continue negotiating may be understandable. Both sides also may find it difficult to muster enough strength to be effective rivals.
...But Nothing's Final
To strengthen the secular coalition, Maliki will have to strike a deal with minority Sunni parties and probably on their terms. He is considered likely to now ally himself with Sunni leader Ahmad Abu Risha, a powerful figure who joined forces with the U.S. military to drive Al-Qaeda from western Iraq.
At the same time, Maliki would have to overcome current tensions with Kurdish leaders.
But ultimately Maliki's success against the Shi'ite religious parties would depend upon his ability to woo their supporters, too. And that makes drawing open battle-lines against the INA risky.
Similarly, the Shi'ite religious coalition has reasons to worry about its ability to keep power without Maliki, who is popular for his success in helping rescue Iraq from spiraling sectarian fighting in 2006 and 2007.
The INA has few new faces to offer the public, and many of its most prominent leaders have mixed records.
Jafari lost the prime minister's office to Maliki in 2006 because he was widely seen as ineffectual. Chalabi, who has veered between Washington and Tehran, has to fight an image as an opportunist. Hakim has lung cancer, and Sadr has to fight an image as a radical.
Does this mean that Iraq's political alliances could still shift again in unexpected ways several times before the January poll?
Despite the drama and seeming finality of the August 24 announcement, that is certainly a possibility.