Hopes for a breakthrough deal on a new Iraqi government have been tempered after talks between rival political factions broke up after 90 minutes without agreement.
Leaders of Iraq's Kurdish, Shi'ite, and Sunni Muslim blocs met in the Kurdish regional capital of Irbil to try to broker a final deal on a national-unity government. The talks have been scheduled to continue on November 9 in Baghdad.
Iraq now holds the world record for the longest time without a government since holding an election.
Reports have suggested the rival political groups are close to reaching a power-sharing deal in which Prime Minister Nuri al-Maliki, a Shi'ite Muslim, would remain in office for a second term.
But Al-Iraqiyah -- a Sunni-backed cross-sectarian alliance that won the most votes in the otherwise inconclusive March 7 parliamentary elections -- still needs to be brought into the deal.
Political analysts say the head of Al-Iraqiyah, former Prime Minister Iyad Allawi, must be convinced to join the deal if the next government is to have any chance of securing peace after more than seven years of sectarian violence.
Maliki told the Iraqi politicians gathered at today's talks that any deal with Allawi would have to meet three main criteria to be successful.
He listed them as "first, national unity that we need in order to face challenges; we also need to achieve national reconciliation to get rid of all sensitivities and differences; and third, we have to achieve the real national partnership in which we have commitments and rights."
Allawi told Maliki that it was the details of what he called a "national partnership" that still must be agreed upon.
"The main point in our view, in the view of the Al-Iraqiyah bloc, is that we have to define what a real national partnership means: one which creates equity, which is balanced, and which does not create any kind of distinction based on sect or affiliation to a certain region or ethnicity," Allawi said. "We should all be Iraqis in one country called the Great Iraq."
U.S. officials fear excluding Al-Iraqiyah from power could ignite Sunni anger and reinvigorate a weakened but still lethal Sunni Islamist-led insurgency.
U.S. Secretary of State Hillary Clinton, speaking during a visit to Melbourne, Australia, today, urged Iraq's rival political factions to develop an inclusive power-sharing government.
"It is fair to say we have been consistently urging the Iraqis to have an inclusive government that reflects the interest of the needs of the various segments of the population, that there had to be legitimate power sharing amongst different groups and individuals," Clinton said. "And that is what we hope at the end of this process -- and we hope we are near the end of it -- will be the result of all of their negotiations."
Nevertheless, Clinton was cautious about predicting a breakthrough deal today that would satisfy Al-Iraqiyah. She warned that there have been many previous indications since the March election that an agreement was close at hand -- with factions coming close to forming a government and working out power-sharing arrangements, only to see the possibility of a deal collapse.
'Source Of Frustration'
In India on November 7, U.S. President Barack Obama also spoke of frustration over the failure of Iraqi politicians to bridge their differences and form a new government.
"The government's taking way too long to get formed and that is a source of frustration to us and -- I'm sure -- to the Iraqi people," Obama said. "Having said that, though, if you think about it, there's been seven months since the election and violence levels are actually lower in Iraq than they've been just about any time since the war started at a time when we have pulled back our forces significantly."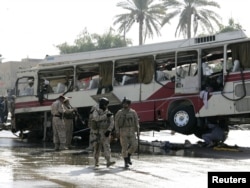 Soldiers patrol near a damaged bus after a deadly bomb attack in Karbala.
Maliki already has struck deals with his Shi'ite allies, minority Kurds, and some small Sunni blocs. Several dissenting lawmakers from the Sunni-backed Al-Iraqiyah alliance also have pledged to back him. One of those deputies told Reuters that at least 30 of the 91 Al-Iraqiyah lawmakers intend to join a Maliki-led government.
But it is Allawi and other senior leaders of Al-Iraqiyah that need to be won over. Allawi told Britain's "The Guardian" newspaper last week that he could decide to leave the power-sharing talks and go into opposition. Allawi also told "The Guardian" he did not think a deal to form a national-unity government with Maliki and other rivals could work.
Under the deal now being discussed, Maliki reportedly would remain prime minister and incumbent President Jalal Talabani, a Kurd, would retain his post. Allawi or others in Al-Iraqiyah would be given roles in government with expanded powers over economic policy, defense, and foreign affairs. Al-Iraqiyah reportedly is being offered the speaker's post in parliament.
Meanwhile, a car bomb today ripped through a parking lot and killed at least seven Shi'ite pilgrims in Karbala, home to two of the world's holiest Shi'ite shrines. Many Iraqis are worried that militants are trying to exploit the political stalemate over a new government and deepen the country's sectarian divisions.
compiled from agency reports