(RFE/RL) -- Iraqi and U.S. forces have killed the leader of Al-Qaeda in Iraq and a second senior member of the terrorist network in a joint operation U.S. officials are praising as a blow to the country's insurgency and a sign of strengthening Iraqi security forces.
Abu Ayyub al-Masri, the leader of Al-Qaeda in Iraq (AQI), was killed on April 18 when Iraqi and U.S. troops raided an Al-Qaeda safe house near the city of Tikrit.
Abu Omar al-Baghdadi, the leader of the Al-Qaeda affiliate group Islamic State of Iraq, was also killed during the early morning assault.
Iraqi Prime Minister Nuri al-Maliki announced the deaths at a press conference in Baghdad today.
"It is my pleasure to announce this to Iraqis and to the civilized world, which stands against terrorism that target innocents," Maliki said. "I would like to announce that our forces were able to kill Abu Omar al-Baghdadi and Abu Ayyub al-Masri, who were hidden in a hole in the Thar Thar area."
Maliki said Iraqi and U.S. forces surrounded the Al-Qaeda safe house, which was destroyed in the operation. The bodies of the two men were found inside a hole, where they had been hiding.
The Iraqi prime minister said U.S. military investigators conducted DNA tests on the bodies to confirm their identities.
Maliki said that during the operation, "computers were seized with e-mails and messages to the two biggest terrorists, Osama bin Laden and [bin Laden deputy] Ayman al-Zawahiri."
'Devastating Blows'
In Washington, U.S. Vice President Joe Biden made an unexpected appearance at the daily White House press briefing to talk about the operation. He said the two men's deaths could have a significant impact on terrorist activity in Iraq.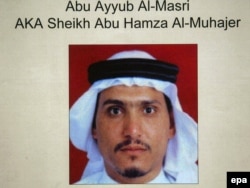 The leader of Al-Qaeda in Iraq, Abu Ayyub al-Masri, who was killed by Iraqi and U.S. forces
"Abu Ayyub al-Masri and Abu Omar al-Baghdadi, the former leaders of AQI, are the ones who plotted, planned, and executed terrorists attacks against the Iraqis in [the] recent past, as well as against Americans," Biden said. "Their deaths are potentially devastating blows to Al-Qaeda [in] Iraq."
Washington is keen to draw attention to successes by Iraqi security forces as a way to reinforce President Barack Obama's plan to draw down the number of U.S. troops as Iraqi forces grow stronger. Biden said this operation is proof that Iraqi forces are doing just that.
"This action demonstrates the improved security, strength, and capacity of Iraqi security forces," Biden said. "The Iraqis led this operation and it was based on intelligence the Iraqi security forces themselves developed, following their capture of a senior AQI leader last month.
"In short, the Iraqis have taken the lead in securing Iraq and its citizens by taking out both of these individuals."
The commander of U.S. forces in Iraq, General Ray Odierno, called the killings "potentially the most significant blow to Al-Qaeda in Iraq since the beginning of the insurgency."
Masri was a former senior aide to the former leader of Al-Qaeda in Iraq, Abu Musab al-Zarqawi, who was killed in 2006 by a U.S. air strike. He was believed to have helped Zarqawi form the first Al-Qaeda cell in Baghdad. The U.S. military said Masri was directly responsible for high-profile bombings targeting coalition forces and the Iraqi people.
Baghdadi, dubbed "Prince of the Faithful" by his followers, was a shadowy figure in the Al-Qaeda network and blamed for a wave of violence across the country.
Withdraw On Track
Iraqi police mistakenly announced Baghdadi's death or arrest several times since 2007, leading one U.S. brigadier general to say that the U.S. military didn't believe he existed.
Masri's assistant and Baghdadi's son, both of whom were known to be involved in terrorist activities, were also killed in the April 18 raid. Sixteen suspected Al-Qaeda in Iraq associates were arrested.
One U.S. soldier was killed when a helicopter crashed.
The United States is planning to withdraw all of its combat troops from Iraq by the end of August, despite fears of increased terrorist attacks and sectarian fighting in the wake of March 7 parliamentary elections that produced no clear winner.
Last month's elections, which were hailed as free and fair by international observers, showed former Prime Minister Iyad Allawi's secular Al-Iraqiyah bloc, which had broad Sunni support, taking two more seats than Maliki's Shi'ite-led State of Law bloc.
Today, Iraqi election officials agreed to Maliki's request to conduct a hand recount of votes cast in Baghdad.
Biden said the planned withdrawal of U.S. combat troops from Iraq by August 2010, and all troops by the end of 2011, remains on target.

written by Richard Solash, with agency reports