(RFE/RL) -- Crowds of mourners gathered at the Iraqi Embassy in Tehran at a ceremony for an influential Iraqi Shi'ite Muslim leader who died from lung cancer on August 26. Abd al-Aziz al-Hakim's body will be transferred for burial to his native city in Iraq, the holy city of Najaf.
The death of Hakim, leader of Iraq's largest Shi'ite Muslim political party, has raised questions about the future political landscape in Iraq. With Iraq's parliamentary elections just five months away, analysts say there could be a struggle for the leadership of Iraq's Shi'ite majority.
Ultimately, they say, that struggle will determine whether al-Hakim's son, Ammar al-Hakim, has inherited enough clout to keep the Islamic Supreme Council of Iraq (ISCI) from splintering, or whether there will be a reordering of the country's Shi'ite leadership.
Adil Abd al-Mahdi, of on Iraq's two vice presidents and a member of the ISCI, credited Hakim with helping to bring about the demise of Saddam Hussein's regime. But Mahdi agreed that Hakim's death "will leave a vacuum in the political arena."
Hamad al-Turaifi, also an ISCI member, said Hakim's death "will impact the political process since he was an influential figure in the Iraqi political arena. His death will affect the political process negatively, but I ask God to reward us."
Hakim had lived some 20 years in exile in Iran and was one of the principle leaders of the opposition to Hussein's regime.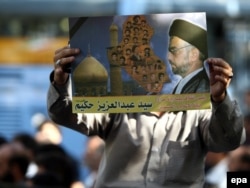 Hakim's party has a strong following among Iraq's Shi'a.
While in Iran, his older brother Ayatollah Muhammad Baqir al-Hakim founded the Supreme Council for the Islamic Revolution in Iraq (SCIRI), which changed its name to the ISCI in mid-2007.
Returning To Power
The Hakim brothers returned to Iraq soon after the collapse of Hussein's government. But in late August 2003, a bomb exploded outside the Imam Ali Mosque in Najaf, killing Muhammad Baqir al-Hakim and more than 80 other people.
That was when Abd al-Aziz al-Hakim stepped into the leadership of the SCIRI. But in 2007, he was diagnosed with lung cancer and started to receive treatment at a hospital in Tehran.
While he was undergoing treatment there, his 38-year-old son, Ammar al-Hakim, was being groomed to be his successor. In fact, Ammar al-Hakim had been the de facto leader of the ISCI for months as his father's cancer progressed.
Already, some Sunni groups have formed political links with the ISCI. That has helped it expand its base and political reach ahead of elections.
It also has revealed signs of fraying relations among Iraq's Shi'ite leaders. Two days before Hakim's death, the ISCI joined followers of radical Shi'ite cleric Muqtada al-Sadr to form a new political alliance that will contest parliamentary elections in January.
The new Iraqi National Alliance has excluded Prime Minister Nuri al-Maliki, a Shi'a who heads the Dawah Party and who has been backed by Washington.
Mehrzad Boroujerdi, a political affairs researcher at Syracuse University, says Ammar al-Hakim faces an "uphill battle" to keep the alliance together.
Analysts conclude that serious signs of division within the ISCI also could introduce new political voices within Iraq's Shi'ite heartland -- and could require both the United States and Iran's theocracy to rethink its policies.