BAGHDAD -- A suicide bomber blew himself up in a crowd of Iraqi police recruits, killing 28 people and wounding 45, police said.
It was the biggest attack for weeks in Iraq, where which has been enjoying some of its lowest levels of violence in four years. It came amid Iraqi efforts to conclude a security deal with the United States that would allow American forces to leave Iraq by the end of 2011.
A police source said the bomber, wearing an explosive vest, struck a large crowd lining up to apply to join the police in the town of Jalawla, in Iraq's volatile Diyala Province, north of Baghdad.
No one has claimed responsibility for the attack. But recruitment centres have been frequent targets by militants in the past, especially Sunni Arab Al-Qaeda, which views recruits as collaborators with what it calls a U.S.-led occupation.
The ethnically and religiously mixed Diyala Province has emerged as the most violent part of Iraq, even as the rest of the country has become more stable over the past year.
No Final Deal
Iraq as a whole has become much less dangerous over the past year but militants have shown they are still capable of carrying out devastating, large-scale bomb attacks.
Iraqi Prime Minister Nuri al-Maliki said on August 25 that the United States and Iraq have agreed that all U.S. troops will leave by the end of 2011, but Washington said no final deal had been reached.
A bilateral pact is needed to replace a UN Security Council resolution adopted after the U.S.-led invasion in 2003, which has formed the legal basis for the American troop presence ever since but expires at the end of this year.
On August 24, a suicide bomber killed 25 people at a dinner banquet in western Baghdad's largely Sunni Arab Abu Ghraib district, where local sheikhs had driven out Al-Qaeda militants over the past two years.
U.S. and Iraqi forces have been carrying out an offensive against Al-Qaeda in Diyala for the past month, saying the militants have regrouped there after being pushed out of other parts of the country.
The U.S. military says Al-Qaeda's network has been greatly weakened by a loss of popular support and a spate of security operations against it, but has not been stamped out.
Some fighters are holed up in deep bunkers and hidden tunnels surrounded by booby-traps in Diyala's dense palm groves.
The northern part of Diyala Province is also home to a sizeable Kurdish population, and Kurdish Peshmerga security forces have reached a deal with the central government in Baghdad to withdraw.
Iraqi Insurgent Media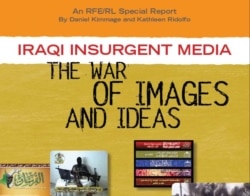 GETTING THE MESSAGE OUT. RFE/RL analysts Daniel Kimmage and Kathleen Ridolfo have produced a book-length study on the media efforts of the insurgency in Iraq and on how global jihadists are exploiting those efforts to spread their destructive message around the world....(more)
DOWNLOAD
(pdf format):
Part One Part Two Part Three Part Four Part Five



THE COMPLETE STORY: RFE/RL's complete coverage of events in Iraq and that country's ongoing transition.