There's a song that's getting considerable play on Iraqi radio stations in the run-up to this weekend's parliamentary elections.
The lyrics extol the virtues of voting, no matter what the danger.
"I will vote and defy terrorism," they declare. "I have to vote for the sake of my loved ones."
The singer, Muntazir Hanun al-Nasiri, says he constantly receives offers of money from candidates competing in the March 7 national parliamentary election to mention them in his song.
He says he refuses. But he's just one of many singers, and not all are so independent-minded.
"They pay gigantic amounts of money only to get the number of the slate and the number of the candidate mentioned in a song," al-Nasiri says.
Songs, radio jingles, television spots, posters on downtown and neighborhoods streets -- the signs of campaigning were everywhere for the past three weeks until campaigning officially ended with a two-day "media silence" before the election.
Landmark Vote
The vote is particularly significant for several reasons.
It's the first time Iraqis have voted for a parliament since 2005, when Sunnis boycotted the polls. That boycott heralded years of sectarian violence that has abated only over the last 18 months.
The vote therefore represents a key test of political stability just months before Washington begins its planned troop drawdown.
The United States hopes by the end of August to have reduced its more than 100,000 troops in Iraq to 50,000, with those remaining engaging only in noncombat operations such as training.
"The national security council has met and thoroughly considered the situation," Iraqi Defense Minister Abd al-Qadir Muhammad Jasim al-Ubaydi said today, according to RFE/RL's Radio Free Iraq. "The security plan is in place with every conceivable precaution. God willing, it will ensure maximum security."
But just how much the elections will stabilize Iraq remains an open question.
This time, the Sunnis look set to participate. But it is in the wake of a bitter controversy over the government's ban on some 150 mostly secular candidates over alleged ties to the outlawed Ba'ath Party. Sunnis have seen the bans as carefully targeted against their community, which was favored by the Ba'athists under Saddam Hussein.
Still, Sunni candidates say they are running -- because the 2005 election taught them the cost of staying out of politics.
"Participation will definitely be greater because the people have been convinced by the political process, and they realize that their votes are precious, so they should vote," says candidate Munaf Ali al-Nada, who is running from the largely Sunni province of Salahuddin.
Pre-Election Contretemps
Some 19 million registered voters are eligible to help elect regional deputies to fill the national parliament's 352 seats. This is the first national vote under a new, 18-constituency system that corresponds to Iraq's provincial makeup.
There are some 6,000 candidates, grouped into national or regional coalitions or running as individuals.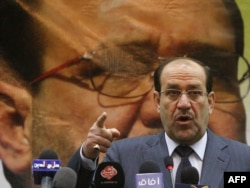 Iraqi Prime Minister Nuri al-Maliki at a campaign rally in Baghdad
A leading contender is Prime Minister Nuri al-Maliki's State of Law Coalition, which dominated Iraq's nationwide municipal elections in January 2009 on a nationalist, nonsectarian platform.
But it remains to be seen how much al-Maliki's backing of the government's "de-Ba'athification" commission could now rob his coalition of secular and Sunni votes.
Another leading contender is former Prime Minister Iyad Allawi's Iraqiya list, which also runs on a nationalist, nonsectarian platform.
A crucial test for Iraqiya is how many votes it loses over the ban on Sunni politician Saleh al-Mutlaq, one of its key leaders.
Al-Mutlaq and other barred candidates have called their exclusion by the Justice and Accountability Commission politically motivated. The commission is chaired by Ahmad Chalabi, who is part of the main coalition in the election, the Shi'ite religious parties' Iraqi National Alliance.
The Iraqi National Alliance includes most of the parties that now dominate the parliament and that swept the last parliamentary elections in 2005.
Litmus Tests
Key regional contests to watch include Kirkuk, where Kurdish, Arab, and Turkoman candidates are competing -- mostly along communal lines -- to represent the province in the national parliament.
All three ethnic groups lay claim to the oil-rich province, which Iraq's Kurds hope one day to add to their own autonomous region.
Another major barometer is the success of women candidates, particularly beyond the one-quarter of legislative seats guaranteed to them under the constitution.
Women candidates are running on most party lists, despite what they say is a strong bias among Iraq's political parties to fill top positions with men.
"The vision is still a masculine one and parties still nominate men rather than women to the positions due to the fact that these positions are always given to men who assume ministerial positions and are nominated by their parties or political blocs," says one candidate, Salama al-Khafaji, running with the Shi'ite religious parties' Iraqi National Alliance.
As the candidates made their appeals, many were using the Internet to also connect with the some 1 1/2 million Iraqis living outside the country, mostly in Jordan and Syria. Expatriate Iraqis, many who fled the sectarian violence of the past years, began three days of voting on March 5.
Security Situation
Inside Iraq, voter turnout is expected to depend partly on the security situation at local polling places.
Security was tight in the capital, Baghdad, ahead of the vote, which Islamist insurgents have vowed to derail with violence. Al-Qaeda's branch in the country has ordered Iraqis to stay home and threatened to kill voters.
A firefighter walks past the wreckage of a bus at the site of the Al-Najaf blast on March 6.
Baghdad police officer Abu Imad told Reuters that the police and the army were controlling the security situation.
Security forces have banned vehicle movement on election day to prevent election-day bombings. Air, sea, and land movement will also be closed between provinces.
Almost 50 people have been killed in the last few days of campaigning, including soldiers and police voting early.
Today, a
car bomb exploded
in Iraq's holy city of Al-Najaf, killing four Iranian religious pilgrims.
Iraq's polling centers are due to open at 7 a.m. Baghdad time and close at 5 p.m. The Election Commission has said the operating hours could be extended later into the evening if required by turnout.
Election officials say they expect to have preliminary vote results three days after voting ends.