(RFE/RL) -- Iraqi citizens braved bombs and militant attacks to vote in the country's second parliamentary elections since the 2003 U.S. invasion.
At least 38 people are reported to have been killed and more than 100 wounded in the violence, which hit a number of cities including Baghdad, Fallujah, Baquba, and Samarra.
Worst-hit was the capital, where at least 25 people were killed in mortar- and rocket-attacks blamed on insurgents firing from mainly Sunni districts.
An elderly woman in Kut told RFE/RL's Radio Free Iraq that voting is her response to the violence that has taken away her son.
"I'm voting today because I lost my son. This is my compensation. I may have lost my son, but I have not lost my vote," she said.
Radio Free Iraq correspondent Haidar Rashid, reporting from the Karredeh polling station in Baghdad, said the attacks did not seem to have affected the turnout. People are disappointed with the performance of the government, and the last parliament, and this is a major motivation for many people going to vote," Rashid said.
U.S. President Barack Obama paid tribute to the courage of Iraqi voters who, he said, "defied threats to advance their democracy."

In a statement, Obama commended Iraqi authorities for how they conducted the polls and said voters' participation showed that "the Iraqi people have chosen to shape their future through the political process."

U.S. Defense Secretary Robert Gates said the top U.S. general in Iraq, Ray Odierno, told him that election-related violence was "surprisingly" low. Gates speculated that the tight security measures had forced Al-Qaeda to change their usual patterns of disrupting voting with terror-related tactics.

He called Sunday "a good day for the Iraqis and for all of us."

In Brussels, the European Union's foreign policy chief Catherine Ashton said the turnout deserved "respect from all" and reconfirmed "the commitment of the Iraqi people to a democratic Iraq."

And there was praise from French Foreign Minister Bernard Kouchner, who said turnout bore testimony "to the will of the Iraqi people to move beyond the ordeals of the past" and reject terrorism.

Over 6,000 Candidates

Iraqi Prime Minister Nuri al-Maliki, who cast his vote earlier today in Baghdad's fortified Green Zone, described the attacks as "only noise" and added that they will not damage the morale of Iraqis.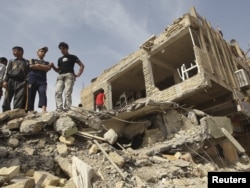 Residents stand on the debris of a collapsed building that was the target of a bomb attack in Baghdad
"Iraqis have realized the importance of their votes. These votes will have a role in forming the new government and the parliament and will have an effect on the political process. Therefore, I call upon Iraqis to take part and make the right choice," Maliki said.
Shi'ite Maliki is seeking reelection to serve a second four-year term in parliament as head of his State Of Law Coalition.
Some 6,200 candidates from more than 80 political entities are competing for the 325 seats in the Council Of Representatives. Some 19 million people were eligible to vote.
Voters are choosing between mainly Shi'ite Islamist parties that have dominated Iraqi politics since the fall of Saddam Hussein's regime, and parties offering a more secular stance.
WATCH: Election day in Iraq
The vote, being held less than six months before the United States has pledged to withdraw its combat forces from Iraq, is being seen as a key test of both stability and national reconciliation.
Last time Iraqis voted in parliamentary elections in 2005, Sunnis boycotted the polls leading to several years of sectarian violence, which has abated only over the last 18 months.
This time Sunnis were expected to turn out in force at voting centers.
In a rare public appearance, influential Shi'ite cleric Muqtada al-Sadr said at a press conference in Tehran that holding an election under the "shadow of occupation" was illegitimate. Sadr, however, urged Iraqis to vote anyway to pave the way for "liberation" from U.S. forces.
'No Major Fraud So Far'
Local election observers have told Radio Free Iraq correspondents that so far the election has gone according to plan and that no major fraud or irregularities have been reported so far.
In the capital of Iraq's Kurdistan, Christine McNab, the UN secretary-general's deputy special representative, hailed the voting as smooth and well-organized.
"So far, I have been to four polling centers, that's about 16 stations. It was very quiet at 7 o'clock when they opened. But everything was prepared very well. Every station we have seen, they've had observers from the political parties and civil society," McNab said.
"Very well organized, very nice atmosphere. Now there are a lot of people coming out to vote, old people, young people, people with their families and children."
Speaking to journalists in Baghdad, Iyad Allawi, a former Iraqi prime minister and head of the Iraqiya list, said that at least "12 violations" had been recorded.
And in a televised speech after polls closed, Allawi said he objected to the performance of the election commission and called for an accurate vote count.
Polls opened today at 7 a.m. Iraqi time and closed at 5 p.m. as scheduled, though those waiting in line were given assurances they would still be allowed to vote.
Our correspondents say that preliminary results are not expected for several days.
The horse-trading between the rival political blocs to form a new government could take weeks, if not months -- raising the prospect a new government might not be in place by August.
That's when the United States plans to pull out all its combat troops from the country, ahead of a full withdrawal from Iraq by the end of 2011.
A U.S. military spokesman, Major General Steve Lanza, said after the end of today's voting: "Right now we're committed to stay on our plan that we've been given."