Irish voters have given resounding approval to the European Union's Lisbon reform treaty, official results showed.
A "yes" vote by a roughly two-to-one margin in Ireland -- where voters rejected the treaty just a year ago -- is likely to add pressure on euro-skeptic leaders in Poland and the Czech Republic to follow suit.
Ratification of the treaty by all 27 members -- required under existing EU legislation -- would streamline Brussels decision-making and raise EU hopes of greater global clout, according to its backers.
The turnaround comes just 15 months after the same Irish voters rejected the Lisbon Treaty in June 2008.
Declaring victory for the Irish government's "Yes" campaign this time around, Prime Minister Brian Cowen told a news conference that "today the Irish people have spoken with a clear and resounding voice."
"This is a good day for Ireland and it is a good day for Europe. We as a nation have taken a decisive step for a stronger fairer and better Ireland and a stronger fairer and better Europe," Cowen, whose government has battled sagging popularity amid financial woes, said. "Today we have said to the other countries of Europe that we stand with them as we seek to move forward together. We do this because we know that we are better together and stronger together."
The result provides momentum for the introduction of a longer-term presidency and a stronger foreign-policy chief for the EU.
Backers of the approval vote also hope the Irish "yes" helps fulfill EU hopes of greater global influence.
Irish Foreign Minister Micheal Martin said the "very important project of institutional reform is now back on track and...Europe will have the tools available to it to perform more effectively, efficiently, on the global stage, particularly in relation to issues such as energy security, climate change, and indeed the global economic crisis itself."
"We do need reforms in Europe," Martin added. "It's important that we create a greater degree of coherence, and indeed consistency, on the world stage, particularly when we're dealing with other world powers."
The Lisbon Treaty would enable decisions to pass with a majority vote rather than agreement of all member states, encompassing nearly 500 million people.

Last Holdouts
Last year's "No" by Ireland's 3 million voters stalled the introduction of the treaty.
It has already been put into law by all member states except Ireland, Poland, and the Czech Republic. But only Dublin is holding a referendum on it.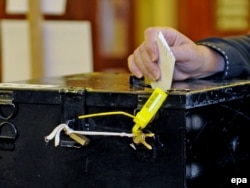 A ballot is cast at a Dublin polling station on October 2.
Irish voters seemed to have heeded warnings by political and business leaders that if they delivered a "no" again, it could spark a foreign investment exodus and isolate Ireland as it battles one of the worst recessions in the West.
In Brussels, European Commission President Jose Manuel Barroso congratulated Ireland and said that Irish voters have responded positively to EU efforts to help Ireland during the recession.
"All member states have now democratically approved the Lisbon treaty either by popular or parliamentary vote," Barroso said. "I want to congratulate the Irish people on reaching their overwhelming decision after such long and careful deliberation. I see the 'yes' vote as a sign of confidence by the Irish people in European Union [and] as a sign of their desire to be wholehearted members at the heart of the European Union."
Swedish Foreign Minister Carl Bildt -- whose country holds the rotating EU Presidency -- said the Lisbon Treaty is essential if Europe wants to be a global player. Sweden declared the vote result "an important victory" for Ireland and Europe.
The Czech and Polish parliaments have already ratified the Lisbon treaty.
President Lech Kaczynski of Poland said he was willing to ratify it if Ireland voted "yes."
"The moment Mr. President knows the final and official results, he signs it immediately," Pawel Wypych, a minister at Kaczynski's chancellery, said after the result appeared clear. "It won't happen over this weekend, but it's a matter of days."
But Czech President Vaclav Klaus is likely to delay his approval after 17 senators filed a constitutional complaint against the treaty.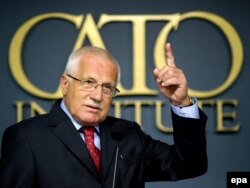 Treaty opponents hope Czech President Vaclav Klaus maintains his tough stance.
"The question does not exist today. Today I have a ban...until the Constitutional Court releases something," he told reporters after the unofficial Irish results became known.
Many analysts expect Klaus might be forced to sign the treaty into law before year's end, allowing Brussels to carve out a bigger role for itself as the global balance of power shifts in the aftermath of the financial crisis.
EU Commissioner for Enlargement Olli Rehn expressed disappointment that the Lisbon Treaty was not ratified throughout the bloc some time ago.
"It's very important that we can make the European Union more effective and democratic and reinforce our capacity to act in common foreign and security policy," Rehn said. "We would have needed the Lisbon Treaty already yesterday, not only for tomorrow."
The Irish "yes" vote could be a boon for the former "Celtic Tiger" economy, which was spared an Icelandic-style collapse due to its membership of the euro zone. Experts say it is still reliant on goodwill from Brussels and Frankfurt for its future recovery.
Many people in Ireland are struggling to come to terms with unemployment, higher taxes, and the possibility of lower social welfare payments in the next austerity budget.
compiled from Reuters and other reports