Stark differences have emerged in how the Kyrgyz media have covered the origins and aftermath of the interethnic violence that erupted the Central Asian country in mid-June.
In some cases, ethnic Uzbeks are vilified and accused of sole responsibility for the unrest that left more than 350 people dead and 400,000 displaced in the southern provinces of Jalal-Abad and Osh. Other coverage is notable for its failure to address the Uzbek side of the story, or to downplay the scope of the violence against ethnic Uzbeks.
Nationalistic rhetoric and open calls for violence have threatened to heighten interethnic animosity at a time when international organizations, foreign donors, and human rights groups are working with the interim government to calm the situation and prevent another outbreak of violence.
Sultan Jumagulov, a Bishkek-based independent media consultant, says several independent newspapers, including the independent Kyrgyz-language newspapers "Alibi" and "Apta," took a decidedly pro-Kyrgyz stance from the beginning.
"When interethnic clashes in the south began, these papers started publishing materials under such slogans like 'Kyrgyzstan For Kyrgyz people,' 'Our Fatherland Is In Trouble," Jumagulov says. "And these publications had this mood of instigation against some minorities."
Dangerous 'Alibi'
Just days before interethnic clashes broke out in Osh on June 10-11, "Alibi" published an editorial on June 8, which contained inflammatory passages and was illustrated with a picture of a clenched fist:
Without any doubt, under the current circumstances Uzbeks will become even more impudent if we don't attack them seriously...

We say so, because we heard several groups of Kyrgyz in Talas region say: 'If Uzbeks in Jalal-Abad do not stop bothering the Kyrgyz, we will go there and put [Uzbeks] in their place...

Therefore, if [Uzbeks] don't appreciate our hospitality, then the government along with people would have to properly attack Uzbeks.
Jumagulov says that "Alibi" and "Apta" have for some time been publishing material of an ultra-nationalistic nature. They would rhetorically ask why the Kyrgyz were "poor in their own country," while "other nationalities were rich." Alternatively, he says, they would ask why other nationalities were not "respecting" the Kyrgyz.
"Alibi," a weekly based in Bishkek but distributed nationwide with a circulation of about 10,000, provides recent examples of content that could be read as a provocation to violence.
The July 13 editorial titled "'Alibi' Withdraws The Line Under This Argument" appears to pin blame for the violence on ethnic Uzbeks, the country's largest minority, even if it they are not mentioned by name:
These other nationalities who started this war and murdered Kyrgyz people, then -- being unable to defend themselves -- ran away, would be put in their place by our very united efforts.
The coverage of mainstream Kyrgyz news agencies, such as "24kg" and "AkiPress," both of which are privately owned and are published online in Kyrgyz, Russian, and English, have tended to downplay the extent of violence in the south.
While international media were quick to identify the interethnic nature of the violence, "24kg" and "AkiPress" adopted the terms "mass unrest" or "June events" and took care to avoid mention of the ethnicity of the two battling sides.
In recent weeks, international media have focused much of their coverage on how ethnic Uzbeks have been disproportionately targeted by police raids, arbitrary arrests, and even torture while in detention.
Reporting from Osh and Jalal-Abad by "24kg" and "AkiPress," meanwhile, has generally focused on investigations into the origins of the unrest, the official number of casualties, local government appointments, and reconstruction efforts.
"Local people's" anxiety about the possibility of future unrest is mentioned almost as an aside in a July 28 article published by "24kg" and titled, "The City Of Osh Remains The Most Painful Place In Osh Province."
The day before, on July 27, the news agency did concede that there were "different explanations" for the unrest. The solitary comment of Human Rights Ombudsman Tursunbek Akun explained the situation by saying "most international organizations accuse Kyrgyzstan, including the Kyrgyz, of genocide of Uzbeks."
No Coverage, No Problem
State-run broadcast media have been remarkable mainly for what has been lacking in their coverage. In the early days of the June violence, there was a scarcity of reporting of fighting in the south, and very limited coverage of the plight of ethnic Uzbeks during and after the violence, according to media observers and ethnic Uzbeks questioned by RFE/RL.
In one Uzbek neighborhood right off the main Masaliev street in Osh, a woman gave a dour assessment of the television coverage. "On television they're saying everything is fine," she said on condition that her name not be used, out of fear for her safety. "We never see a single Uzbek being interviewed."
In the southern village of Mazhnun-tol, a man named Mamirjan said that "TV broadcasts only one way. Uzbeks are always being blamed." He alleged that state broadcasters were "showing Uzbek homes and saying they're Kyrgyz."
Media consultant Jumagulov says one of the country's major television channels, EITR, has not broadcast a single report over the past two months on the thousands of ethnic Uzbeks who were forced to leave their homes.
He adds that his monitoring of national-television programming has revealed that the state channels' coverage of the situation in the south has largely been limited to reports on officials' visits and statements and on the delivery of humanitarian aid. Most interviewees, he says, call for peace or praise reconciliation efforts.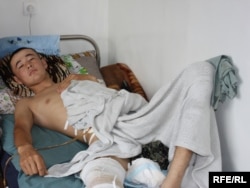 The violence left more than 350 people dead and hundreds injured
Correspondents from the two channels have offered explanations for the dearth of coverage.
Gulbara Kenjeeva, a regional correspondent of NTRK, told a media-monitoring group from the NGO "Journalists" that the threat of violence played a large part.
Kenjeeva recalled that on June 11 a young man with a knife attacked her and Ibragim Ashurov, NTRK's cameraman. Only because they were able to drive away quickly, she said, were they able to survive. After that incident, they didn't go out to cover events because all journalists were under threat, she said.
EITR correspondents were also attacked, according to "Journalists." The NGO reports that Rasul Nasirdinov, an EITR cameraman, was beaten badly and his car damaged when he attempted to cover events.
Image Crisis
Kuban Abdymen, director of the Zamandash press agency in Bishkek, suggests that bias in some Kyrgyz media could be attributed to an effort to instill balance to the overall coverage, often seen to disproportionately portray ethnic Uzbeks as the main victims of the unrest.
"Since in the international media there were lots of one-sided articles about the events and the tragedy in Osh, these materials [in the Kyrgyz press] may be considered a natural response to them," Abdymen says. "If the foreign media would try to be objective about the events in Kyrgyzstan, then there would be no reason to publish such articles."
The international media focused much of their reporting on attacks on businesses and properties of ethnic Uzbeks, broadcasting images of the burning and looting of homes in Uzbek neighborhoods into living rooms around the world.
In some cases, ethnic Kyrgyz have come under fierce criticism in the Kyrgyz media for contribute to this portrayal of events.
Rights activist Tolekan Ismailova, who was oft-quoted by international media in the early days of the violence, has been called a "traitor" in Kyrgyz online forums for describing atrocities being committed. She announced in early July that she left the country after hearing that her life was under threat.
Bermet Malikova, a journalist with a Russian-language daily, says she was described by several Kyrgyz newspapers as having been "unpatriotic" for her coverage of the events. Malikova works for "Vecherny Bishkek," which media observers widely mention as the most outspoken publication in Kyrgyzstan during the crisis. She says several Kyrgyz newspapers warned her not to become an "enemy of the Kyrgyz people."
"Alibi," for example, wrote in July that journalists such as Malikova have "no respect for their native language," and called on her to make amends for her actions: "At this moment, when Kyrgyz people are swallowing blood, suffering, and expecting condolences and support, why don't you offer your sincere condolences?" the paper asked.
One Story, Two Sides
The reporting by "Vecherny Bishkek" does not stand out as having been pro-Uzbek. A review of its coverage over past weeks reveals few interviews with ethnic Uzbeks. It had no reports from camps along the Kyrgyz-Uzbek border where tens of thousands of displaced ethnic Uzbeks sought shelter in the aftermath of the violence. Slide shows depicting burned-down Uzbek neighborhoods or displaced ethnic Uzbeks do not feature prominently on the paper's website, as they have on many international news sites.
However, " Vecherny Bishkek" was one of very few Kyrgyz publications that openly -- albeit sparsely -- mentioned the Uzbek side of the story. "The Uzbek community claims the deaths of some 700 people," the paper wrote on June 15 in a chronicle of events in Osh. "In Uzbek neighborhoods, residents are too afraid to call the ambulance," the chronicle's author, Andrei Oreshkin wrote.
"Vecherny Bishkek" also published some photos of dead bodies gathered on a street corner, tanks moving down streets, and burning homes and cars -- although there is no mention of location or names that would indicate the ethnicity of the victims.
Overall, explains Akmat Alagushev, a Bishkek-based observer for the Media Policy Institute, coverage of the unrest has revealed that Kyrgyz journalists "have split into two groups."
"They keep accusing each other, with one side saying that the other papers are unpatriotic, and that group of papers calling the others too nationalistic," Alagushev says.
RFE/RL's Kyrgyz Service correspondent Venera Djumataeva contributed to this report