U.S., UN Urge 'Maximum Restraint' After Israeli-Lebanese Border Clash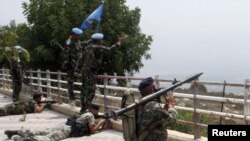 WASHINGTON -- Israel and Lebanon have exchanged deadly fire in the most serious clash since the 2006 war between Israel and Lebanese Hizballah militants.

The clash on Israel's shared northern border with Lebanon killed two Lebanese soldiers, a Lebanese journalist, and an Israeli army officer.

Both the United States and UN have urged "maximum restraint."

In Washington, State Department spokesman P.J. Crowley said the United States "is extremely concerned about the violence" and has been in touch with both governments to learn the full picture of what happened.

"We have gained a perspective from both sides but at this point, as you know, first reports of something that happened in these kinds of circumstances may or may not be reliable, so we're trying as best we can to figure out what happened," Crowley said. "Obviously our greatest concern is that whatever did happen not be repeated. The region has enough tension as it is."

Crowley said a representative from the UN's 12,000-strong peacekeeping mission in Lebanon, UNIFIL, may oversee a meeting on August 4 between the two sides in an attempt to deescalate the crisis.

Accounts Vary

Witnesses from either side of the incident gave differing accounts of what happened.

A Lebanese journalist who was at the scene, Ronith Daher, told AP she saw a UNIFIL peacekeeper ask Israel not to allow the Israeli soldier to cross the fence and warned them the Lebanese troops would open fire.

The journalist said when the Israelis went ahead, the Lebanese soldiers fired into the air. The Israelis then fired directly at the Lebanese soldiers, the witness said.

The Israeli military's northern commander, Major General Gadi Eizenkot, however, accused Lebanese forces of shooting toward forces inside Israeli territory without any provocation. He said that while soldiers were removing bushes by the fence, Lebanese military snipers shot two officers who were more than 300 meters away.

Israel responded with infantry, tanks, and artillery fire, and later sent helicopters and artillery fire at a Lebanese army base and command center.

Witnesses said the initial clash lasted about five minutes, and was followed by several hours of sporadic shelling and gunfire.

A photo taken by AP shows an Israeli standing on a crane reaching over the fence that Israel erected to separate the two countries. But the fence does not fully match the UN-drawn border, and in a statement, the Israeli military said the tree was in Israeli territory.

The Israeli Foreign Ministry said in a statement that it holds the Lebanese government responsible for the incident, which it called a "clear violation" of UN Security Council Resolution 1701, and warned of the consequences "should the violations continue."

The Israeli military said a 45-year-old battalion commander with the rank of lieutenant colonel was killed and a captain was critically wounded.

A Lebanese officer said one of the Israeli shells hit a house in the Lebanese border town of Adeisseh. One civilian was wounded in the shelling, he said.

A security official also said a Lebanese journalist working for the "Al-Akhbar" newspaper, Assaf Abu Rahhal, was killed when an Israeli shell landed next to him in Adeisseh.

UN Debate

At the UN, Russian Ambassador Vitaly Churkin, who took over the Security Council's presidency this month, said the council debated the flare-up in violence and decided to urge for calm.

Churkin said the Security Council members also called on both sides to abide by UN Security Council Resolution 1701, which ended the Israeli-Hizballah war in the summer of 2006.

Israel's Foreign Ministry warned Lebanon there would be consequences "should the violations continue," while Lebanon's Prime Minister Saad al-Hariri condemned Israeli "aggression."

The border has been relatively quiet since the summer 2006 war that left 1,200 Lebanese and about 160 Israelis dead.

But tensions have risen in recent months. Israel claims Hizballah guerrillas have significantly expanded and improved their arsenal of rockets since 2006.

Among other things, Israeli officials have accused Syria and Iran of supplying Hizballah with Scud missiles capable of hitting anywhere in Israel, a claim Hizballah has refused to confirm or deny

From agency reports.