Israelis Voting In Tight Election; Low Turnout Predicted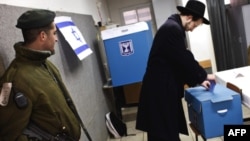 JERUSALEM (Reuters) -- Israelis have begun voting in an election that pollsters say is too close to call, with right-wing opposition leader Benjamin Netanyahu bidding to oust the centrist party of Foreign Minister Tzipi Livni.

The short campaign was overshadowed by Israel's January war with Palestinian militants in Gaza. The key issue facing voters is which leader can best assure the security of the state while chances of a peace deal seem remote.

Some 5.3 million people are eligible to vote, in 9,000 polling stations nationwide. The campaign generated little enthusiasm, and cold, rainy weather across the country increased the possibility that there would be a low turnout.

Likud party leader Netanyahu, once a clear front-runner in opinion polls, has lost ground to Livni since the 22-day war last month in which 1,300 Palestinians and 13 Israelis were killed. The two leaders were locked in a statistical dead heat.

Ultra-rightist Avigdor Lieberman, a potential spoiler for Netanyahu, has seen his popularity soar since the Gaza war that ended on January 18.

Lieberman's Yisrael Beiteinu party pledges to get tougher with Palestinians, including Israeli Arab citizens, and supports Jewish settlement building in the occupied West Bank.

Defense Minister Ehud Barak of the once dominant Labor Party was trailing in fourth place, though his poll numbers have more than doubled since the war.

The race could be determined by how smaller parties do. Up to 15 percent of voters were undecided in the final days of campaigning, pollsters said.

"The trend we've seen the last few days indicates a very close battle," said pollster Rafi Smith of the Smith Research Center. "No one has jumped ahead and it's tough to call."

Lieberman was the first of the four major candidates to appear on election day, casting his ballot in the West Bank settlement town of Nokdim where he lives.

Israelis vote by party, and parliament seats are allocated by proportional representation to national party lists. The party with the most votes usually is called on to form the government.

Weeks To Build Coalition

It may take weeks to thrash out a new coalition deal.

Prime Minister Ehud Olmert, the outgoing leader who quit in a corruption probe in September, would stay on as caretaker premier until a new cabinet is sworn in.

Livni, 50, formerly of the Mossad intelligence agency, would be the first female prime minister since Golda Meir in the 1970s. Netanyahu, 59, a former finance minister, and Barak, 66, a former general, have served previously as premiers.

As foreign minister, Livni has led peace talks with Palestinians on a two-state solution. They reached a dead end under Olmert, but U.S. President Barack Obama wants to resume the process. Netanyahu would set tougher terms for talks.

The left-leaning "Haaretz" newspaper said Netanyahu and Livni were not ideal candidates but threw its weight behind Livni given her support for the peace process with Palestinians --- "the most important issue at stake."

Underscoring the enduring conflict, Israel has closed the doors to the occupied West Bank, denying Palestinians entry to the country for the duration of the election, the army said. Some 16,000 police were deployed nationwide for extra security.

The Israeli campaign has been duller than past contests. Some blamed it on the war in Gaza, which put rallies on hold for several weeks and dampened enthusiasm.

Israeli President Shimon Peres accused the candidates of failing to address "the country's burning issues" in the campaign, in which candidates did not hold a single debate.