(RFE/RL) --Officials, activists, and entrepreneurs from 130 nations have started a weeklong meeting in Istanbul aimed at promoting new ideas for conserving and better managing the world's water resources.
In his opening speech to the Fifth World Water Forum, Turkish President Abdullah Gul said half of the world's 6.8 billion people already have water problems, and 1 billion do not have access to clean water..
The situation is worsening because worldwide demand for water keeps rising but access to safe drinking water and sanitation remains inadequate in many countries.
And competition for water keeps growing. The competition is between neighboring countries, between urban and rural dwellers, and between use of water to grow food versus water for fuel.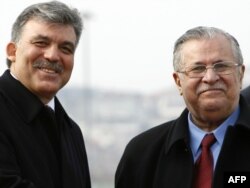 Turkish President Abdullah Gul (left) welcomes Iraqi President Jalal Talabani to the Water Forum.
All this is worrisome enough under ordinary circumstances. But as speakers opened the forum, they underlined still another challenge. That is, getting officials to focus on fixing the world's water problems when their attention is riveted by the global financial crisis.
"Your challenge is to present the decision makers with some way forward so that the voice of water cannot be drowned out by calls to fix the economies of the world," World Water Forum Secretary-General Oktay Tabasaran said to the 20,000 or so in attendance.
"Your challenge is to set the foundation to give a future to water and give water to future generations," he added.
Sobering UN Report
This year, the water forum brings together officials, activists, and entrepreneurs from some 130 nations.
Through March 22, they will discuss the problems of giving everyone on the planet access to clean water, despite mankind's tendency to mismanage water resources or fight over them rather than share them.
The main talking point is a UN report prepared for the summit that surveys the status of the world's freshwater resources.
The report, titled "Water In A Changing World," warns that increases in population and climate change are depleting the planet's freshwater supply at an unsustainable rate. The report warns that unless such problems are addressed, they will lead to global "political insecurity and conflict at various levels" in the coming decades.
The world's population, currently some 6.6 billion people, is growing by about 80 million people a year. That means by 2050, there will be 3 billion more people, and 90 percent of them will live in developing countries where clean freshwater is already scarce today.
The world's ever-growing population also will increase demand for water for agriculture. Agriculture is already the greatest consumer of water, accounting for 70 percent of all the water people use. Unless people learn to farm more efficiently, the report warns, the amounts needed for agriculture will increase by up to 90 percent by 2050.
Water As A Commodity
But agreeing upon how to better manage and conserve water is more difficult than identifying the problems. And those difficulties are also on ample display at the forum.
Outside the forum site, some protestors scuffled with police as they condemned what they said are efforts by big businesses to treat water as a commodity rather than a fundamental human right.
Many activists oppose what they say is a tendency among governments in the developing world to privatize their water resources by contracting multinational corporations to organize their supply and delivery to the public.
The corporations provide clean, bottled drinking water to the population, raising health standards. But the clean water is available to those who can afford it, while public services may be neglected.
The UN report for the summit does not try to answer these questions. It leaves that to the participants.
But the report does note a hard-to-ignore parallel between how much income people have and how much access they have to clean water. The number of people living on less than $1.25 a day, the report notes, is roughly the same as the number without access to safe drinking water.