As the countdown toward election day in Afghanistan gets started, the Afghan people are enduring a new surge in armed violence and a growing sense of disenchantment.
Despite an intensified insurgency that plagues large swathes of the country, about 15 million people are expected to cast ballots in the simultaneous presidential and provincial councils' elections on August 20.
The $224 million cost of this democratic exercise will be borne by international donors, who are aiming to consolidate the fledging democracy and statehood of the war-torn country.
It was hoped -- even expected -- that post-Taliban Afghanistan would become a new model for successful U.S. democratic interventionism among the weak and authoritarian Islamic polities.
The presidential election in Afghanistan offers a unique opportunity not only for Afghan voters but for the United States, the insurgents, and the warlords alike
Tormented by long years of war and internecine fighting, the Afghan people wanted lasting peace and development, as well as an end to bloodshed under the pretext of jihad, ethnic intolerance, and other political agendas.
Undoubtedly things have gone wrong because violence, fear, and disenchantment have grown over the past few years.
Tens of civilian Afghans, many of them schoolchildren and women, have lost their lives in an alarming uptick in insurgency-related violence over the past few weeks. Despite mounting calls on the Taliban to cease violence during the election campaign, it has become increasingly evident that the insurgents will stop at nothing to disrupt the polling process.
Data received by the Afghanistan Rights Monitor (ARM) indicates that 327 noncombatants were killed, mostly by the insurgents, from June 1 and July 15. Hundreds of families have also been made homeless and vulnerable to additional shocks by the conflict so far this year.
Independent surveys show incumbent President Hamid Karzai leading his 38 competitors, despite remarkable slumps in his popularity largely owing to alleged rampant corruption in his administration and his weak leadership portfolio.
However, Karzai's choice for his two vice presidential nominees -- Qasim Fahim and Karim Khaleli -- and his alliance with notorious warlords such as General Abdul Rashid Dostum, Mohammad Mohaqiq, and Abdul Rab Rasoul Sayaf -- each of them accused of war crimes and crimes against humanity -- have seriously damaged peoples' hope for a better future.
As ARM said in its recent briefing paper, "The Winning Warlords," candidates must not trade democracy, human rights, and justice for the support of influential warlords. Democracy, human rights and justice cannot thrive under the brutal tutelage of warlords who presided over the massacres of thousands of innocent civilians.
Obama's Strategy
Much has been said and written about U.S. President Barack Obama's strategy for Afghanistan and the strategy of complementing the military surge with an increase in political and developmental efforts. The few efforts that have been made already prove that Obama has a different political agenda for Afghanistan than his predecessor, who turned a blind eye to alleged criminals and warlords.
The Taliban regime was smashed by a small number of U.S. forces in a short period of time in 2001. In 2009, however, more than 70,000 U.S. and allied forces are struggling to curb a resurgent Taliban, who are thriving more on peoples political, social, and economic grievances than their own military might.
As much as numbers of U.S. and allied forces have increased over the past several years, so have the scale and ferocity of the armed insurgency. To end this vicious interconnection, the United States should use better and stronger political and developmental tools, rather than more guns and bombs.
The presidential election in Afghanistan offers a unique opportunity not only for Afghan voters but for the United States, the insurgents, and the warlords alike.
Thus far, only the warlords and the insurgents have seized this opportunity: The warlords will share the coming government and will grow more powerful, and that will cause increased disaffection among the public and swell the ranks of the insurgency.
Unless the Obama administration acts quickly, the losers of the elections will be democracy, human rights, and a just and viable peace in Afghanistan. The Obama administration not only should reverse Washington's strategic alliance with Afghan warlords, it should help revitalize Afghanistan's transitional justice strategy, also known as the Action Plan for Truth, Justice, and Reconciliation.
The cases of mass-killings and war crimes in Afghanistan are not limited to Dostum's alleged killing of more than 2,000 Taliban prisoners in late 2001. Dozens of mass graves have been spotted over the past three years in different parts of the country -- each of which shows irrefutable evidences of appalling crimes committed by criminals who are either at large or trying to dominate the future government.
Any U.S. investigation into war crimes must not be limited to late 2001 or to Dostum alone. Let the truth come out in full.
Washington must use its influence to stop Karzai, Abdullah Abdullah, and other presidential candidates from making deals and offering government positions to criminals and warlords.
The election process must not be abused to redistribute power to warlords or to legitimize their heinous crimes. Rather it is time to bring them to justice and accountability.
So long as justice and accountability for past crimes are ignored and delayed, peace and stability will remain illusive and impossible in Afghanistan.
Ajmal Samadi is director of the Kabul-based Afghanistan Rights Monitor (ARM), an independent rights watchdog. The views expressed in this commentary are the author's own and do not necessarily reflect those of RFE/RL.
Afghan Presidential Campaign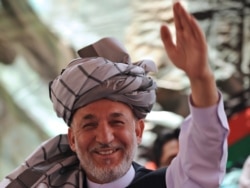 On The Campaign Trail
Afghan President Hamid Karzai and presidential challenger Abdullah Abdullah campaigned in early August at separate rallies in Kabul. Play