An uneasy peace is gradually returning to Karachi, Pakistan's southern commercial and political hub, after weeks of tensions prompted by the deadly December 28 bombing of a Shi'ite religious procession and a subsequent spree of "target killings" that left at least 35 rival political activists dead.
This week, President Asif Ali Zardari's Pakistani Peoples Party (P.P.P.) and the Muttahida Qaumi Movement (M.Q.M.) ostensibly mended fences after weeks of public bickering which threatened their nearly two-year-old coalition government in the southern province of Sindh, where Karachi is the capital.
Home to up to 18 million people, Karachi is one of the largest cities in the Muslim world, and its two commercial ports on the Arabian Sea, banks, and stock market constitute the lifeline of the Pakistani economy. Providing nearly 70 percent of the government's revenue, Karachi accounts for a quarter of Pakistan's GDP.
Political agitation, ethnic riots, and military operations to quell them in Karachi during the 1980s and 1990s always resulted in undermining Pakistan's economic prosperity and political stability.
Maintaining order in Karachi is now considered essential for this South Asian nation's survival as Pakistan struggles with domestic extremist insurgencies and remains a key battleground for the West's war against Al-Qaeda and affiliated extremist networks. Karachi is also the main transit route for U.S. and NATO supplies for neighboring Afghanistan.
Complex And Chaotic

Ghazi Salahuddin, a leading Karachi-based Pakistani columnist and human rights activist, tells RFE/RL that his city's current problems are rooted in its complex history and its chaotic transformation from a small fishing town to a teeming metropolis. "It is a multilayered [conflict] situation in which there is a history of ethnic confrontations," he says.
Salahuddin suggests that the "the political parties are fighting for turf." But a competition over resources is vital for fomenting conflicts. "It is some kind of struggle for money, for making the most of Karachi. And that is why you have criminal gangs and the drug mafia and the transport mafia and the land mafia," he says.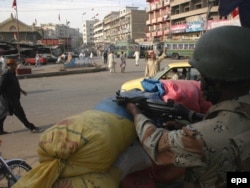 Rangers man a checkpost in violence-prone Lyari in Karachi on January 15.
Karachi is home to all the ethnic groups in Pakistan and has large migrant communities from Afghanistan, Burma, and Bangladesh. The city's politics are also colored by its diversity. While the P.P.P. attracts a large following from among the ethnic Baluchis and Sindhis in Karachi, the M.Q.M. has its support base among the Mohajirs -- Muslim migrants who made Karachi their home after migrating from India to the new state of Pakistan in 1947.
Karachi's estimated 3.5 million ethnic Pashtuns constitute the group's largest urban concentration outside their homeland in western Pakistan and neighboring Afghanistan. In recent years, tens of thousands of Pashtuns have joined their extended families in Karachi as insecurity pushed them out of their home regions.
A general strike today in Pakistan's southwestern Baluchistan Province over the alleged target killings of ethnic Baluchis in Karachi further underscores the city's links across Pakistan.
Political parties such as the P.P.P., the M.Q.M., and the Pashtun nationalist Awami National Party are perhaps the largest groups among an array of political parties and ethnic and sectarian factions vying for survival and political control over Karachi. Observers suggest that political, ethnic, and sectarian factions have organized mafias to grab the city's prized commercial properties, and control its politics, business, and industry.
Relative State Of Calm
Despite its messy politics and high street crime rate, Karachi had been considered spared. Until last month it looked distant from the carnage suffered in the northwestern city of Peshawar, the capital Islamabad, and other northern Pakistani cities as Taliban militants violently responded to last year's military operations against their strongholds in Swat and Waziristan on the western border with Afghanistan.
But recent insecurity has left Karachi residents fearing a return of violence like the tumultuous ethnic riots of the 1980s and 1990s. Recent calls for renewed operations have run into controversy as various political parties accused each other of potentially using that as a cover for targeting rivals.
Mohammed Hanif, a Pakistani novelist, returned to Karachi a couple of years ago after living in London for years. He tells RFE/RL that his return to the city he loves has been "really nice," and downplays the possibility of Karachi turning into another Beirut or Baghdad, as had been suggested by Western observers because of its violent history. "The only time we hear about Karachi is when there is violence in Karachi," he says.
Bu he suggest that six or seven killed daily in a city of 18 million is not a "catastrophe." "Obviously [for the] people who are being killed, it is a catastrophe for them. But if you look at the history of violence you see that Karachi kind of goes through these convulsions every couple of years or so, but it then it gets back on the track," he says.

Listen: Writer Mohammed Hanif describes the character of Karachi:
Hanif notes that Karachi every day embraces thousands of new arrivals from Pakistan and the region. And this makes him optimistic that the factions responsible for fomenting the city's crises can agree on a mutually acceptable solution to the city's major problems.
He considers the delivery of key services as the first step toward lasting stability in the city. "There is a large population of Karachi -- an overwhelming population of Karachi, which does not have access to basic amenities, housing, water, education," he says. "And I think there is a consensus already [that that's the] administration's responsibility. That is a political party's responsibility that they have to start delivering on that count."
Journalist Salahuddin says that Karachi and the rest of his country are going through a paradoxical period where the "negative and positive are jostling together." He cites a recent seminar where participants painted alternative rosy and gloomy future scenarios for Pakistan.
Salahuddin says Karachi's future, and the country's, depend on certain key variables. "If we can take care of extremism, if the military learns to stay back [from power] then I am very optimistic," he says.
"But if extremism is allowed to simmer in some places for some reasons and if we do not come to terms with India, then things can be very -- can be totally disastrous," Salahuddin said.
Karachi residents will be hoping that their leaders learn from past mistakes and reverse the city's downward spiral before losing control.