After some 60 people died amid an outbreak of ethnic violence in Pakistan's largest city this week, residents of Karachi are fearful of a return to the random violence in which thousands died in the 1980s and 1990s.
But while the situation in the city, often viewed as a bellwether for the overall situation in Pakistan, is tense, observers say there is little chance of political spillover that could destabilize the provincial or central governments.
In the wake of the violence, two of the city's most-powerful political parties have accused each other of orchestrating the targeted killings of political figures that have become ever-frequent in Karachi, and of supporting powerful mafias involved in land grabbing and drug trafficking.
Spike In Violence
The violence that spiked this week followed the assassination on August 2 of Raza Haider -- a lawmaker affiliated with the powerful Muttahida Qaumi Movement (MQM), a Karachi-based political party that attracts members of the local Urdu-speaking community known as Mohajirs.
Immediately after Haider's killing, the MQM accused the Awami National Party (ANP), a secular party with broad support among Pashtuns, of being responsible for the killing. The MQM alleged that the ANP's support of powerful mafias involved in land grabbing and drug trafficking was the underlying reason. The ANP lobbed the same accusations back at the MQM, and recently accused it of orchestrating the wave of targeted killings that marred the city's political scene in the past year.
The political discord potentially puts the coalition governments in both the southern Sindh Province and in Islamabad on shaky ground, because the ANP and the MQM are partnered with the ruling Pakistan People's Party in both the southern Sindh Province and in the capital itself.
Zahid Hussian, a senior editor of "Newsline" magazine in Karachi, predicts "more chaos, more trouble, and a more dysfunctional government" in Sindh. "This tension has been building in Karachi for many months. Target killings have been happening in this city for many months," he says.
"More than 1,500 people have been killed in those target killings for the last one year alone. So the situation was already very volatile," Hussain adds. "And this assassination of MQM's member of the provincial assembly [Raza Haider] has triggered more violence. The situation is already so seething that any incident can trigger much greater violence."
However, Hussain believes that the coalition government in Sindh Province will ultimately survive, saying the three parties will realize that it is in their greater interest to continue to work together.
Mini Pakistan
Karachi -- known as "mini Pakistan" due to its large ethnic communities from across the country, along with sizable migrant populations from Afghanistan, Burma, and Bangladesh -- is often seen as an indicator of the situation in the country as a whole.
Home to 18 million people, Karachi's two commercial ports on the Arabian Sea, banks, and stock markets are a lifeline for Pakistani economy and contribute heavily to the nation's revenue and wealth. The city is also a key link in NATO's supply chain for the Afghan war effort.
Its political scene is vibrant, with ethnic Baluchis and Sindhis contributing to the PPP's strong following in Sindh Province. The MQM, meanwhile, has transformed Karachi's politics over the past 30 years by building a solid support base among the Mohajirs, Muslim migrants who made Karachi their home after migrating from India to the new state of Pakistan in 1947. While the ANP has only two seats in Sindh's provincial parliament, and one minister in the provincial administration, it enjoys broad support among Pashtuns in Karachi.
A long list of other political parties and ethnic and sectarian factions vie for survival and political control over Karachi, while extremist groups such as the Taliban look to the city's slums as ripe recruiting ground.
The city's ethnic makeup is varied. Economic underdevelopment had pushed an estimated 3.5 million ethnic Pashtuns into Karachi, making it the ethnic group's largest urban concentration outside their homeland in western Pakistan and neighboring Afghanistan.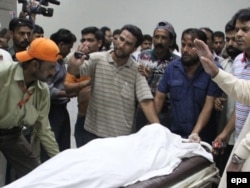 Raza Haider was gunned down on August 2
Maintaining the peace in Karachi is, in short, key to maintaining stability in a country threatened by a downward economic spiral and extremist and separatist insurgencies in the northwestern Khyber Pakhtunkhwa and southwestern Balochistan provinces.
Additional police and paramilitary forces now patrol the city's nearly deserted roads, where smoldering cars and buses bear witness to the horror of the past few days.
But looking at the complex situation, editor Hussain suggests that administrative steps must be taken if long-term peace is to be established. "Well, it [violence] can be controlled if there was a strong administration," he says.
"If you have this kind of coalition government where they are fighting each other how could you expect that the law-enforcement agencies can do their duty?, he asks "And that's one of the reasons that the situation cannot be controlled at this point."
Muhammad Jan Mohmand, an ethnic Pashtun transport-business owner, is one of the tens of thousands of small traders who made Karachi their home in search of a better life.
He explains to RFE/RL's Radio Mashaal how the recent violence has wreaked havoc on his life and business. "My driver and two laborers were killed last night. Another stranger was also brought to their room and shot dead," he says.
"The driver drove my delivery truck while the laborers packed it with concrete blocks. They were sleeping in a guest room outside my house and were killed at 2:16 a.m. last night," Mohmand adds. "They have killed four of us but even if they kill all of us we will not leave Karachi. This is our country and we have invested in this city."
Violence in Karachi has often prompted the government and other stakeholders to pull it back from the brink of disaster, and Karachi residents like Mohmand are hoping history repeats itself in this case as well.