Pakistan's President Asif Ali Zardari comes to London amid an intensifying diplomatic row with Britain and growing calls for him to return to Pakistan to lead relief efforts as monsoon floods continue to take a toll.
Zardari's five-day trip to France and Britain has been overshadowed by fury in Islamabad over comments made last week by British Prime Minister David Cameron, who said in India that Pakistan could not "look both ways" by seeking regional stability even as it secretly promotes terrorism.
During his India visit, Cameron said on July 28 that "We want to see a strong, stable, and democratic Pakistan," but added that "we cannot promote the export of terror whether to India, Afghanistan, or to anywhere else in the world."
The resulting outcry in Pakistan placed intense pressure on Zardari to cancel his planned trip to France and Britain, especially after the head of Pakistan's Inter-Services Intelligence (ISI) agency, General Ahmad Shuja Pasha, canceled his planned trip to the United Kingdom over the weekend.
Pakistani presidential spokesman Farhatullah Babar initially responded by saying that "Cameron's uncalled-for remarks and the fact that these were made in India had disappointed the people of Pakistan," but rejected calls for Zardari's trip to be canceled, arguing that the trip offered Pakistan a chance to state its case.
International media reports also quoted Pakistani officials as saying that Zardari "will be doing plain talking" with Cameron to "educate" him about the sacrifices Pakistan has made in the fight against terrorism and to make a case for continuing international support for Islamabad's efforts.
Then, shortly before embarking in France for the British leg of his trip, Zardari himself warned that the international community was losing the fight against the Afghan Taliban and expressed his hope for a "frank exchange" to clear the air with Cameron.
In Washington, White House spokesman Robert Gibbs quickly disputed Zardari's dour assessment, saying, "I don't think that [U.S. President Barack Obama] would agree with President Zardari's conclusions that the war is lost."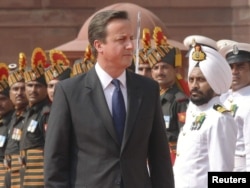 David Cameron's criticism stung Pakistan all the more for being made in rival India.
Farzana Shaikh, a Pakistan specialist at the Chatham House think tank in London, says that Zardari's visit will not be an easy one because Cameron has made it clear that he will not apologize for his controversial remarks in India.
Shaikh says the British government is not eager to accept Zardari's explanations about Pakistan's role in the struggle to combat terrorism.
While he doesn't believe the meeting between Cameron and Zardari will be "at all easy," Shaikh says that the Pakistani leader "is going to have to return home with some message to the Pakistani people that, in fact, he has been able to convey to Mr. Cameron the anger and the hurt experienced by Pakistan and the lack of appreciation in the part of Britain."
Calls To Come Home
Complicating Zardari's situation is fierce criticism at home over the government's response to the
worst monsoon floods
in Pakistan's 63-year history.
UN aid workers say more than 1,400 have died as a result of the flooding, and that 1.3 million people have been severely affected in the northwest, with many people displaced and entire villages washed away in the northwest province of Khyber Pakhtunkhwa.
Thousands of villagers in remote communities are completely cut off, and with a fresh wave of monsoon rains expected, there are fears that the situation could worsen considerably.
As President Zardari met with French leaders on August 2, Pakistanis at home and abroad called for him to cancel his trip and to head home to mount a relief operation.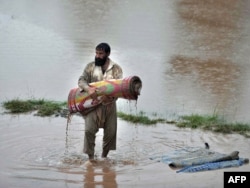 Pakistan has been battered by recent events, including the worst floods in its history.
As Britain's Department For International Development announced about $8 million in emergency aid to Pakistan on August 2, at least two British lawmakers of Pakistani origin have backed out of their planned meetings with Zardari.
At the same time, Shaikh suggests that Zardari has always preferred his foreign tours over domestic engagements.
"On this occasion there might have been very, very compelling reasons for him to stay in Pakistan and give support," Shaikh says.
"Pakistan, just in the last few weeks, has been put in an extremely difficult position. There has been a string of terrible events. We have had an air crash [and] badly handled rescue operation. We have had devastating floods. We have terrible sectarian and political violence in Karachi."
Speaking to journalists after meeting his French counterpart Nicolas Sarkozy, Zardari suggested that his trip to Paris was bearing fruit.
"Pakistan's issues, problems -- whether it is the floods or whether it's terrorism -- he [Sarkozy] is fully aware of that," Zardari said.
"He is an international leader who understands and he is somebody who feels for the people of Pakistan, so we have come to an understanding that here France will be helping us, and we will obviously support the French positions in different situations."
Zardari's challenge in London will be to achieve something tangible to show to a skeptical public back home.
with additional wire reporting