BELGRADE -- Radovan Karadzic will conduct his own defense in The Hague tribunal and is convinced he will be cleared of the charges of genocide, relatives and associates of the war crimes suspect have said.
Karadzic, leader of the Bosnian Serbs during the 1992-95 war in Bosnia-Herzegovina, was arrested in Serbia on July 21 after 11 years on the run.
He was one of three war crimes fugitives from the Yugoslav wars whose arrest is a key condition for Serbia to move toward European Union membership. He is currently in a Belgrade prison awaiting extradition, which could come sometime this weekend.
Karadzic's lawyer in Serbia, Svetozar Vujacic, said his client was in good mental and physical condition. He was not talking to investigators, but "defending himself with silence."
"He is going to have a legal team in Serbia but he will be defending himself [without a lawyer] during his trial at The Hague," Vujacic told Reuters.
"He is convinced that with the help of God he will win."
Karadzic is twice indicted for genocide for the massacre of nearly 8,000 Bosnian Muslims in the town of Srebrenica in 1995 and for the 43-month siege of Sarajevo. Some 11,000 people died in the city from sniper fire, mortar attacks, starvation, and illness.
Karadzic had wanted ethnic-Serbian areas of Bosnia to be linked to Serbia and other Serb-dominated areas at a time when autocrat Slobodan Milosevic was fanning nationalism in Serbia.
The former Bosnian Serb leader lived under an assumed name for years and worked as a doctor of alternative medicine, even launching a website to advertise.
He wore thick glasses and grew a bushy beard and long hair, which he wore in a plaited topknot, to hide his famous face.
He was very devout, fasting every Wednesday and Friday, and on all big Orthodox holidays. Freely moving around town, he was a regular in a Belgrade tavern owned by a Bosnian Serb, who had a wartime portrait of him over the bar.
"He has asked for a haircut and a shave," Vujacic said. "Today I expect to see him with his hair short and no beard."
'Planned To Turn Himself In'
Vujacic said he would formally appeal against Karadzic's extradition order on July 25, when a legal deadline expires, to allow his family to visit, if they are allowed to leave Bosnia.
Karadzic's wife and children are banned from leaving Bosnia under measures meant to choke off Karadzic's support network. They are now waiting for permission to travel to Serbia.
"He planned to turn himself in January 2009 because that is when The Hague tribunal is due to stop launching new trials," his brother Luka Karadzic said. Most Serbs see The Hague tribunal as biased against their nation.
"It would be more fair if he could be tried in Serbia with the presence of an international judge."
The arrest, two weeks into the term of Serbia's new government, is a great success for the coalition of the pro-Western Democrats and the Socialist Party founded by Milosevic, a onetime backer of Karadzic.
The EU has called the arrest "a milestone" on Serbia's road to joining the EU but said Belgrade must go further to reap the full benefits, by arresting Karadzic's military chief, Ratko Mladic, who is wanted on the same charges.
Inside Serbia, the reaction has been muted. Government ministers have kept quiet, fearing a backlash from hard-line nationalists who see Karadzic and Mladic as heroes.
But even among nationalists, reaction has been limited to fiery rhetoric about betrayal, with ordinary people weighing the practical benefits of closer EU ties against national pride.
More About Karadzic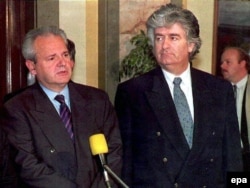 'Real Racist Believer'
Richard Holbrooke, the American diplomat who brokered the Dayton Accords, believes Radovan Karadzic was the "worst" of the "three evil men" of the Balkans. Who is the man known as the "Butcher of Bosnia"? More