WATCH: Reuters video of the ceremony around Karzai's swearing-in as Afghan president.By Abubakar Siddique
Afghan President Hamid Karzai has been inaugurated for a second five-year term in the capital, Kabul, in an elaborate ceremony attended by prominent international and Afghan dignitaries.
In a wide-ranging speech, Karzai appeared to seek a balance by addressing the concerns of constituents and outsiders alike -- pledging to establish peace and security; calling for a "Loya Jirga," or traditional grand assembly, to reconcile with insurgents; and vowing to confront firmly entrenched corruption.
He also attempted to bridge the rifts that remain following a protracted and contentious election process.
"Today, after having taken the oath as president of Afghanistan, I consider myself a servant of the entire Afghan nation -- for every individual in Afghanistan, from all corners of Afghanistan," he said.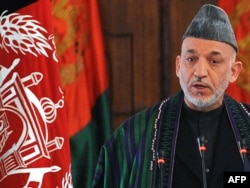 Karzai delivers his inauguration speech in Kabul
To his political opponents, Karzai offered an olive branch by inviting them to participate in the new administration and the political system.
"Once again, I invite all the [presidential] candidate brothers to come and work with us for a better tomorrow for our marginalized nation," Karzai said.
Karzai also addressed the intense scrutiny he has faced in recent months from international backers, who have questioned his administration's commitment to fighting corruption and the rising Taliban insurgency.
Karzai listed peace and reconciliation as the top priorities of his new administration, saying the government aims to gradually take over security responsibilities and vowing to call a "Loya Jirga," or traditional grand assembly, to reconcile with insurgents.
"We welcome all our estranged compatriots who are not linked to international terrorist networks and who want to return to their homeland and live peacefully under our constitution," he said.
Karzai's swearing-in came as U.S. Secretary of State Hillary Clinton, who was in Kabul for the ceremony, renewed Washington's demands for an "accountable, transparent government" in Afghanistan.
Karzai devoted part of his speech to the thorny corruption issue.
"Ministers in Afghanistan should be just, competent, and servants of the people," he said. "Senior government officials -- particularly the ministers, their deputies, and provincial governors -- are bound to register all their assets.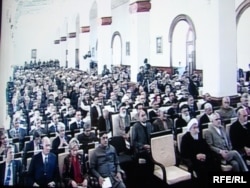 The ceremony was attended by hundreds of foreign and Afghan officials.
"We are consulting with the parliament to frame an anticorruption law for auditing the possessions of senior government officials."
Karzai thanked the United States and Western donors for reconstruction aid they have provided, but called for increased Afghan ownership of aid projects. He said that an international conference in Kabul would open a "new chapter of aid and cooperation" between Afghanistan and the international community.
Karzai expressed hope that at the end of his new five-year term, Afghanistan will be a stable developing nation.
"In the next five years Afghanistan should be a country that will be able to defend itself. And, God willing, peace will prevail in all its corners," he said. "God willing, Afghanistan will proudly own a strong democratic system. And tens of thousands of Afghan youth will be implementing and overseeing reconstruction projects. All of its cities and villages will have electricity."
A UN-sponsored peace conference in Bonn first selected Karzai as the leader of the first post-Taliban interim administration. In June 2002, a traditional Afghan assembly of elders elected him as transitional leader for another two years. Karzai won a full term in the country's first democratic presidential election in 2004.
Former Afghan Foreign Minister Abdullah Abdullah, who alleged massive fraud in the first round of the presidential vote and then
pulled out
of the planned second round because he said authorities could not ensure a fair vote on November 7, did not attend Karzai's inauguration. Abdullah had called his withdrawal a difficult decision made "in the intersts of the nation."
"[I have] been asking for changes, changes in the system, changes in the policies," Abdullah told Reuters after the inauguration. "I didn't see any new idea offered by Mr. Karzai or any promise made to the people or to the international community so [that] I would be hopeful, regardless of my own position, that the situation will get better."
Dpa quoted a provincial police chief saying that a suicide bomber had struck in southern Afghanistan on inauguration day, killing at least 10 people, some of them children, and wounding 13 others in an attack near a police station.