Afghan President Hamid Karzai has given himself control over the election fraud watchdog whose rulings during last year's presidential election affected his results more than any other candidate.
In a decree issued last week, Karzai gave himself the powers to appoint all five members of the Electoral Complaints Commission (ECC), the independent election watchdog that ruled more than a million ballots in 2009, most of them for Karzai, were fraudulent.
Jean MacKenzie, an independent Kabul-based journalist with the online news agency GlobalPost, says that it was the ECC "that actually pushed for the investigation into fraud and pushed for a runoff, which ultimately did not happen."

"Karzai to this day does not admit that there was actual fraud," MacKenzie continues. "Most people think he is carrying a grudge against the ECC for its action and wants to ensure that that sort of thing can never happen again."
Under the electoral system in place for the August 2009 presidential poll, three of the ECC's five members were appointed by the United Nations. The other two were appointed by the chief justice of the Afghan Supreme Court and by Afghanistan's Independent Human Rights Commission.
Western Critics
Gerard Russell, a former political adviser to the United Nations' mission in Kabul, says the new decree will help Karzai ensure the parliament after elections in September will be dominated by his political allies.
Russell resigned from his UN post in Afghanistan last year to protest the way the authorities handled allegations that widespread fraud helped Karzai win reelection in the first round. In an opinion piece published today by Britain's "The Guardian" newspaper, Russell said Karzai has now taken personal control of the electoral process by "neutering" the country's only independent electoral watchdog.
With a future parliament on his side, Russell continues, Karzai ultimately would be able to amend the constitution so that he can run for more than two elected terms if he chooses to do so. That would allow Karzai to run for election again in 2014 with, in Russell's words, "the whole electoral machinery having been installed by him personally."
MacKenzie says neither she nor many Western diplomats in Kabul think that Russell's analysis is far-fetched. "I've heard that from a lot of Western diplomats here, one of whom actually went so far as to say that Karzai is totally focused right now on preserving his power and preserving himself in office," she says, "and that this is actually the opening salvo in his battle to amend the constitution and keep himself in office for as long as he might like."
Even if Karzai were unable to amend the constitution to allow him to run for a third elected term, a sympathetic parliament still could help him extend his term in office by supporting a declaration of a state of emergency -- a move that could delay elections indefinitely.
'Afghanization'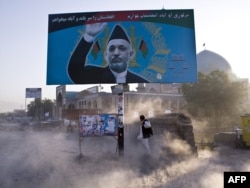 Is "Afghanization" a means to silence foreign critics?
Some media reports suggest that the outgoing UN envoy in Afghanistan, Kai Eide, has received assurances from Karzai aimed at alleviating the concerns of Western diplomats. According to those reports, Karzai has agreed to appoint two foreigners to the commission -- including one who might have veto power over commission rulings. But Karzai's decree does not mention any such conditions.
Furthermore, Hamid Elmi, Karzai's deputy spokesman, said in an interview with RFE/RL's Radio Free Afghanistan today that Karzai will not appoint any foreigners to the ECC. He said the process of "Afghanization has already begun and it will continue."
Elmi also rejected criticisms that a Karzai-appointed ECC could lead to increased election fraud in favor of Karzai's political allies. "We believe that our institutions are strong enough now and Afghans can themselves handle things," he said. "Now that this commission has become Afghanized, it is time for Afghans to take everything in their own hands."
Power Check?
At the same time, an official in Afghanistan's Justice Ministry, Jurisdiction Department Chairman Sayed Yusuf Halim, told RFE/RL's Radio Free Afghanistan today that Karzai's decree does contain checks and balances involving the top posts in the legislative and judicial branches of government.
"The president has to decide on the composition of the Electoral Complaints Commission in consultation with the chairmen of both houses of parliament and the chief justice," Halim said. "The president would issue a decree in this regard."
But critics say mere consultations fall short of the robust debates and voting process necessary to ensure a proper check on presidential powers.
MacKenzie notes that Afghanistan's election law never faced a proper parliamentary debate, because the legislature did not exist in 2004 when the law was written. Now, the full membership of parliament is prevented by the constitution from debating or voting on Karzai's decree -- a situation she attributes to "genius tactics" and timing by Karzai.
"There is an article in the constitution that prohibits the parliament from discussing any proposals amending the electoral law within the last year before the elections," MacKenzie says. "The [next parliamentary] elections are scheduled for September. So although parliament is saying it will discuss these amendments and either accept or reject them, it is far from clear whether they will even be able legally to discuss this decree that Karzai has issued."
Karzai also has amended the Afghan election laws in a bid to reduce the number of candidates who run for the presidency n 2014. The number of signatures required on a petition to become a candidate has been raised from 10,000 to 100,000. Presidential candidates also must make a deposit of 5 billion afghanis (about $100,000) in order to be listed on the ballots as a candidate.
RFE/RL's Radio Free Afghanistan correspondents Nassim Shafaq and Hamid Mohmand contributed to this report from Kabul