Kazakhstan is calling for an end to international pressure over the case of jailed human rights activist Yevgeny Zhovtis, RFE/RL's Kazakh Service reports.
Yermukhamet Yertysbaev, Kazakh President Nursultan Nazarbaev's political adviser, said others should not judge the case until an appeal of Zhovtis's sentence has been ruled on by the court.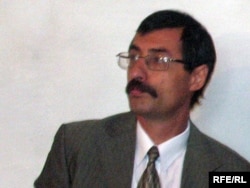 Yevgeny Zhovtis
Yertysbaev made his comments at the Organization for Security and Cooperation in Europe's (OSCE) Human Dimension Conference in Warsaw on September 28.
A Kazakh court this month sentenced Zhovtis, the director of the nongovernmental organization Bureau for Human Rights, to four years in prison for manslaughter and violating traffic regulations following a July accident in which the car he was driving struck and killed a man on a highway.
Zhovtis has appealed his sentence but a date for the hearing has not been scheduled.
The OSCE, the United States, and the European Parliament have expressed concern over Zhovtis's case and human rights groups such as Freedom House have called his trial unfair.
This month protesters held rallies in support of Zhovtis in front of the Kazakh embassies in Moscow, Bishkek, and Warsaw.
Kazakhstan will take over the chair of the OSCE in January.