Kazakhstan's parliament has adopted constitutional amendments to confer the title of "leader of the nation" and an array of extraordinary benefits on President Nursultan Nazarbaev.
The legislation gives Nazarbaev final say in the country's domestic and foreign policy in the event that he leaves office, and also provides "the first president of Kazakhstan" with lifetime immunity from investigation or prosecution.
The lower house, or Mazhilis, approved the bill on May 12 and the upper house gave its nod the following day.
Amzebek Zholshibekov is a legislator from the pro-presidential Nur-Otan party and one the three deputies who introduced the bill last week. He says it merely reflected the will of the people.
"We don't think this is anything new. We just took into consideration the opinion of the people who believe Nazarbaev to be the initiator and architect of changes that improved our country," Zholshibekov tells RFE/RL's Kazakh Service.
Darigha Nazarbaeva (left) and her ex-husband Rakhat Aliev
Zholshibekov says that "thanks to President Nazarbaev" Kazakhstan is chairing the Organization for Security and Cooperation in Europe this year, and next year will chair the Organization of the Islamic Conference. "Kazakhstan has become well-known worldwide," he adds.
Closing Off The Past
The law on the first president of Kazakhstan adopted in 2001 already gives Nazarbaev the right to address parliament or speak on national television or radio any time he wants even after he is president.
That same law also makes the "first president's" approval of new legislation mandatory, again even if he is no longer president. But the current bill goes even further. It excludes the possibility of investigating any actions Nazarbaev took or approved while he was president.
Nazarbaev has been linked to a U.S. corruption probe of an American businessman more than a decade ago and has faced accusations at home of siphoning off money from state coffers and putting it in a Swiss bank account.
In 2003, officials admitted Nazarbaev had put money in a Swiss bank account, but only as an emergency fund for the country if there should arise a period of hardship.
Not long after that, parliament confirmed a shadow capital amnesty for money taken out of the country and ordered all tax records up to that time be destroyed.
Also, and more serious, are allegations by Nazarbaev's former son-in-law, Rakhat Aliev, that the Kazakh president was connected to the killing of a key opposition figure in February 2006.
Nazarbaev's supporters have denied those accusations as an attempt to tarnish the president's reputation.
None of these, or any other allegations, can be investigated once the bill is passed.
The new bill also guarantees that all the property and holdings of Nazarbaev "and his relatives living in his household" cannot be confiscated for any reason.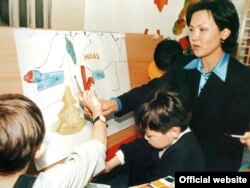 Nazarbaev's daughter Dinara Kulibaeva is seen as his latest possible successor.
It is unclear if that includes Nazarbaev's three daughters, two of whom, Darigha and Dinara, have substantial shares in leading banks in Kazakhstan as well as other business ventures.
It is also unclear if that applies to Nazarbaev's grandchildren, some of whom, though young, are also enjoying great success in Kazakhstan's business world.
Protecting Him From What?
Critics have cried foul over the bill. One is Serilkbolsyn Abdildin, who until April was head of Kazakhstan's Communist Party.
Abdildin says that the new law wasn't proposed by legislators but "from further up in the government." He said Nazarbaev "didn't do anything especially useful for the people during these last 20 years. The decision doesn't serve any purpose for the government or the people. It only guarantees his personal safety."
That is a point many opposition figures have made in the week since the idea was mentioned in parliament. Vladimir Kozlov of the unregistered opposition Alga (Forward!) party questions the reasons for guarantees against investigations and prosecution.
"There is no need to defend an innocent person so persistently," Kozlov says, adding, "time after time these parliamentarians raise demands of immunity for him [Nazarbaev] and time after time they only prove the opposite [that Nazarbaev is guilty of something], isn't this true?"
Bulat Abilov of the opposition Azat (Freedom) Party says the decision showed Nazarbaev and his supporters are "not sure of themselves."
Some analysts have speculated that the bill was introduced at the behest of leading businessmen in Kazakhstan who are anxious to preserve the status quo, and hence their own futures, by ensuring Nazarbaev's dominance in politics.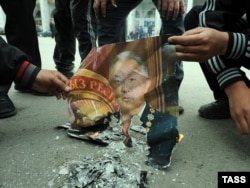 Former Kyrgyz President Kurmanbek Bakiev had also gathered power around himself, some critics have noted.
Legislation passed in 2007 guarantees the "first president" has no term limit, although Nazarbaev will turn 70 in early July and there is still no clear successor.
Amantai Dandygulev, the editor of the Kazakhstan edition of Russia's "Novaya gazeta," says there is no real cause for concern, calling the bill a temporary event that affected only one person.
"This document will be in effect only so long as Allah allows Nazarbaev to live. No one and nothing is forever on this planet," Dandygulev says.
In Kyrgyzstan during the five years [that former President Kurmanbek] Bakiev was in power, the constitution was rewritten five times, always increasing the power of the executive branch," he adds. "So, using this as an example, we can say that this document's lifetime will only last if the next president is a chosen successor."
The bill now goes to the Senate, the upper house of parliament, on May 13 for approval. That seems to be merely a formality at this point.
The topic was introduced in parliament on May 5, though it was not on the agenda. Reports at that time indicated the issue would not be debated until late June, but a week later the lower house quickly approved it.
Further, both houses of Kazakhstan's parliament are filled with deputies from the Nur-Otan party, created in early 1999 with the sole purpose of seeing Nazarbaev reelected as president.
No opposition party is represented in Kazakhstan's parliament.

written by Bruce Pannier, with contributions from Sultan-Khan Zhussip and Yerzhan Karabek of RFE/RL's Kazakh Service