It's become a familiar story. An oil-fueled boom now rapidly running out of steam as commodity prices plummet.
Billions of dollars' worth of government help for banks struggling in a liquidity crisis.
Foreign loans that were cheap to get in the good times, now increasingly hard to refinance.
Ukraine's hryvnya, Russia's ruble, Hungary's forint. Currencies in Central and Eastern Europe have been among the most battered by the fallout from the global economic crisis, with falls of more than 25 percent against the dollar in just a few months. And now another emerging-market currency looks ripe for a devaluation: Kazakhstan's tenge.
The global financial crisis has hit Kazakhstan hard -- but throughout it all, the country's central bank has held its currency relatively stable. By intervening to support the tenge, the National Bank kept it within a range of between 120 and 121 per dollar throughout last year.
But recent depreciations of other currencies in the region -- including the hryvnya and the ruble, which has been allowed to weaken more than 30 percent against the dollar -- have made Kazakhstan's exports less competitive, and prompted growing expectations of a tenge devaluation.
Analyst Paul Biszko of RBC Capital in Canada says some kind of economic adjustment is inevitable -- either through a recession, a currency devaluation, or a bit of both.
"The government wants in most cases to prevent complete economic Armageddon, so they usually opt for a mix of both, so an economy that feels some pain but maybe not to the same degree as it would if they had managed to keep the currency more stable," Biszko says. "But a currency adjustment is almost inevitable in such circumstances, to soften the blow from economic adjustment that needs to take place."
So perhaps it was not such a surprise when Kazakh Economy Minister Bakhyt Sultanov said earlier this month that the tenge could depreciate by up to 10 percent this year.
The appointment last week of a new central bank chief, Grigory Marchenko, further fueled expectations of a weaker currency. The last time Marchenko was put in charge, Kazakhstan had just experienced a huge devaluation in the wake of Russia's financial crisis of 1998.
Biszko says authorities will likely follow Russia's recent example and let the currency slide gradually. But he says he believes a bigger tenge devaluation will be necessary -- of some 25-40 percent -- though no official would say so, of course, for fear of sowing panic.
Some signs of, if not panic, then "dollar fever" are already visible.
Almaty resident Yedige Isabayev, on his way to buy dollars at an exchange bureau, says ordinary people are worried and want to know how to protect their savings. He says he was prompted to act by seeing a television interview the previous day with an official who failed to reassure him.
"What [Kazakh lower house Finance and Budget Committee Chairwoman] Gulzhan Karagusova said...triggered fears," Isabayev says. "In fact, it was a reason for anxiety among the society, because the person who actually controls budget and finance could not tell us anything about the currency."
A tenge devaluation would be a headache, too, for banks and companies that have borrowed in foreign currency, making it more expensive to service such debts. This year, banks' foreign-debt repayments are expected to reach some $11 billion.
"A significant change in national currency exchange rate in any country would increase the exchange-rate risk for companies that have debt in foreign currency," says Vitaly Tomsky, an analyst at Kazakhstan Stock Exchange. "In our situation, for the Kazakh market, this risk could apply mostly to commercial banks who were quite active in getting credit in the west in past years. Naturally, any increase in risk would scare off potential investors from buying shares in companies like these."
There's another worry, too: that a gradual depreciation, once begun, might get out of control if it prompted speculative attacks on the currency.
Biszko says Kazakh authorities might eventually loosen the reins and move toward a "dirty float" -- allowing the currency to trade freely, but occasionally intervening.
compiled from reports by RFE/RL's Kazakh Service
World Economic Crisis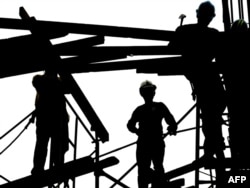 Multimedia coverage on the impact of the global financial crisis on markets and individuals across RFE/RL's broadcast region. More