Aidar, a 19-year-old Almaty resident, has only known one leader in his lifetime: Nursultan Nazarbaev, who became Kazakh president a year before Aidar was born.
Like many young people secure in the impression that a president, like a parent, never changes, Aidar is complacent about his country's leadership. "I don't care about politics," he says.
It has been 20 years since Nursultan Nazarbaev came to power in Kazakhstan, Central Asia's largest and richest country. For some, Nazarbaev is an autocrat who has suppressed freedom and democracy, for others he is a guarantor of prosperity and stability in the country.
More interesting than politics, for Aidar, is the country's financial future. As a university graduate with a comfortable starting salary of $350 a month and enough extra time to pursue a master's degree in business, things look bright.
"In terms of the economy and development, our country has advanced in comparison to other countries in the region," Aidar said.
"Living standards have gone up considerably. Education standards have improved. We have a better economic situation and job opportunities."
The way that elections are conducted here, and the way that the propaganda machine works and public opinion is manipulated, Nazarbaev automatically wins 60-70 percent of the vote
There are millions of young people in Kazakhstan who, like Aidar, see no problem with Nazarbaev's prolonged stay in power.
To them, Nazarbaev is a man who has delivered to the energy-rich country a level of stability and prosperity unheard of elsewhere in Central Asia. Why risk losing all that with someone new and untested?
But other Kazakhs look beyond the country's economic well-being to a leader they say has sought to entrench his regime at any cost.
As Nazarbaev marks two decades as president on June 22, many say there is little that separates him from the other Soviet-style autocrats who have ruled Central Asia, almost without interruption, since the collapse of the USSR.

Shepherd's Son
Born in 1940, Nazarbaev, the son of a shepherd, began his rise through the ranks of the Communist Party while still a steel worker in northern Kazakhstan.
In 1989, Nazarbaev came to power as the first secretary of the Communist Party of Kazakhstan, and was elected president the following year. Together with Eduard Shevardnadze of Georgia, Nazarbaev was a privileged member of the inner circle of Soviet leader Mikhail Gorbachev.
Before his rise to power, Nazarbaev had been a vocal critic of extended political terms, saying no leader should be allowed to stay in office for a long period of time. The comments were an apparent dig at Dinmuhamed Kunaev, a former Kazakh Communist Party boss.
But within years, Nazarbaev would seek to extend his own mandate. In 1995, Nazarbaev dissolved parliament before quickly arranging a national referendum that would extend his term in office by several years.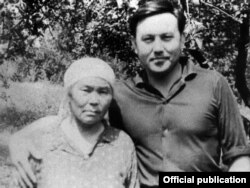 An undated photo of Nazarbaev with his mother
Shortly afterward, Nazarbaev ordered another referendum on constitutional amendments stripping the parliament of some of its powers and dissolving other checks on his authority like the Constitutional Court.
In 1999, Nazarbaev ran for reelection in an early ballot, winning handily with 89 percent of the vote after his main rival, Akezhan Kazhegeldin, was disqualified after attending an unsanctioned opposition rally. By then, the pliant parliament had extended the presidential term from five to seven years.
In 2005, Nazarbaev scored another massive win with 91 percent of the vote. Opposition and international observers criticized the vote as failing to meet international standards for democratic elections.
Unfazed, Nazarbaev once again sought a constitutional amendment allowing him to pursue unlimited terms in office -- following Turkmenistan's Saparmurat Niyazov's path toward president-for-life status.
Corruption Allegations
Nazarbaev's critics say his political immortality has created a crisis of widespread corruption, nepotism, and suppression of the opponents in the media and political spheres.
Pyotr Svoik, a Kazakh opposition politician, tells RFE/RL's Kazakh Service that Nazarbaev and his circle have put a clamp hold on the entire country.
"Kazakhstan doesn't have any independent institutions, and the parliament, courts, prosecutors' office and government serve only one particular person. The future of political system in Kazakhstan is very dark and very worrying," Svoik said.
A number of journalists and high-profile opposition leaders have been arrested, beaten, and killed under Nazarbaev's rule.
The most sensational case was the murder, in 2006, of Altynbek Sarsenbaev, the cochair of the opposition Naghyz Ak Zhol party. Five officers from Kazakhstan's KNB security service were arrested in connection with the killing.
Media rights groups increasingly criticize the Kazakh government for suppressing freedom of speech, trying to control the Internet, and showing little tolerance for independent media.
Sergei Duvanov, an independent Kazakh journalist, told RFE/RL's Kazakh Service that while vote-rigging may have taken place in the past, Nazarbaev has been so successful at eliminating any opposition that he no longer has any viable competition.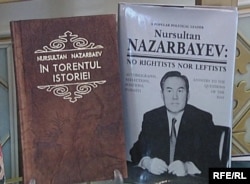 Books written by the president in the Nazarbaev museum in Astana
"The way that elections are conducted here, and the way that the propaganda machine works and public opinion is manipulated, Nazarbaev automatically wins 60-70 percent of the vote," Duvanov said.
Such opinions, however, have done little to dim Nazarbaev's reputation at home or abroad. Kazakhstan's energy wealth and relative stability have raised it above the criticism leveled at more autocratic Central Asian regimes in Uzbekistan and Turkmenistan.
Next year, it is set to assume the presidency of the OSCE, becoming the first post-Soviet state to assume that post.
It is a momentous opportunity for Kazakhstan to boost its reputation and legitimacy abroad. But Human Rights Watch recently warned that the chairmanship could backfire if it "fails to abide by the democratic standards it is supposed to be upholding."
Economic Boom
Still, Kazakhstan is undeniably the most prosperous and stable country in Central Asia, and has become so under Nazarbaev's rule.
Nazarbaev's critics say the economic boom is due not to presidential strategy and skill but the country's enormous natural resources, including oil, gas, and minerals, as well as vast farmlands that have made the country one of the world's leading grain exporters.
But even those critics concede that living standards in Kazakhstan have improved at a far faster rate than those in other energy-rich countries like Turkmenistan and Uzbekistan. Kazakhstan is a destination for hundreds of thousands of people from other countries in the region, who come in search of better lives and income opportunities.
Nazarbaev has also proven to be a master at juggling Kazakhstan's relations with big powers like Russia, China, and the United States. Firms from all three countries have invested collective billions into Kazakhstan.
Unlike its Central Asian neighbors, Kazakhstan has provided a favorable climate to small- and medium-size businesses. The government has generously invested oil revenues in the country's health care, pension, and social-security systems.
While older generations in other Central Asian countries have to cope with insufficient pensions, often paid late, Kazakh pensioners receive their relatively high, regularly paid retirement money from ATM machines.
Many Kazakhs credit Nazarbaev with using the country's energy wealth to improve living standards.
Nazarbaev is also known for investing in younger generation's education. In 1993, he set up a special program -- Bolashak, or "Future" -- that annually gives 2,000 students the opportunity to study in foreign countries. The students' expenses are fully covered by the government.
Aidar, the 19-year-old Almaty native, says his sister, Narina, is currently studying finance in Britain under the Bolashak program. Rather than looking for future opportunity abroad, Aidar says Narina is eager to return to Kazakhstan after completing her studies to find a well-paying job at home.
Both Aidar and Narina are looking forward to their future. Both see their career in business and finance, and aren't remotely interested in getting involved in politics or questioning the government's work.
After all, says Aidar, if you don't interfere in politics, "you'll be fine." There is the sense that many Kazakhs share the same view.

RFE/RL's Kazakh Service contributed to this report