Thousands turn out for supreme leader's Friday Prayer sermon, in which he sent a strong warning to protesters and called Mahmud Ahmadinejad the country's "legitimate" president. (Reuters video)
In his first nationwide address following days of opposition protests, Iranian Supreme Leader Ayatollah Ali Khamenei has ruled out any vote-rigging in the country's disputed presidential election.
Khamenei said the June 12 vote had produced a "definitive victory" for incumbent President Mahmud Ahmadinejad and that street protests should end.
It could prove to be a key moment in Iran's postelection turmoil.
Leading Friday prayers at Tehran University and publicly addressing the disputed outcome for the first time, the country's top religious and political authority said the election gave Ahmadinejad a landslide win that is not in doubt.
Khamenei this week encouraged moderate challenger Mir Hossein Musavi to pursue his objections to the vote process through legal channels.
"The system in our country does not allow for any election fraud," Khamenei said in his Friday sermon. "Anybody who is involved in election issues knows that for sure and approves of this."
He cited a gap of 11 million votes between Ahmadinejad and Musavi, the closest of three challengers according to official figures.
"Sometimes there's a difference of 100,000, or 500,000, or 1 million votes, then it is possible to say there could have been fraud," Khamenei said. "But a difference of 11 million votes -- how can there be any vote rigging?"
RFE/RL senior correspondent Golnaz Esfandiari offers her analysis of Khamenei's speech.
Khamenei's sermon was attended by Ahmadinejad and the conservative challenger, former Islamic Revolutionary Guards Corps commander Mohsen Rezai.
Tens of thousands gathered in and around Tehran University to hear Khamenei -- their ranks swollen, reportedly, by government-organized buses bringing people to the venue.
The disputed result has brought hundreds of thousands of Musavi supporters onto the streets in the past week in the biggest protests in 30 years.
Authorities have rounded up scores of protesters and reformist figures, and at least seven people were shot dead in clashes with pro-regime militia on June 15.
The UN's human rights chief, Navi Pillay, added her voice to the chorus of international concern today, saying it was the government's responsibility to ensure law enforcement and militia did not resort to "illegal acts of violence."
Musavi wants the result annulled and a new vote held.
But Khamenei said the election was decided at the ballot box, not in the street.
"Struggling in the street after an election is not the right thing to do. But also, it challenges the principle of democracy and election," Khamenei said. "I ask everyone to stop this. This way is wrong. If they don't stop this, then they will bear the responsibility and the consequences of this chaos."
There were harsh words, too, for foreign powers who, Khamenei said, had interfered in Iranian internal affairs.
But he said they were mistaken if they thought pressure could bring about the kind of revolution in Iran that transformed some post-Soviet countries.
Khamenei singled out Britain for criticism, describing it as "treacherous."
In response, Britain called in the Iranian ambassador, and Prime Minister Gordon Brown later said: "I believe it's right for us to speak out for human rights, to speak out against repression, to speak out in condemnation of violence, to speak out where a free media is prevented from doing its job. And we will continue to do it. But we're not the only country who is speaking out. The whole of the world is speaking out."
There was no explicit criticism of Iran's usual target, the United States. U.S. President Barack Obama has gone out of his way to avoid accusing Iran's government or rigging the election, though he has expressed his admiration for protest marchers peacefully expressing dissent after the vote.
However, both the U.S. Senate and the House of Representatives passed a nonbinding resolution condemning the Iranian government's crackdown on some demonstrators and its effort to limit Internet and mobile-phone communications.
Asked about the contrast between Obama's caution and the congressional resolution, White House spokesman Robert Gibbs said the U.S. president was deliberately trying to avoid giving one side or another in Iran an opportunity to take advantage of his words.
"We're not going to be used as political foils -- and political footballs -- in a debate that's happening by Iranians in Iran," Gibbs said. "There are many people in the [Iranian] leadership that would love us to get involved, and would love to trot out the same old foils they have for many years. That's not what we're going to do."
Khamenei also described the election result and the high turnout as a show of people's trust in the Islamic system.
He also said his views were closer to those of Ahmadinejad than to the president's challengers.
No opposition rally is planned until June 20, the same day that Iran's election watchdog, the powerful Guardians Council has invited Ahmadinejad's three challengers to a meeting to discuss their complaints.
They number in the hundreds, and include Rezai's claim that official turnout in some areas was as high as 140 percent.
Iran Election Diary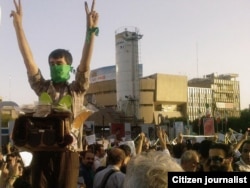 Disputed Presidential Vote
There have been protests and clashes with police on the streets of Tehran following the disputed reelection of Mahmud Ahmadinejad. RFE/RL collects videos, photos, and messages on social-networking sites coming out of Iran to attempt to get a picture of what is happening inside the country.
Click here
Iran Election Special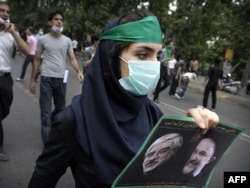 RFE/RL's Full Coverage
Following the disputed reelection of Iranian President Mahmud Ahmadinejad, supporters of Mir Hossein Musavi have taken to the streets to protest.
Click here
for news, blogs, and analysis of the presidential election and aftermath.