Iran's former reformist president, Mohammad Khatami, who was seen as having a good chance of ousting incumbent Mahmud Ahmadinejad, has officially withdrawn his candidacy for the country's June 12 election.
"I announce my withdrawal from candidacy to preserve unity among the reformist front and to avoid a split of the votes," Khatami said in a statement posted on his website on March 17.
In announcing that he would throw his support behind
fellow reformist
and former Prime Minister Mir Hossein Musavi, Khatami said: "I believe Musavi has the necessary competence to change the current situation."
The announcement came just a little over a month after Khatami first announced his intention to challenge Ahmadinejad in his presumed reelection bid.
Upon entering the race in February, some observers predicted that Khatami would be competing with Musavi for the same vote, as the two reformist politicians' platforms were more or less the same.
Rod Shahidi, director of RFE/RL's Radio Farda, talks about the effect of the withdrawal on the reformist camp, and the prospects for a unified candidate to challenge the conservatives.
Khatami's departure means Ahmadinejad -- the conservatives' sole nominee -- can now focus on challenges from Musavi and former speaker of parliament Mehdi Karrubi, another reformist candidate who announced his intention to run last year. Musavi is currently a member of the country's top political arbitration body, the Expediency Council.
The 65-year-old Khatami served two terms in office, from 1997 to 2005, and was considered to be the Islamic republic's most liberal president, having appointed Iran's first female cabinet member and easing some social restrictions. However, he was also criticized for failing to deliver on many of his promises of reform.
'His Name Wasn't Familiar'
In his March 17 statement, Khatami assured supporters that Musavi "seriously defends and will defend the fundamental rights and freedoms" of the Iranian people.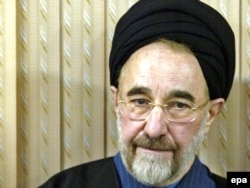 Mohammad Khatami
But Abbas Safaifar, a pro-reformist journalist, told RFE/RL's Radio Farda that Musavi lacks Khatami's charisma, as well as the prominence he enjoys.
"At least among university students, among the youth, we can see that Musavi does not have that standing. Opinion polls showed that many of university students do not even know him. For a certain percentage of the youth, even his name wasn't familiar," Safaifar says. "Under the current situation, it is an important point."
However, another current reality is the economic hardship in Iran. And on that issue, Musavi appears to have an advantage.
Everyday Iranians are encountering rising poverty and unemployment levels, leading to criticism of the economic policies embraced by Ahmadinejad.
Musavi, on the other hand, is known for his successful handling of the Iranian economy as prime minister during the Iran-Iraq war. Musavi held that post from 1981 until 1989, when the position of prime minister was scrapped.
'People's Top Priority'
Taghi Rahmani, a Tehran-based pro-reformist analyst, explains to RFE/RL that economic issues take precedent over all others in the minds of Iranian voters.
Mehdi Karrubi
"Even during Khatami's presidency, people's top priority was the economy -- it wasn't the content of the newspapers," Rahmani says. "Khatami's biggest mistake was his lack of a disciplined economy."
Rahmani says Musavi's economic experience will likely appeal to the electorate, although he says it "remains to be seen whether Musavi would be able to handle the economy as successfully as he did during his time as prime minister."
The possibility that Khatami's withdrawal could benefit the conservatives on election day has been raised in the international media.
But Iranian political analyst Ahmad Zeidabadi says the reformists' effort to present a united front against Ahmadinejad might not yet be complete.
"I think Karrubi would at the end leave the election scene because of Mir Hossein Musavi's presence there, and the election would become a competition between Mir Hossein Musavi and Ahmadinejad," he says.
But like Musavi on the economy, Karrubi, too, has a reputation. Defying expectations, he failed to bow out of the presidential race in 2005 when he finished third to Ahmadinejad and his presidential predecessor Akbar Hashemi Rafsanjani. At the time, some observers accused Karrubi of splitting the reformist vote.
There is no danger of such a scenario in the conservative camp, with Ahmadinejad's expected candidacy enjoying the support of Supreme Leader Ayatollah Ali Khamenei, who has the final say in all major issues in the Islamic republic, including foreign policy.

RFE/RL's Radio Farda contributed to this report.