MOSCOW -- In an impassioned speech, jailed oil tycoon Mikhail Khodorkovsky told a packed Moscow courtroom that Russia's fate depends on the verdict in his trial.
In his final statement before an expected verdict on December 15, Khodorkovsky said he was prepared to die in prison rather than admit that he was guilty.
"I am not an idealist, but I have ideals," he said. "For me, as for anybody, it is hard to live in jail, and I do not want to die there. But if I have to, I will not hesitate. The things I believe in are worth dying for. I think I have proven this."
With just one year remaining on his sentence, Khodorkovsky now faces fresh charges of money laundering and embezzlement that could keep him in prison for an additional six years, until 2017. His business partner Platon Lebedev faces the same charges.
'Seven Years Is A Long Time'
Khodorkovsky entered the courtroom smiling and nodding to the dozens of cameras snapping his picture. Three armed guards led him and fellow defendant Lebedev to the glass cage where they sit during court proceedings.
Khodorkosvky claims that his current trial is a politically motivated case designed to keep him in prison as the term of his first sentence winds down. He began his statement by recalling his arrest in October 2003.
"I remember October 2003. My last day as a free man," he said. "A few days or weeks after my arrest, I was informed that President Putin had decided that I would have to, as I was told, 'eat prison slop' for eight years. At the time, this was hard to believe. Now seven years have passed. Seven years is a pretty long time, especially when one is in prison."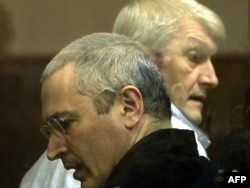 Khodorkovsky (left) and his former partner Platon Lebedev stand in a glass cage in a Moscow courtroom today.
Khodorkovsky has openly mocked the prosecutors' case and in his statement noted the ridiculousness of the charges, before saying, "You need to steal more honestly."
Unlike in the first trial, some officials, such as former Economic Development and Trade Minister German Gref, testified in Khodorkovsky's favor. But with a court system strictly controlled by the government, no one, including Khodorkovsky, is expecting him to be acquitted.
'A Sick Country'
The majority of his speech addressed the situation in Russia as a whole, rather than the charges against him.
"This is a sick country," he said, where "siloviki bureaucracy holds tens and even hundreds of thousands of talented entrepreneurs, managers, and ordinary people in jail."
And at times, the statement sounded more like a campaign speech than a trial plea. He said millions were waiting to hear the trial result.
" They are watching with the hope that Russia will after all become a country of freedom and of the law, where the law will be above bureaucratic officials," he said. "Where supporting opposition parties will cease being a cause for reprisals. Where the special services will protect the people and the law, and not the bureaucracy from the people and the law. Where human rights will no longer depend on the mood of the tsar -- good or evil. Where, on the contrary, the power will truly be dependent on the citizens, and the court -- only on law and God. Call this conscience, if you prefer. I believe this is how it will be."
'Impressive Speech'
Masha Lipman, an expert at the Carnegie Center in Moscow, says Khodorkovsky has said many of these same things before but synthesized it all well when speaking in court today.
"I think it has elements of a political speech, offering his vision, his hope, for a better Russia," Lipman says. "I think all the elements are not new but together in an eloquent and dignified way. It's an impressive speech."
Many Russians, however, continue to see Khodorkovsky as a crooked oligarch from the 1990s getting his just desserts. And his speech is unlikely to convince them otherwise, since few will hear it. Russian television has ignored the speech and the only media broadcaster to stream the sound live from the courtroom was RFE/RL's Russian Service.
At the end of his speech, Khodorkovsky called on the judge to have the bravery to give an honest verdict.
"Everybody understands that your verdict in this case -- whatever it will be -- is going to become part of the history of Russia," he said. "Furthermore, it is going to form it for the future generation. All the names -- those of the prosecutors and of the judges -- will remain in history, just like they have remained in history after the infamous Soviet trials."
Prosecutor Valery Lakhtin responded shortly after Khodorkovsky's speech.
"Everything he said were lies," Lakhtin said. "And we are certain that the judge, coming out of the room for deliberations, will testify to these clear lies."
A verdict will be announced on December 15.
RFE/RL's Russian Service contributed to this report