KYIV -- Health officials in Kyiv announced today that the flu epidemic that has plagued the city for the past four weeks has ended, RFE/RL's Ukrainian Service reports.
Officials said that from November 23-29 the number of flu patients in the capital city decreased significantly and is at the "nonepidemic level," though the epidemic for the rest of the country remains in effect.
In the last four weeks, about 143,000 people were treated for flu in Kyiv, which is more than 5 percent of the city's population.
Twenty-four people have died from flu viruses. People are reportedly suffering from different types of viruses, including swine flu.
Ukraine's Health Ministry first announced a flu epidemic in the country on October 30.
The Kyiv Mayor's Office decided to reopen kindergartens, high schools, and universities as of November 25 after having ordered them closed for about three weeks.
Swine Flu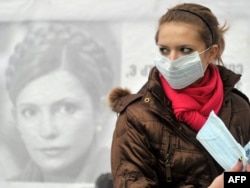 H1N1 Virus
As the fall flu season hits, fears of a swine-flu pandemic have grown in Eastern Europe after Ukraine saw a massive outbreak.
Click here
for RFE/RL's coverage of the virus's spread.