Kyrgyzstan's interim leader Roza Otunbaeva has traveled to the country's conflict-torn south and a top U.S. envoy called for an independent probe into ethnic clashes in the area that have killed nearly 200 people and forced hundreds of thousands from their homes.
After flying over the city of Osh to assess the extent of the destruction and damage, Otunbaeva pledged the region will be rebuilt and refugees will go home.
"We want to give the perspective, the hope that we will rebuild this city and we will definitely return the refugees back. We will create all the conditions necessary for that," Otunbaeva said. "I think the whole world will help us because we have the good will needed to live in a state of peace and friendship between these two peoples [Kyrgyz and ethnic Uzbek]."
An RFE/RL correspondent on the scene said Otunbaeva appeared visibly shaken by what she'd seen while surveying her hometown of Osh.
WATCH: Otunbaeva on her visit to Osh, which has seen the worst violence in Kyrgyzstan in two decades. (Reuters video)
In an interview published before her visit, Otunbaeva said she feared the death toll would be 10 times higher than the officially acknowledged figures, which now stand at some 190 killed and nearly 2,000 injured.
According to UN estimates, the conflict has forced some 400,000 people to leave their homes in Osh and Jalal-Abad provinces.
Neighboring Uzbekistan has received at least 75,000 ethnic Uzbek refugees, who were targeted by Kyrgyz mobs in their homes in southern Kyrgyzstan.
The refugees have been placed in makeshift camps in Uzbekistan's Andijon border province.
An impoverished Central Asian country of 5.5 million, Kyrgyzstan hosts both U.S. and Russian military bases.
"Russian troops will arrive to protect the Russian consulate here," Otunbaeva said. "Also, they will guard our strategic sites. As you know, if those dark instigators and provocateurs attack our strategic sites, then there will be very bad consequences."
Refugee Stories 'Need To Be Heard'
Robert Blake, the U.S. Assistant Secretary of State for south and central Asian affairs, visited refugee camps in Andijon today after U.S. Secretary of State Hillary Clinton spoke at length with Otunbaeva on June 17.
She said Washington's priority is to "work with the international community to try to support the provisional government in bringing about a resumption of order."
So far the United States has committed just over $32 million to programs for humanitarian relief, reconstruction, and community stabilization.
Today, Blake said, "it's important that there be an investigation" into the ethnic conflict in southern Kyrgyzstan.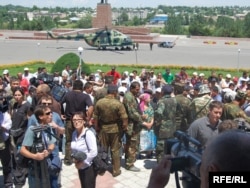 Otunbaeva met with some of those who turned out in front of the local administration building in Osh to complain of perceived mistakes by the interim government.
"But given the large number of ethnic Uzbek refugees here in Uzbekistan whose stories need to be heard, the Kyrgyz investigation needs to be accompanied by an investigation by an independent body," he added.
Blake also called on Kyrgyz authorities "to stop the violence and with it the flow of refugees."
The UN's top human rights body, the Human Rights Council, echoed Blake's call in a resolution today, in which it urged a "full and transparent" probe into the recent violence and the deaths of some 85 people during April's antigovernment protests.
There have been widespread allegations of beatings, torture, and rapes of ethnic Uzbeks at the hands of Kyrgyz mobs.
The worst of the violence has eased, but sporadic attacks and looting have continued and RFE/RL correspondents in Osh reported seeing small groups of ethnic Uzbek women leaving for the Uzbek border today.
RFE/RL correspondent Janarbek Akaev says local residents had many demands for the acting president. During a meeting inside the provincial administration building, around 200 people gathered outside in hopes of expressing demands personally to Otunbaeva that include explanations of political appointments under the interim leadership and actions by law-enforcement officers.
Breaking The Cycle
The conflict, which initially broke out on June 11, has left many parts of Osh in ruins. Many buildings, including cultural and business centers, shops, and restaurants, were set alight along with private houses.
Kyrgyz were reported to be among the victims of the violence, but most of the attacks targeted ethnic Uzbeks' houses and Uzbek-operated businesses.
WATCH: The Uzbek and Kyrgyz communities in Jalal-Abad came together for a prayer meeting on June 17 to reconcile after the week of deadly ethnic violence. (Reuters video)
As local residents gathered for Friday prayers today, RFE/RL correspondent Bruce Pannier, who is in Osh, said there were signs of reconciliation among the Kyrgyz and ethnic Uzbeks, who gathered in Osh's Imam Al-Bukhari mosque.
The imam there used his sermon to remind people that ethnic Uzbeks and Kyrgyz are fellow Muslims and therefore brothers, adding that people should not fall prey to provocations.
Correspondent Pannier said ethnic Uzbeks and Kyrgyz were talking and shaking hands outside the mosque, which stood in stark contrast to the burned-out cafes, houses, and other buildings on either side of it. In the abandoned Uzbek neighborhood of Cheryomushki, Pannier said that cars and parts of homes are still burning, and nearly all property had been damaged or destroyed.
In spite of the signs of reconciliation, one ethnic Uzbek man told RFE/RL that ethnic Uzbeks still fear for their lives. "The reason why we were not been able to see Roza Otunbaeva is the danger to our lives. We can't be confident that we will get there alive. And we decided not to try," he said.
"They say that the situation is stabilizing but that's not true. Conflicts erupt here and there and the government is not doing anything to stop this," the man said. "Yesterday we went to the center but as soon as we crossed the checkpoint, Kyrgyz people found out about this and wanted to attack us."
Kyrgyzstan's interim government, which came to power in the wake of a popular uprising in April, has been struggling to assert control in the south.
Interim leaders blame supporters of the ousted President Kurmanbek Bakiev for inciting and financing the violence in the region, where the former leader hails from. Bakiev has denied any connection to the conflict.
Uyghurs Flee
As the worst of the violence appears to be easing in the south, reports say hundreds of ethnic Uyghurs have fled the capital Bishkek and its suburbs, after receiving threats from unidentified people that they would be the next target of attacks.
AP news agency quoted the vice president of the country's Uyghur community, Zhamaldin Nasyrov, as saying most of ethnic Uyghurs have left for Kazakhstan, where many have relatives.
Nasyrov told the news agency that unknown people left threatening warnings on ethnic Uyghurs' houses and fences.
Kyrgyzstan, once seen as the most democratic country in Central Asia, has been dogged by riots, instability, and public uprisings in the past two decades. Both of the country's post-Soviet presidents were toppled by mass protests.
Shortly before the collapse of the Soviet Union, bloody ethnic violence left hundreds dead when clashes erupted between Kyrgyz and Uzbeks in Osh in 1990.
written by Farangis Najiballah based on RFE/RL Kyrgyz Service and agency reports