(RFE/RL) -- Kyrgyzstan's interim rulers are trying to restore order following unrest on the outskirts of the capital, Bishkek, that left at least three people dead.
The April 19 clashes over land, as well as continued unrest in the south, highlight the challenges facing interim authorities who took control after ousting President Kurmanbek Bakiev two weeks ago.
Meanwhile, Bakiev reportedly has arrived in Belarus, where he and his family are undergoing medical tests, according to Belarusian President Alyaksandr Lukashenka.
Bakiev initially fled Kyrgyzstan for neighboring Kazakhstan, but unconfirmed reports on April 19 said he had left for a third country.
Lukashenka told lawmakers in his annual address to the Belarusian parliament that Bakiev arrived in Minsk one day earlier.
"On Monday, I ordered the relevant services to bring [Kurmanbek] Bakiev to Minsk -- at his own request, he asked for it himself more than once," Lukashenka said. "And although the airport was closed here, I said, 'That's your problem, you are the military; I want you to bring Bakiev to Minsk.' So Monday night he was in Minsk."
Bakiev was warned earlier today by a Kyrgyz interim government member, Edil Baisalov, that the deposed president would be arrested if he returned to his homeland.
In the southern town of Jalal-Abad, where sporadic gunfire was heard on April 19, supporters of the country's ousted president continue to resist the new interim authorities.

WATCH:
Meskhetian Turks in the Kyrgyz village of Maevka become a target of attacks as rioters loot and burn their houses. Trouble Brewing
RFE/RL's Kyrgyz Service correspondent in the area, Ryspai Abdraimov, says some 2,000 Bakiev supporters gathered today outside the interior affairs headquarters in an effort to seize the building.
Abdraimov says Akmat Bakiev, a brother of the ousted president, was at one point leading the protesters.
"[Akmat Bakiev] called on employees of the Jalal-Abad provincial interior affairs office -- who did not want to open the gate of the building -- to open the gate," Abdraimov said.
"He told them, '[Ex-President] Bakiev has not done anything bad to you.' He told them, 'You've seen how protesters in Talas [two weeks ago] treated [former] Interior Minister Moldomusa Kongantiev; they beat him almost to death.'"
Abdraimov said Akmat Bakiev asked the interior affairs employees inside to open the gate and then appeared to issue a veiled threat: "He said he would leave in five minutes and said that whatever happened there after that would be on the interior office employees' conscience and responsibility."
On April 19, the country's then-acting Interior Minister Bolot Sherniazov -- who's since been dismissed -- told reporters that "we have information that [ousted President Bakiev's] brothers Janysh Bakiev, Kanybek Bakiev, and Akmat Bakiev are in Kyrgyzstan. We hope they will be caught soon."
Today, Emil Kaptagaev, a member of the interim government, told RFE/RL's Radio Azattyk that investigations into Bakiev and his brothers are turning up "new crimes."
"Criminal cases against Bakiev's brothers have been launched, and a big investigation of the events on April 7 is going on," Kaptagaev said. "Some new economic crimes are being discovered. Sometime in the future, all of them will be brought together, and if there is enough basis for opening a criminal case against Kurmanbek Bakiev himself, then we can raise the issue of Bakiev's extradition."
Our correspondent said protesters at today's rally chanted, "Bakiev is the legitimate president elected by the people!," "The opposition shot at people!," and "Police, don't trust the interim government that opened fire on you!"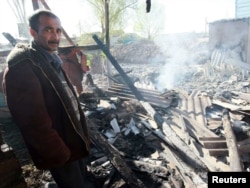 A resident of Maevka stands by his burned-down house outside Bishkek.
Over the weekend the ex-president's supporters seized control of the regional government office and named their own governor.
Support for Bakiev -- a native of Jalal-Abad Province -- has been strongest in that region.
RFE/RL's correspondent says it appears the interim government has little control of the southern province.
Stirring The Pot
The situation remains equally volatile around Bishkek, where unrest over land ended in bloodshed on April 19.
Some 300 people gathered on the northern outskirts of the city today, demanding the release of around 100 people, mostly young men, arrested the previous day.
RFE/RL's Kyrgyz Service correspondents in the capital say the crowd was dispersed after a brief confrontation with police.
Our correspondents say the main target of the April 19 attacks in the village of Maevka appeared to have been Meskhetian Turks living in a relatively modest neighborhood.
Residents told our correspondents the looters looked to have been organized and to have come from outside the area. They also noted that local ethnic Kyrgyz were trying to fight off the looters.
One ethnic Meskhetian Turkish woman told RFE/RL's Kyrgyz Service that her young son was critically injured by the marauders.
"My daughter lives here," she said. "Yesterday [the looters] burned down everything -- they burned the haystack, they burned cows alive. Then they went down to my town. They were throwing my son around like a ball, he is at the hospital in critical condition now. I don't know if he's going to survive or not. The doctors haven't told me anything yet."
International Concerns
Today, Turkish Ambassador Nejat Akcal visited the village and urged authorities to prevent further attacks on ethnic Turks.
The rioting and looting in Maevka sparked speculation in Russian media that it was primarily directed at Russians and Russian-speakers.
Headlines in the Russian dailies "Komsomolskaya pravda" and "Moskovsky komsomolets" today read, "Russians Being Expelled From Kyrgyzstan, Following Bakiev" and "Is Kyrgyzstan Being Cleansed Of Non-Kyrgyz?"
Kyrgyz officials, however, have downplayed the possibility of ethnic tensions, blaming the looting on groups of "provocateurs" trying to destabilize the situation in the country.
The interim government pledged, however, to do everything it could to "preserve interethnic tolerance."
The violence prompted Russian President Dmitry Medvedev today to order the Russian military to protect ethnic Russians in the country.
A Kremlin spokesman said Medvedev "gave an order to Defense Minister Anatoly Serdyukov to take measures to ensure the security of Russian citizens in Kyrgyzstan."
The spokesman said the measures would include increased security for Russian interests in the country. Russia has a small military base in northern Kyrgyzstan of around 500 servicemen.
At a press conference today, Medvedev said Kyrgyzstan faced anarchy and warned of regional consequences. He said that "the government is currently nonexistent -- it's not there," and warned that continued anarchy could have serious consequences for not just Kyrgyzstan but "its neighbors."
He said Moscow's continued aid to the country could only be insured if order is restored.
"Russia has provided Kyrgyzstan with humanitarian aid, but I emphasize again that full economic cooperation will only be possible after the establishment of government bodies," Medvedev said.
In another development, the current chair of the Organization for Security and Cooperation (OSCE), Kazakh Foreign Minister Kanat Saudabayev, paid a one-day visit to Kyrgyzstan today.
He reiterated the "OSCE's readiness to further support efforts to restore public order and the rule of law in the country."
based on RFE/RL Kyrgyz Service and agency reports