Leaders of Kyrgyzstan's fractious opposition have announced a persistent critic and former prime minister under President Kurmanbek Bakiev as their joint candidate to compete against Bakiev in July's early presidential election.
Almazbek Atambaev, 52, is a veteran opposition figure and leader of the Social Democratic Party, the only opposition party represented in an otherwise rubber-stamp parliament.
Kyrgyzstan's United Opposition had vowed to pick a candidate for the presidency by the end of April.
Atambaev told media after his candidacy was announced that he wants "to live in a democratic country and I would like my children to live in such a democratic country."
Atambaev seized on an issue that he will likely be bringing up often during the weeks leading up to the late July presidential election: perceived corruption in the government.
"The trouble with the authorities is there is too much stealing going on, too much corruption, too much theft," Atambaev said.
He suggested a major achievement during eight months as prime minister was to have "cut down on stealing" sufficiently to have enabled a government budget surplus.
Campaign Theme?
Corruption in Kyrgyzstan's government was a consistent theme after what outsiders dubbed the Tulip Revolution in March 2005 led to Bakiev becoming president.
Bakiev vowed to rid the government of corrupt and criminal elements but has had little visible success.
The killing last week of 33-year-old parliamentary deputy Sanjar Kadyraliev, from Bakiev's ruling Ak-Jol (Best Path) Popular Party, brought the issue of criminality in government back to the fore. Some observers in Kyrgyzstan suspect the young deputy was killed over a business deal, rather than his politics.
Bakyt Beshimov, a former Kyrgyz ambassador to India and former vice rector of the American University in Central Asia (Bishkek) who now heads the parliamentary faction of the Social Democratic Party, was once regarded as a possible intellectual-cum-challenger to Bakiev.
Beshimov attended the press conference announcing Atambaev's candidacy and spoke about the need for change to stem corruption.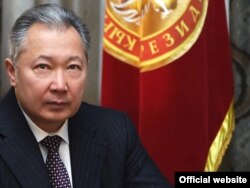 President Kurmanbek Bakiev
"In front of all of us, and before the entire people [of Kyrgyzstan] stands a choice: Either we get some hope and free ourselves from this jam we are in or we continue to live with these greedy, corrupt authorities."
Observers suggest public frustration over social, energy, and economic policies offer the opposition its best hope for challenging Bakiev.
Critics' Choice
Atambaev was a leading critic of Bakiev in the months that followed the 2005 ouster of long-time President Askar Akaev.
On the eve of a massive protest in Bishkek in late 2006, Atambaev lashed out at Bakiev for doing nothing as president, calling him a "political corpse." He accused Bakiev of "sit[ting] as the head of state and constantly [lying] to the people."
Atambaev is a seasoned politician who arguably has the best chance among opposition figures of challenging against Bakiev, even though some in the opposition felt betrayed by him when he subsequently became prime minister in 2007.
He is also a relatively affluent businessman with financial ties that some suggest could eventually benefit his campaign.
Nevertheless, few in Kyrgyzstan give Atambaev much of a chance of defeating the incumbent. Bakiev has solidified his power during the last two years, packing parliament with members of his Ak-Jol party. In February, he secured financial aid from Russia that promises to alleviate many of the economic problems Kyrgyzstan faces at least until after the election.
In addition, despite the United Opposition pulling together to support a single candidate in the upcoming poll, the opposition is fractured. Many in the country will remember that many members of the current opposition in 2005 came to power only to help lead the country into its current troubles.
RFE/RL Kyrgyz Service director Tynchtykbek Tchoroev and Amirbek Usman of RFE/RL's Kyrgyz Service contributed to this report